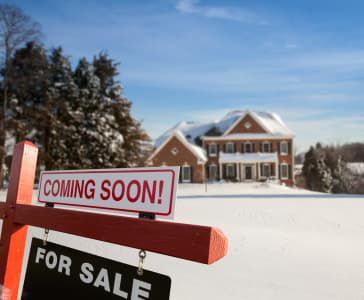 You may think the dead of winter would make a poor time for home sales. But in most markets, the real estate industry has bounced back and homes are selling at a brisk pace. In fact, the typical house for sale is under contract to buy within a month or two of hitting the market, according to the National Association of Realtors. And a recent Redfin report showed that winter-listed homes are not only 9 percent more likely to sell, but that they also sell a full week faster than homes listed in other seasons. That said: The combination of fewer sellers and more eager buyers makes February a great time to list.
You can improve your chances for a quick sale by steering clear of potential resale killers. To avoid a lengthy listing or an inevitable price reduction, be aware that some home design features leave a house less desirable to potential home buyers.
A lack of bathrooms can be difficult to overcome when selling a house. Bathrooms should be adequate in number relative to the number of bedrooms. And they should also be located in convenient areas of the house. Poorly placed bathrooms can also make a home more difficult to sell.
Ideally, a house will have at least one bathroom on the main floor that's accessible without traipsing through a bedroom. It's also important to have a bathroom near the bedrooms and recreational spaces (finished basement).
When designing a new house, you might be tempted to add an unusual feature or make the layout unlike anything you've seen before. But that could come at a price when the time comes to sell the property. Grouping bedrooms close together-with the possible exception of a master on a different level-is key, as is space that's actually functional.
Individual decorating expressions work against you when you're getting ready to sell a house. A dated interior-or an interior design that caters to specific tastes-could deter potential buyers. When you remodel or update your house, it's a good idea to make changes that will attract rather than turn off buyers. A neutral color palette, for example, will keep your home ready for resale.
4. IT'S NOT EASY BEING GREEN
When building a house, using green materials and being environmentally friendly is easier than ever. However, certain green design features may not appeal to everyone, and they could cause your house to sit on the market longer than it otherwise would.
Items such as rain barrels, composting toilets and xeriscaping-a form of landscaping in which you remove the lawn and replace it with an alternative like artificial grass, native plants or a decorative rock garden – might not attract a lot of buyers. In fact, some real estate agents report seeing buyers walk away from a home because they didn't want to take on the seller's lease for the solar panels.