The end of March still is too early to plant seeds outdoors for warm-season crops such as beans, squash or tomatoes, but you can jump start your spring by starting seeds of tender plants indoors to set out in mid-May when all danger of frost has passed.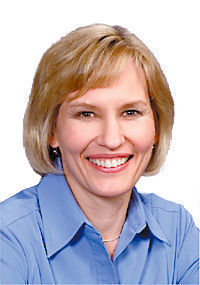 This is a good week to fertilize the lawn if you have not done so already and make sure your mower has sharp blades if you want to avoid a ragged look all summer. Dull mower blades will tear the grass giving it a dull or brown cast after cutting. Maintain your mower for a cut above the average.
Q. We have bare spots in our new lawn I am wondering how often to fertilize a lawn. Thanks. — N.H., Enumclaw
A. All lawns in Western Washington will need at least one application of lawn food each year and fertilizing in spring and fall is the recommendation for the best turf. A lawn food with slow release nitrogen, most often from an organic source, is best for the soil and water quality because when you apply too much nitrogen, the extra ends up in our local streams and rivers – (not good for fish) so read and follow the instructions on the fertilizer and apply a bit less then recommended.
Aerating your lawn and reseeding on top of the existing turf will really improve a thin lawn if you take the time to cover the new seed with a thin layer of compost, topsoil or peat moss. When you overseed or plant a new lawn, don't let those new seeds dry out.
Q. I see dahlias, callas and lily bulbs for sale at the garden center. When is it safe to plant these summer-blooming bulbs into the soil? I am turning my raised bed veggie garden into a cutting garden of fresh flowers. I just realized many of the flowers that grow from bulbs in the summer make great cut blooms. — J.C., Tacoma
A. Late March up until May is a good time to dig in and plant tubers of dahlias, gladiolas, lilies and other summer-blooming bulbs you find for sale now. It is poor drainage that can cause rot from our spring rains if these bulbs are planted too early, but when you garden in raised beds, the improved drainage means you can get an early start on spring planting. Loosen the soil, plant at the depth recommended on the bulb package and protect new shoots from slugs. I see a bountiful basket of beautiful blooms in your future this summer.
Q. We have a shaded area I am making into a flower garden. I am not able to attend any of your classes about shade gardening. Please tell me the best flowers for our area that will bloom in the shade. — R.T., Olympia
A. A shady situation is perfect for growing summer-blooming annuals such as impatiens, begonias, lobelia and fuchsias, but wait until May to set these frost tender plants outdoors. If you are looking for hardy perennials that flower in a half-day of sun, then you can plant lady's mantle, heucheras, crane's bill geraniums, primroses, hellebores, astilbe or false Solomon's seal with a ground cover of lamiums, vinca minor and ajuga.
For fall blooms, add the fast-spreading Japanese anemone.
Take the time to improve your soil before planting and you'll have it made in the shade with flowers throughout the growing season.