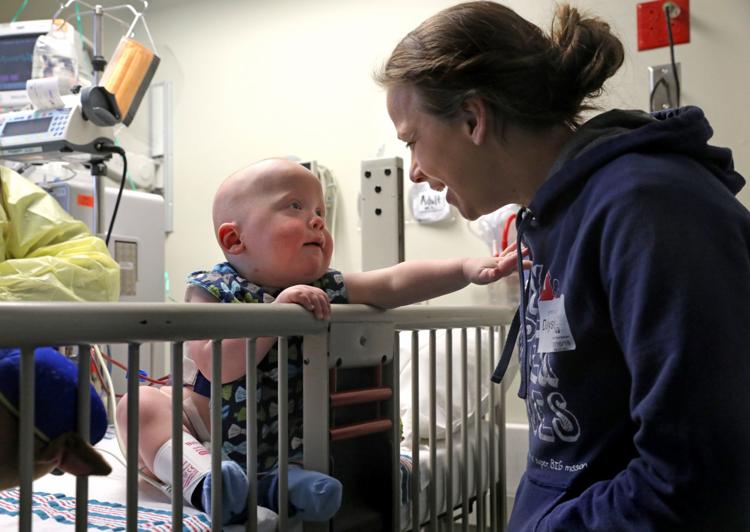 ST. LOUIS — It is 10:19 a.m. and Robyn Rosenberger, a 33-year-old mother of three, is lying on the operating table of St. Louis University Hospital.
About 500 feet away, Michael Loness, a 21-month-old toddler with a round face, is preparing for a surgery of his own at Cardinal Glennon Children's Hospital, accompanied by his favorite stuffed animal police dog.
Rosenberger and Michael barely knew each other six months ago, but the two will soon become inextricably linked when the young mother will give her left kidney to the child.
Living donors such as Rosenberger make up about 18 percent of all kidney donations, but she is among the rare donors who are not a close friend or relative of the recipient.
For Michael's mother, Sarah Loness, a social worker, and father, Shawn Loness, a Jefferson County deputy sheriff, Wednesday, Jan. 17, was the culmination of months of anticipation, anxiety and, most of all, gratitude to the near-perfect stranger they now consider family.
"To me, Robyn is a second mom for Michael now," Sarah Loness said. "Your mother gives you life. I gave Michael life the first time, but now Robyn is giving him a new life."
The operating room is quiet except for the sound of ABBA's greatest hits, the preferred operating music of SLUCare transplant surgeon Dr. Chintalapati Varma, as he makes the first cut.
The operation is underway.
MICHAEL
The Lonesses first discovered something was wrong when Sarah was 28 weeks pregnant.
She had too little amniotic fluid, a telltale sign that the fetus' kidneys were not developing, the doctors said.
"We didn't know what was going to happen when he was born," Sarah Loness said. "They didn't know if he'd be able to breathe because they couldn't see if his lungs had developed."
Michael was born on April 18, 2016, by C-section, surrounded by a team of some 20 to 30 hospital staff.
"All I could hear then was Shawn yelling 'It's a boy!' and Michael's screams," said Sarah Loness. "It was the most beautiful sound in the world."
The newborn's lungs were perfectly healthy.
But labs soon showed that the 6-pound, 3-ounce baby was in complete kidney failure. He was rushed to Cardinal Glennon Children's Hospital. Two days after he was born, Sarah Loness held Michael for the first time just before he went into surgery.
It would be the first of 11 surgeries in Michael's first 20 months of life.
Michael would go on to become a happy baby with a knack for toddling up to strangers and smiling, rocking to music and belly laughing at his dad.
But, unlike most toddlers, Michael has to go to the hospital for three-hour dialysis treatments three times a week where he must stay still in his hospital crib.
Much of the family's life is planned around these treatments.
In August, Michael was added to the National Kidney Registry, joining about 115,000 people waiting for a transplant. A donor kidney would allow him to stop his dialysis treatments and avoid the health risks involved. Neither of his parents was a match.
The Lonesses hoped for a kidney from a living donor, which can last 15 to 20 years compared with 8-10 years, the average utility for a kidney from a deceased donor.
"Those years can mean the difference for Michael having to do this again as a kid or not until he is an adult," Sarah Loness said.
ROBYN
Robyn Rosenberger says there have been two moments in her life when she felt called to a purpose.
The first was the start of her business, TinySuperheroes, which is dedicated to creating child-sized superhero capes for children as they overcome an illness or disability.
Rosenberger, who now lives in Kirkwood, quit her job in Seattle and returned home to the St. Louis area in the fall of 2014 to be near family and run the business, which has sold more than 12,000 capes.
It was through this work that she had her second moment of clarity: meeting Michael.
Rosenberger met Michael and his mother in April 2017 when Rosenberger, along with a videographer, delivered a TinySuperheroes cape in person to the baby.
Sarah Loness told them Michael's story: the surgeries, the dialysis and, finally, the hopes for a donor.
"I can vividly remember her saying: So when Michael is on the transplant list, we'll be looking for a living donor," Rosenberger said. "I was like: 'What do you mean you're looking for a living donor? He's a kid, and obviously another kid can't volunteer to donate an organ.' "
Sarah Loness told Rosenberger they were looking for an adult donor. Adults can donate a kidney to a child as small as 22 pounds.
"That totally blew my mind and to me it was very simple from that point on: I needed to see if I was a match," Rosenberger said.
TWO MONTHS OF TESTS
Rosenberger didn't tell Michael's family about getting tested to be a donor, though the process took almost two months.
"At first I just thought it was about finding out if you're a match," Rosenberger said. "But there's so much more to it: It's not, 'Yes, your blood matches, you can donate.' "
Typically only about one in 10 people who inquire about donating a kidney at SLU Hospital is determined to be an eligible candidate, according to the hospital's donor coordinator, Cody Wooley.
In Rosenberger's case, she happened to be almost exactly the type of person Michael needed: a petite female with a low body mass index and a matching blood type, according to Varma, their surgeon.
Next the transplant team conducted a long series of health checks to make sure Rosenberger was fit enough for surgery and not at an elevated risk for kidney disease.
There were also mental and emotional tests.
"We want to make sure people are in it for the right reasons," Wooley said. "We check that there is no coercion, and that they know what they are getting into and that they will do well after surgery."
"I feel like every step was a little more invasive," Rosenberger said. "It was like each level they would check if you would back out. They gave so many chances to change my mind, but I was always waiting for a call just hoping I was still in the running. I just knew I wanted to be the one to do this for Michael."
Eventually, a committee of surgeons, a social worker, a kidney specialist, a psychiatrist and a living donor advocate all had to vote to determine if Rosenberger was a good match for Michael.
On Oct. 26, she was officially approved, and decided to finally tell the news to Michael's family, whom she had met only once.
SHARING THE NEWS
Rosenberger decided to tell Michael's mother over a video call, initially saying she wanted to record a video call for her business' Facebook page.
Sarah Loness came on the screen with Michael by her side.
"I was talking to Michael and I was so nervous, but I said, 'Michael, God has been hearing your prayers and I am able to give you my kidney,' " Rosenberger said.
At first, Sarah Loness didn't understand, but Rosenberger clarified: She was an official match.
A CHALKBOARD COUNTDOWN AND THE 'GERM BUBBLE'
Rosenberger and Sarah Loness talked almost every day as they waited to get a date for surgery.
For weeks, the doctors waited for Michael to grow enough to fit his new kidney. The transplant team used new 3D printing technology to create an exact model of Rosenberger's kidneys. They placed the model on the toddler every few weeks to determine if he was big enough for the transplant.
Finally on Dec. 7, the date was set: Jan. 17.
Sarah and Shawn Loness created a chalkboard in their home in Pevely, counting down the days until the operation, and did everything they could to keep Michael healthy, such as buying a stroller cover they call the "germ bubble."
"I'm just glad Michael is too young to know what's going on," Sarah Loness said about a week before the surgery. "He doesn't know what's coming."
OPERATION DAY
About four hours into the surgery, Rosenberger's kidney was ready to take out.
As ABBA played over the speakers, Varma passes a tiny wandlike camera through a 3-inch cut in Rosenberger's abdomen.
With all eyes on a monitor displaying the camera's images, Varma removes the kidney with his hand, quickly transports it to a bowl of ice and fluid and prepares it for the next surgery of the day.
The organ is then packaged in a container marked LEFT, tied into two plastic bags and placed into a carefully labeled cooler with both Rosenberger's and Michael's information.
The cooler is walked at a brisk pace through an underground tunnel connecting Rosenberger at SLU Hospital to Michael in Cardinal Glennon, where Michael's parents say goodbye for the last time before the surgery that will change their toddler son's life.
"Michael, I love you, buddy," says Sarah Loness in a high voice.
"Knock it out of the park, you handsome man," says Shawn Loness.
Then the tiny boy in a little hospital gown covered in cartoon tigers is carried away.
"We'll see you when you make real pee, brother," his dad yells.
By 5:35 p.m. Wednesday, Jan. 17, the little boy did just that for the first time in his life, Rosenberger was awake and in recovery — and the two would be bonded for the rest of their lives.