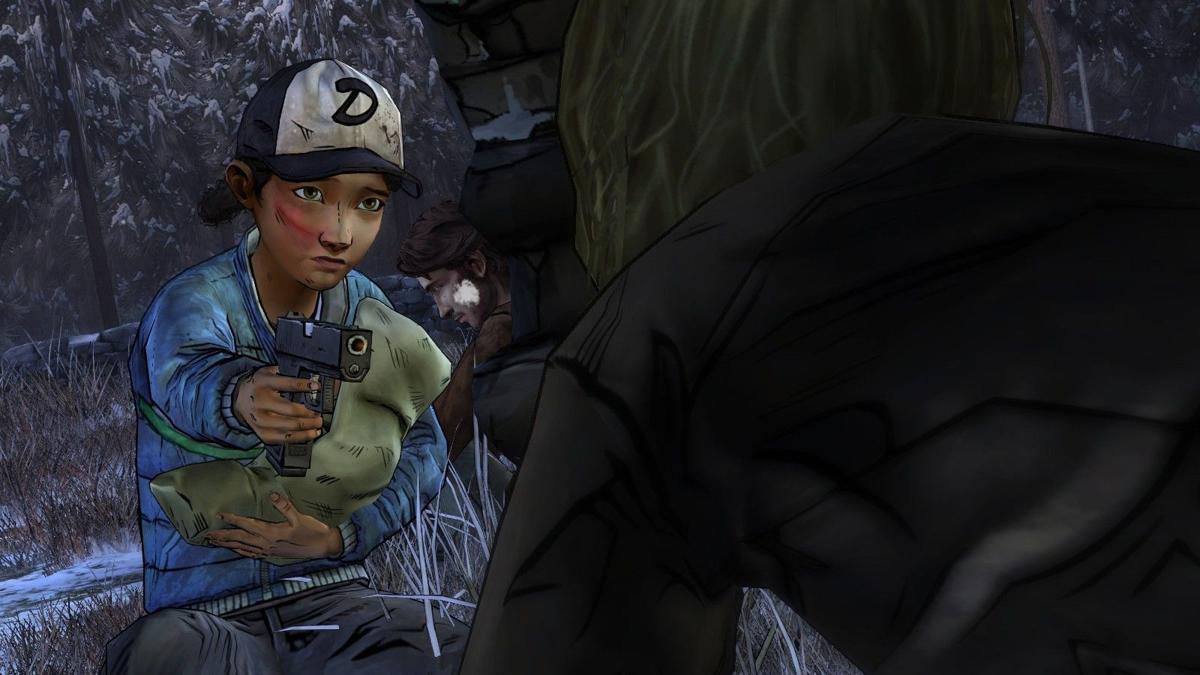 Emotional distress can represent a multitude of ailments. From anger to heartbreak, that feeling of despair, of a severed connection, can overwhelm us completely. Such was the absolute sadness crashing over me while completing Episode 5 of Telltale Games' "The Walking Dead: Season 2."
The appropriately titled "No Going Back" is a test case of suffering the consequences of our actions, both previous and current. We're forced from the very start to make debilitating, life-or-death choices that revel how we feel about those we've traveled with, the ones we cared about and the ones we easily leave behind.
And if you've become as invested in these characters as I have, those choices will leave you traumatized. Which, I believe, is the effect Telltale is trying to achieve. It's not so much what happens to those surrounding us, it's that we find ourselves at the center of all this chaos, somehow always responsible in ways we can't control.
While explosive at its opening, Episode 5 does take a little while to get going, utilizing the first hour of this two-hour downloadable episode to temper the angst and adrenaline. We spend this time conversing with the remaining survivors, trying to find some calm in this living nightmare. While never jovial (the walking dead pop up constantly to ruin the mood), the mood lightens, granting a bit of a reprieve.
Building off the slew of deaths in Episode 4, "No Going Back" hyper-focuses on those remaining and the grave situations they find themselves in. What seemed like minor nuisances at first rapidly devolve, forcing us over and over again to make heart-wrenching decisions. The weighty choices we're handed are endemic to this particular story, and you shouldn't be surprised when you're left with an "Either A or B, but not both" choice. So it falls to us, as the protagonist Clementine, to find our mettle and make the call that we see best fits the situation.
But no choice here is perfect or the "right" one. People will die. People we care about. That can't be avoided. The rapidly deteriorating situation won't allow for that. Relationship fray. Connections reach their breaking points. We find out just what these survivors will do when they reach their limits. Spoiler: It's not pretty.
Which, in all reality, it shouldn't be. A real-life version of this doomsday wouldn't fold out neatly. Arguments between friends or loved ones rarely do. And such arguments are constant in Episode 5, where we as Clementine have the less-than-desirable charge of deciding whom to agree with, whom to disagree with and when just not to say anything.
All of these choices, as is typical with previous episodes, heavily influences how your Clementine's story ends. How you decide to act can take you to different locations with different survivors. Some loose ends are wrapped up no matter where you go, while certain ones remain ambiguous regardless of what you do. You will find yourself wondering what happened to certain characters or where else you could have gone. And at least at first, not knowing will weigh down on you something fierce. (You can go back and replay any chapter at any time and change your final outcome if you so choose.)
Let it be said, though, that this season's finale is nothing like the first season's, which had an entirely different aim with main protagonist Lee Everett. At the end of Season 1, we had a tragic decision to make regarding the man who gave his all to save Clementine, but what happened afterward more or less remained the same. Not so with Season 2, which is much more open-ended. In essence, what we as Clementine say and do may be informed by how Lee's presence affected her in Season 1, but it's how she sees the world now, nearly two years later, that sets the groundwork for this terribly beautiful episode.
In the end, "The Walking Dead: Season 2, Episode 5" will remind you just how powerful good storytelling can be. It also will affirm just how stellar a character Clementine is. While my version of our heroine is probably a tad more callous than she had to be, I don't regret the choices I made with her. Each of those choices showed us the truth behind those we love, hate and simply tolerate for what they bring to the table. Every decision led to a beautifully designed conclusion with a strong and tempered Clementine at its core, and that's all I ever wanted. Lee would be proud.
Five conclusive stars out of five, and a critic's pick.
Editor's note: This version of Episode 5 of "The Walking Dead: Season 2," "No Going Back," was reviewed on the PS3 via a copy provided by publisher Telltale Games. It also is available on the Xbox 360, PC and Mac and mobile devices for $4.99.
Staff copy editor Dominic Baez writes film and game reviews for The Daily News. Follow him on Twitter at @Silver_Screenin.