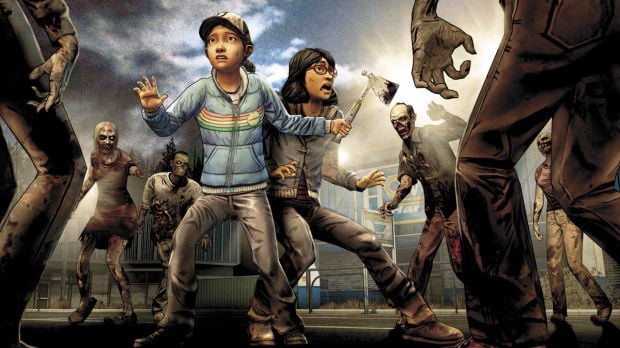 It didn't take long for me to regret my own decisions in "The Walking Dead: Season 2, Episode 3 — In Harm's Way." For whatever reason, when I play Telltale Games' excellent episodic adventure of a girl trying to survive a zombie apocalypse, I have little desire to show remorse or mercy. This overwhelming sense of self-preservation comes over me, and my decisions throughout each episode reflect that.
Only afterwards, when I'm surrounded by dead bodies — both walker and human — and I'm carrying a bloodied weapon, do I think that maybe, just maybe, I could have handled that differently.
Which is one of the many reasons why I love this game. The decisions that permeate "In Harm's Way" aren't numerous, but when they do pop up, they matter. They affect your storyline in clever and unexpected ways. What I may have thought as the safest route through a dangerous situation more than likely makes matters worse. When I do happen to risk my neck, it always seems to backfire on me.
I think that's the point, though. Because the theme of Episode 3 is clearly pushing limits. Whether physical, emotional or spiritual, we find ourselves constantly reaching our breaking point with our protagonist Clementine and her group of friends (and other assorted characters). Scenes crop up that make you physically uncomfortable because you yourself set them to occur that way. It's your fault, yes, but to admit so would require an acknowledgement a tad too dark for most.
Which is fine, judging by our main concern in this episode: a sadistic Bill Carver. At the end of Episode 2, our rag-tag team of misfits ended up as Carver's prisoners, dragged back to his makeshift compound where's he and his acolytes are holing up. But us being us, we don't take it lying down. At least, not for long. Before daylight breaks on the first morning, we're already hatching plans to escape, which left me more worried than when I got here. Questions floating through my mind: What would we do? Where would we go?
But those questions matter little when confronted with the insanity that is Carver. His quiet, terrifying persona will chill you to your bone, and, for me, affect the way you move forward. You see, escaping back into the wild can be scary enough, but it would pale to being caught by Carver. Which leaves us in a hopeless bind: Do you risk it, or do we stay and face the nightmare?
But you have to give the man this: Never have I ever more wanted a man to die while being nearly frozen in fear at the thought of what dangers would be unleashed once he did die. His level of sociopath left no doubt in my mind that at some point we are going to have deal with him head-on; he's not the type you leave alive if possible, because he'll just keep coming for you. But that's not all you're concerned with.
It's easy to think it's just about Clementine, but it has never just been about her. Without her group of friends, our journey would have ended long ago. (It doesn't hurt that we're becoming more and more cold-blooded.) So it's one thing to want to kill Carver; it's quite another to try to do so when your friends' lives are on the line.
Sometimes, as I progress though this addictive story, I feel like I'm missing the point. That I'm supposed to care more, to reach out more, to feel connected more. I just don't. Because to care means having to deal with the inevitable loss of that person, because your group never seems to comprise the same people at the end of the episode as it did at the beginning.
In the end, that seems to be the running theme in "The Walking Dead: Season 2" so far: change, and the perseverance to handle it. I'm not sure where Episode 4 will take us, and that's both OK and nerve-wracking. Either way, I'm know we won't be the same Clementine we were before.
Editor's note: This version of "The Walking Dead: Season 2, Episode 3 — In Harm's Way" was reviewed on the PS3. It also is available on Xbox 360, PC, Mac and mobile devices for $4.99.
Four "Just kill him already!" stars out of five.
Dominic Baez writes film and game reviews for The Daily News. Follow him on Twitter at @Silver_Screenin.