With its traditional meat-and-potato-centric dishes, Irish cuisine might be perceived as bland and boring.
Not so, said Debra Stults. The cooking school instructor traveled to Ireland and was impressed by the "foodie explosion," she said.
"The restaurants were chef-driven, the wait staff took care in describing the different options, and many were farm-to-table themed — I couldn't wait to take the inspirations into my own kitchen and then share them in the classes that I teach."
Stults provides recipes for mulligatawny stew, inspired by the traditional Irish version, but with flavorful additions like coconut milk, apples and aromatic spices.
Gruyere and black pepper pop-overs are a comforting accompaniment.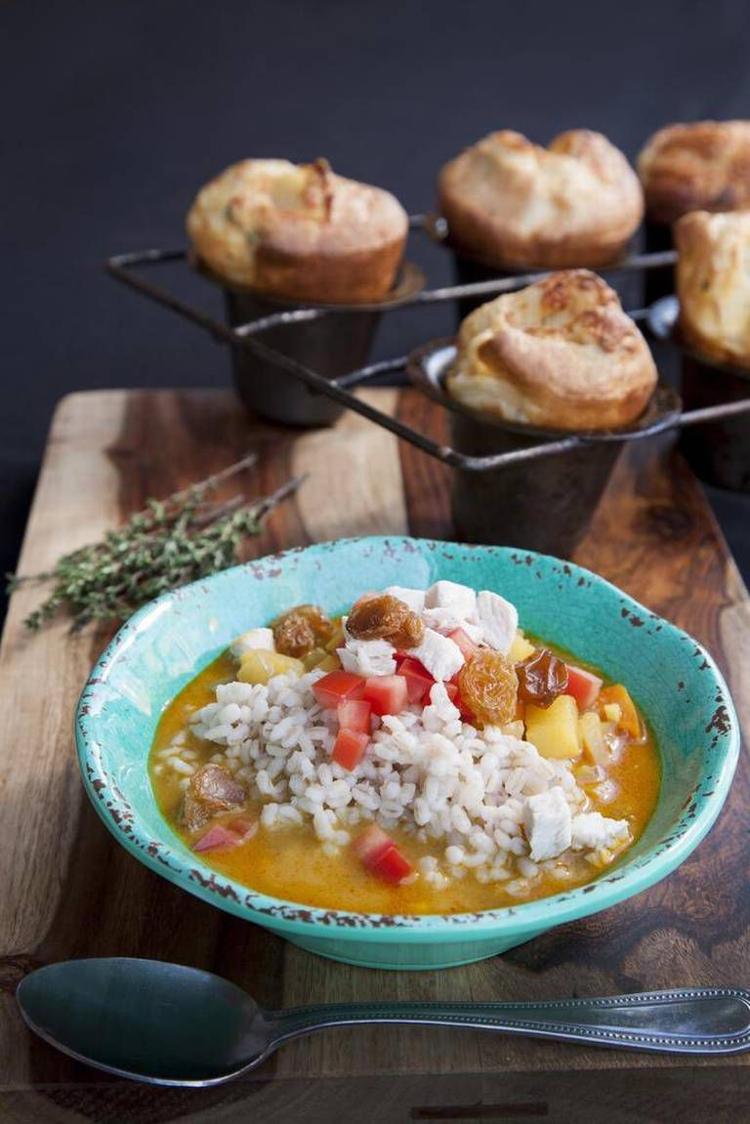 Mulligatawny stew
Serves: 6
Ingredients
1 tablespoon extra-virgin olive oil
1 sweet yellow onion, chopped
2 ribs celery, chopped
1 medium carrot, peeled and chopped
3 medium garlic cloves, minced
2 teaspoons fresh minced ginger
1 large apple, peeled, cored and diced
1/2 teaspoon curry powder
1/2 teaspoon cumin
1/2 teaspoon smoked paprika
1/4 teaspoon ground cinnamon
1/2 teaspoon turmeric
1/4 teaspoon ground cardamom
1/2 to 1 teaspoon salt
1 teaspoon fresh thyme leaves
1/4 teaspoon freshly ground black pepper
3 cups chicken broth
3/4 cup coconut milk
Toppings:
1 1/2 cups cooked barley
1 1/2 cups roasted and diced chicken breast
1 Italian plum tomato, seeded and diced
1/2 cup golden raisins
Directions
In a large saucepan over medium-high heat, add oil, swirling to coat. Add onion, celery and carrot and saute for 5-6 minutes, until tender-crisp.
Add garlic, ginger and apples and saute for an additional 3 minutes.
Add spices and salt and pepper and cook for 2 to 3 minutes to develop the flavors.
Add broth and bring to a boil. Reduce heat to medium-low and simmer mixture for about 15 to 20 minutes or until flavors have blended.
Stir in coconut milk. Taste and correct seasonings, adding salt and pepper as needed.
To serve: Place about 1/4 cup of barley at the bottom of each bowl and top with soup. Arrange chicken, tomato and raisins on top.
Nutritional analysis per serving: 293 calories, 12 grams fat, 33 grams carbohydrates, 22 grams protein, 34 milligrams cholesterol, 262 milligrams sodium, 5 grams dietary fiber, 33 percent of calories from fat.
Gruyere and black pepper popovers
Makes: 6
Ingredients
1 cup whole milk
2 large eggs
3/4 teaspoon salt
1/4 teaspoon freshly ground black pepper
1 cup flour
1 teaspoon thyme, finely chopped
1 ounce Gruyere cheese, cut into 8 small cubes
Directions
Heat oven to 375 degrees. Place an oven rack in the lower part of the oven and remove the ones above it. Place 2 popover pans (muffin pans will work) in the oven to warm.
In a small saucepan, warm milk over medium heat until it is hot (about 125 degrees) but not boiling. Remove from heat.
In a large bowl, whisk eggs with salt and pepper until smooth. Let milk cool to a warm temperature, about 105 to 115 degrees. Slowly whisk milk into eggs. Add flour and thyme and whisk until the batter is just combined (it may be slightly lumpy).
Remove muffin pans from oven. Spray generously with nonstick cooking spray. Fill cups about 1/3 cup full of the batter. Set a cube of the cheese on top of the batter in each cup.
Bake the popovers until puffed and deep golden brown, about 40 minutes (do not open the door or they may collapse). Remove the popovers from the pans, sprinkle with the grated Gruyere if desired and serve immediately.
Nutritional analysis per popover: 146 calories, 5 grams fat, 18 grams carbohydrates, 7 grams protein, 83 milligrams cholesterol, 324 milligrams sodium, 1 gram dietary fiber, 30 percent of calories from fat.