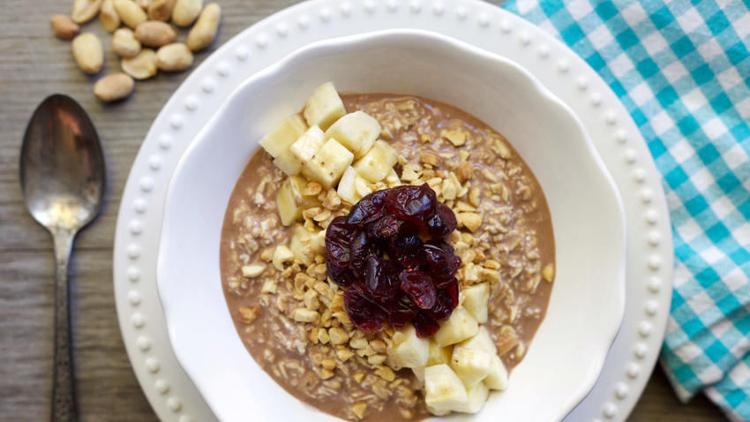 Have you tried overnight oats? I am obsessed. This recipe has become my breakfast staple. The flavor combinations are endless, making it impossible to get bored with the dish, and my favorite thing about them is you wake up and breakfast is done — it's magic!
The basic recipe includes three ingredients (large flake oats, liquid and a hint of sweetener) left overnight to do their thing. This recipe in its simplest form is delicious, but don't stop there; have fun with a variety of ingredients. Try mixing flavors, colors and textures, such as green pumpkin seeds, white dried coconut, red sweet raspberries or even black chia seeds for a hit of extra fiber. Just open your pantry and have some fun.
I've tested overnight oats with three styles of oats: steel cut, large flake and quick cooking oats. I prefer large flake oats, as both quick cooking oats and steel cut oats don't give the right texture after a long soak. I find large flake oats work best; they're tender but will still hold their shape.
Right now I'm on a cocoa kick, adding it every time I make oats. That chocolatey flavor brings me back to when I was a kid. I don't know about your childhood, but mine was filled with so much chocolate: hot cocoa, chocolate pies, banana split sundaes. And those sundaes are what inspired this recipe. Banana, chocolate and cherries -- a classic flavor combination.
In this recipe I use vanilla almond milk to mimic the flavor of ice cream, and since it's already sweetened, you won't need to add any additional sugar. The dried cherries and cocoa powder can be found in the baking or bulk section of the grocery store. This is where you'll also find the chopped peanuts and the oats.
Banana split overnight oats
Servings: 1
Ingredients
1/2 cup large flake oats
3/4 cup vanilla almond milk
1 teaspoon cocoa powder
1/2 banana, diced
1 tablespoon dried cherries
1 tablespoon chopped peanuts
Directions
Add oats, almond milk and cocoa powder in a small bowl. Cover the bowl and leave it in the fridge overnight to rest for at least 5 hours.
Stir soaked oat mixture to mix in the cocoa powder. Top with banana, cherries and peanuts. It will last up to 4 days covered in the fridge.
Recipe tips
• I find it's easier to mix in the cocoa powder after the mixture has soaked.
• Have fun with crunch — you can replace the peanuts with any nut or seed.
• Don't have dried cherries? Try adding strawberries.
• Overnight oats will last a few days in the fridge, so make a big batch, or make a few single batches and stack them in reusable containers. It makes for a quick grab-and-go breakfast.
• This recipe uses vanilla almond milk, but if you want to control sweetness, use unsweetened vanilla-flavored almond milk.
With the flavors of chai tea and coconut, this healthy oatmeal recipe is a spice upgrade from just plain cinnamon. Short on time in the morning? Try our overnight oatmeal variation.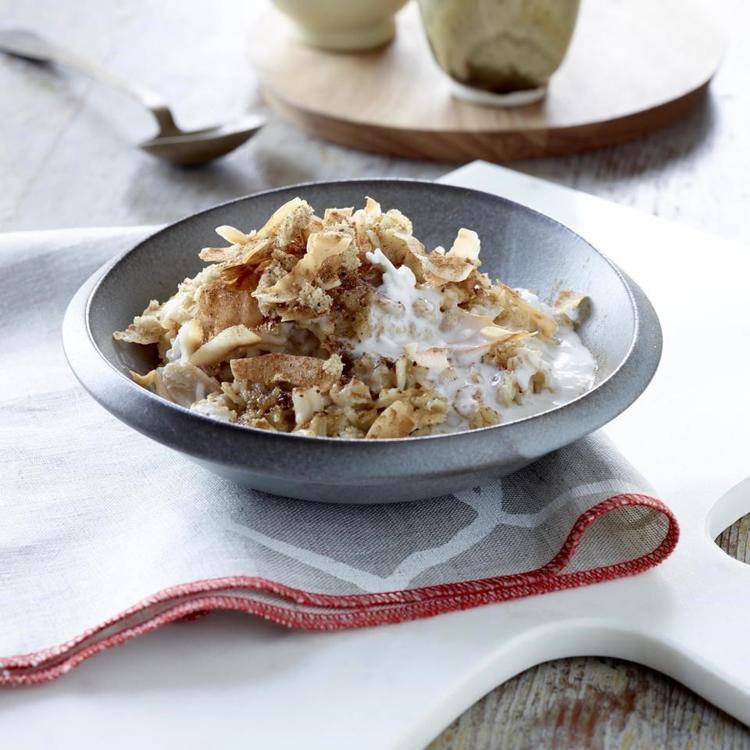 Coconut chai-spiced oatmeal
Servings: 1
Active time: 10 minutes; Total time: 10 minutes
Ingredients
1 cup water
Pinch of salt, divided
1/2 cup old-fashioned rolled oats
3 tablespoons unsweetened coconut milk beverage
2 tablespoons toasted unsweetened coconut chips
2 teaspoons brown sugar
1/4 teaspoon ground cinnamon
1/8 teaspoon ground ginger
Pinch of ground cardamom
Pinch of ground pepper
Directions
Bring water and salt to a boil in a small saucepan. Stir in oats, reduce heat to medium and cook, stirring occasionally, until most of the liquid is absorbed, about 5 minutes. Remove from heat, cover and let stand 2 to 3 minutes. Top with coconut beverage, coconut chips, brown sugar, cinnamon, ginger, cardamom and pepper.
Overnight oats variation: Combine ½ cup old-fashioned rolled oats with ½ cup water and a pinch of salt in a jar or bowl. Cover and refrigerate overnight. In the morning, add toppings. Eat cold or heat up. Makes about 1 cup.
Steel-cut oats variation: Bring 1 cup water, ⅓ cup steel-cut oats and a pinch of salt to a boil in a small saucepan. Reduce heat to a bare simmer, cover and cook, stirring occasionally, until creamy, about 15 minutes. Remove from heat and let stand, covered, for 2 minutes. Add toppings. Makes about 1 cup.
People with celiac disease or gluten-sensitivity should use oats that are labeled "gluten-free," as oats are often cross-contaminated with wheat and barley.
— EatingWell