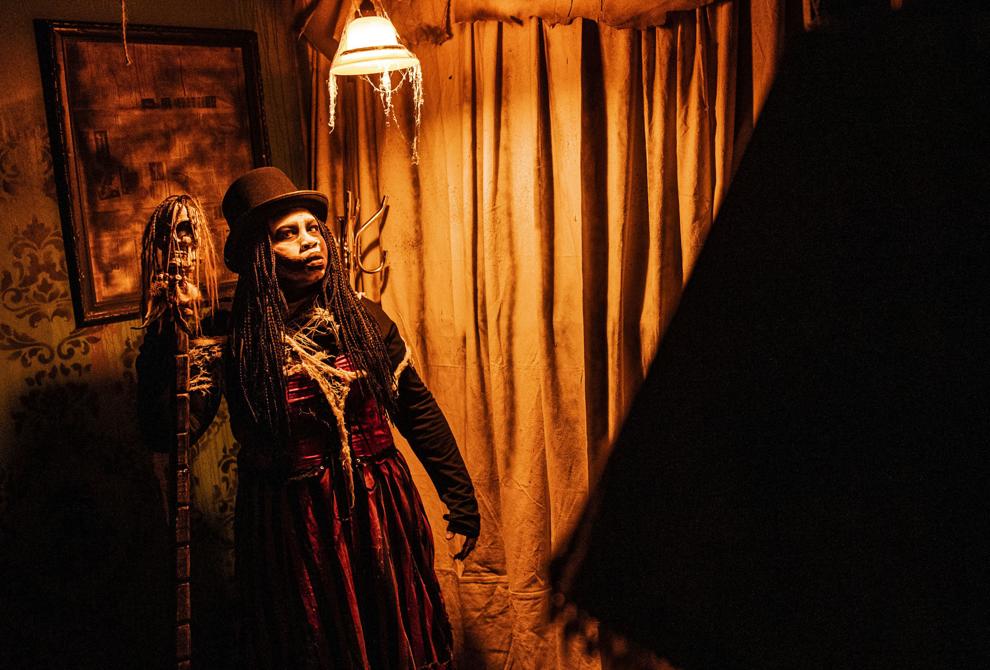 Some couples like a special dinner for Valentine's Day. For others, Cinema of Horrors in Kelso offers the idea of a "date night gone wrong" that's perfect for a different kind of romantic evening.
Cinema of Horrors' five theaters have been converted into four scenes. They pull some ideas from horror movies — including dilapidated rooms and freakish faces — with some areas tweaked to evoke the idea of a date night. And though they aren't Valentine's-themed, brave souls will still have the opportunity to travel through rooms filled with clowns and post-apocalyptic chaos.
The Valentine's Day event, which runs Feb. 14 and 15, is a "blackout," so all of the rooms are pitch black. Haunted house goers travel through the twists and turns of the maze-like rooms with electric candles to light their way.
"The candles actually light up the actors' faces really well. They really add to the atmosphere," Treadway Events owner and producer Brandon Treadway said Feb. 12.
Treadway Events is an event management agency based in Portland that puts on Cinema of Horrors. Its Valentine's Day event is targeted at older participants than Cinema of Horrors' Halloween event, but there's no age limit, Treadway said.
"Typically we see a lot of kids come both nights," Treadway said.
Not too much is changed between the Halloween event and the Valentine's Day event, but there are some holiday-specific characters, some new scenes and several photo opportunities, both with the characters and inside the haunted house. And a camera catches reactions as an automated puppet pounces at people.
"It's kind of like a roller coaster photo," Treadway said.
The haunted house begins in a post-apocalyptic style setting based on the 2015 film "Mad Max: Fury Road." This scene is set with actors dressed as war boys — pale, radioactive henchmen of the movie's villain — who bang on oil drums, making the experience loud, obnoxious and overwhelming, Treadway said.
From there, guests travel on to a clown playhouse through a maze of walls painted with murals by local high school and college students. Though the vibe is still creepy, the main scare is the clowns, said Carlena McAllister, casting coordinator for Treadway Events
"Clowns are a major phobia for people," McAllister said.
Next is the farmhouse scene: a fan favorite, Treadway said.
Guests are immersed in a destroyed home, with plenty of jump scares and creepy surprises. At one point, they enter a dining room set with a dinner table and an array of body parts, only to be surprised by the chef.
Since people like it so much, the farmhouse comes back year after year, but they try to tweak it a bit each time to keep it fresh, including changing up the route and walls, Treadway said.
Lastly is the hotel scene, which is the newest and Treadway's personal favorite. Taking up two theater spaces, the New Orleans-style hotel has decaying halls and rooms that lead "outside" to a bayou complete with a witch's hut.
"You really get to take a step back in time and meet your voodoo priestess," McAllister said.
The hotel is McAllister's location, though she doesn't have a specific spot in the rooms to haunt.
"I'm everywhere," she said with a devilish grin.
The Valentine's Day event is in its third year at the Cinema of Horrors, Treadway said. Since Halloween is seasonal, they were trying to think of a way to do events at other times of year.
"St. Patrick's Day was an option we were thinking of. Obviously we wanted to stay away from Easter, because of the religious aspect. Then we thought of Valentine's Day, since it's a big date night. We thought it would be good to offer something more unique for people to do," Treadway said.
The event begins at 7 p.m. on Friday and Saturday at 1301 Grade St. in Kelso. All haunted houses are no-contact, so actors will not scare guests by touching them.
Each attraction takes about eight to 10 minutes, though actors may stop groups to add an extra scare, lengthening the experience. In total, people can expect to spend between 40 and 50 minutes going through the entire haunted house.
Tickets range from $18 to $20 and can be purchased ahead of time at www.CinemaofHorrors.com/Tickets. So far, they've sold about half of the 300 tickets available for each night.