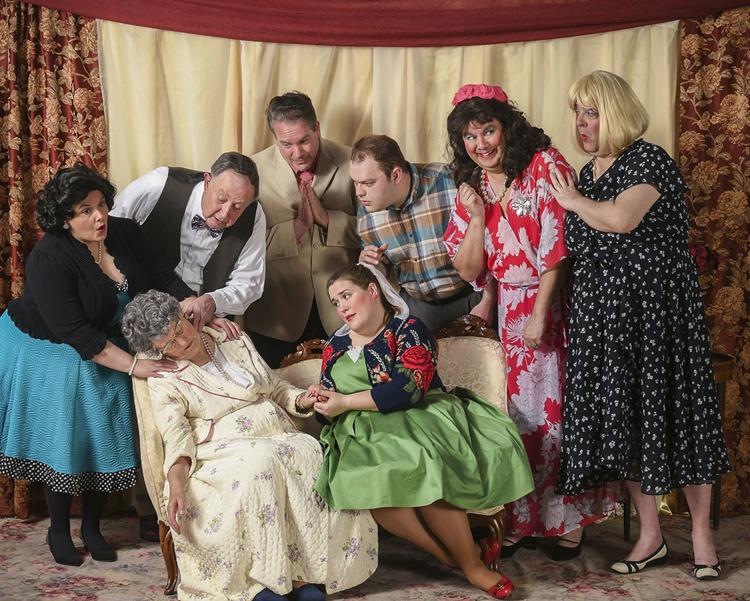 The hilarious comedy "Leading Ladies" by Ken Ludwig plays April 26 through May 12 at the Love Street Playhouse, 126 Loves Ave., Woodland.
The play follows two down-and-out Shakespearean actors, Leo Clark and Jack Gable, who devise a hair-brained get-rich-quick scheme after a dismal performance at the Moose Lodge in Shrewsbury, Penn.
After reading a newspaper article about Florence Snider, an ailing woman desperate to find her long-lost sister's children, Max and Steve, who moved to England as children, the men want a share of the woman's $3 million estate.
They devise a plan, then discover the woman isn't looking for nephews, but is looking for nieces Maxine and Stephanie.
Leo and Jack change their plan and show up as the newly found nieces. Then, Leo falls in love with Florence's niece Meg, who is the rightful heir of the estate and who is engaged to the local fussy minister. Director and Love Street Playhouse owner Melinda Pallotta assembled a cast of seasoned veterans and newcomers for "Leading Ladies." Longview residents Kevin Taylor and Craig Hoehne, play Leo Clark and Jack Gable, respectively.
Portland resident Tracy Sacdalan portrays Meg; Woodland resident Dave Cavallaro plays the fussy minister and Meg's fiance; Katie Klaus of Ridgefield, Wash., plays the roller-skating waitress Audrey; Vancouver resident Henry Lorch plays Audrey's not-so-bright boyfriend, Butch; Woodland resident Tom Golik portrays the gregarious Doc; and Boring, Ore., resident Lexy Dillon portrays the elderly Aunt Florence.
The Love Street Playhouse creative team includes owner and artistic director Melinda Pallotta as director and producer; Lorraine Little, costume design; managing director Lou Pallotta, set design and construction; Longview resident Mikail Nordquist, lighting design; Evelyn Roehn, production stage manager; Debbie Chunn, choreography; and David Bareford, violence design.
Performances are 7:30 p.m. April 26, 27, May 2, May 3, May 9 and May 10; and 2 p.m. April 28, May 4, May 5, May 11 and May 12.
Single tickets to the production start at $20 per person and can be bought by visiting www.lovestreetplayhouse.com or by calling 800-966-9965.
Local business sponsors and advertisers contributing to Love Street Playhouse include the Port of Woodland, Columbia Bank, Holland America Flowers, Benno and Klazina Dobbe of Woodland, Woodland Truck Line, Conkle Properties, LLC of Lake Oswego, Lou Pallotta of Chianti Club Productions, Columbia River Carbonates in Woodland, Maple Ridge BnB operated by Tim and Lee Welch of Woodland, Lelooska Foundation, Erica Rodman of Woodland Real Estate, Sproos Tap House of Woodland, Woodland Care Center, State Farm Insurance of Woodland, Hooked on Embroidery of Woodland, Last Frontier Casino (La Center, Wash.) USA Rocks and Woodland Funeral Home.