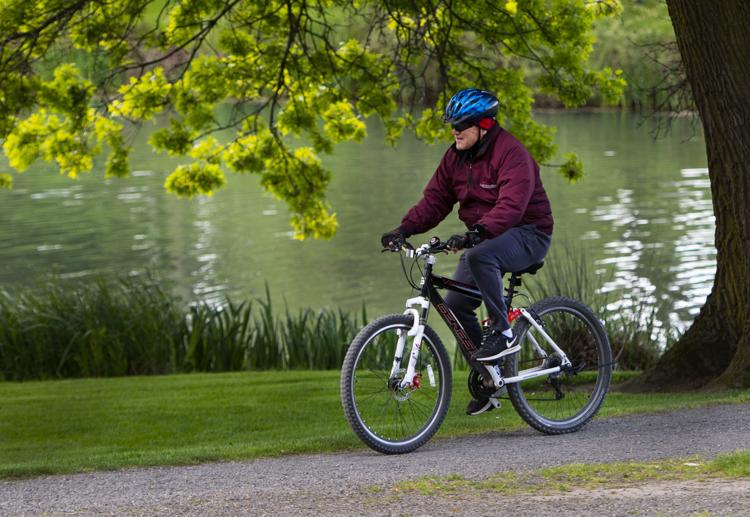 Dust off your helmets and bike locks: Bike Everywhere Month has arrived.
Although we are a few days into May, there is plenty of fun still ahead this month, including regional events and a statewide competition.
Lower Columbia School Gardens' third annual bike tour takes place from 2:30 to 5 p.m. Saturday, May 18.
Participants will meet at Northlake Elementary School and travel along trails and residential streets to four other schools near Lake Sacajawea. Helmets are required, and some snacks will be provided. All ages are welcome, but you'll need to sign up in advance at tinyurl.com/y2t8f88b.
Also on May 18 is the kickoff celebration for the construction of the Six Rivers Trail. The event takes place on Front Street in downtown Castle Rock and will include keynote speakers, a ribbon-cutting ceremony, a half-mile walk along the trail, and a cake and ice cream social, said David Vorse, public works director for the City of Castle Rock.
"The event will coincide with the monthly 'Move It Saturday' hosted by Cowlitz on the Move and Cowlitz Valley Runners," Lindsey Cope, community engagement director for the Cowlitz Economic Development Council, said in an email to The Daily News.
Saturday participants can "move it" along the original Volcano Days 10K route from 1981, Cope said. Anyone who would like to join can meet at 8 a.m. in front of Vault Books & Brew at 22 Cowlitz Street W. Bicyclists, walkers and runners are welcome.
"The point is for any and all people to get out and 'move it' in their community," Cope said.
If you want a healthy dose of competition to get you on your bike, the Bike Everywhere Challenge is for you. Throughout Washington, teams are already racking up points in the online competition. To participate, gather a team of two to 10 cyclists and earn points by taking trips, logging miles and recruiting new team members. Register at www.lovetoride.net/washington.
People can also add bicycling into their lives simply by biking to work or to school, said Paul Youmans, executive director of Cowlitz on the Move.
Youmans pointed to bicycling as a way of connecting communities.
"When you bike, you see people, and people see you," he said. "When you're driving down the road, you don't see what's going on. But when you bike, you see flowers around you and birds flying above you. You might bike past shops or the farmers market."
Pacific Northwest weather can be a deterrent for some people, but "if we can only bike six months out of the year, that's six good months we have for us," he said.
Improving bike infrastructure
Biking on roads can be scary, especially when there isn't space dedicated to cyclists. But some local cities are investing in making biking safer and easier to access.
Kelso is developing phase 2 of the reconstruction of West Main and Catlin streets near the Allen Street Bridge, which will include widening the street and adding bike lanes, said Mike Kardas, Kelso's public works director.
In Castle Rock, a $200,000 grant from the Washington Department of Transportation's "Complete Streets" program is allowing the city to upgrade large sections of roadways.
Several projects are already in the works to make biking easier in Castle Rock, including widening shoulders, adding rumble strips, and creating a pathway separate from traffic from Huntington Avenue onto the Riverfront Trail, said Vorse.
And of course, there's the development of the Six Rivers Trail, a bike path that will eventually connect Vader to Woodland through new trails, existing trails, and city and county roads. The official plan for the project will be ready by the end of May when it is expected to have final approval from the National Parks Service, Cope said.
In the meantime, funding from Cowlitz County and the Southwest Washington Regional Transportation Planning Organization enables the Six Rivers Trail Steering Committee to move forward with "(completing) a portion of the trail in Castle Rock and … developing a cost analysis of the entire trail thanks to Castle Rock's David Vorse," Cope said.
Longview has no projects to improve bike-friendliness, but the city does try to include bike-friendly features when possible, said Longview Community Development Director John Brickley.
"Longview is a great town for (active transportation)" because it's flat and has bus service, shopping, workplaces, events, and schools all located within five miles, Dave Fine, an avid bicyclist who advocates for improving bike accessibility in Longview, said in an interview.
(Active transportation refers to any self-propelled, human-powered mode of transportation, such as walking or bicycling, according to the Centers for Disease Control.)
But the city has done little to adopt policies that would make the city more bike-friendly, Fine said.
"The best cities in the world have protected bike/walking paths," Fine said. "We have some developed now — like the one near the golf course — but we could have many more. If developed, Longview would rival cities across the USA for (active transportation) programs."
Keeping the law in mind
Though changes to streets and trails go a long way in helping bicyclists feel safer, there still are important safety measures to keep in mind.
On an individual level, cyclists should practice being alert, respectful and mindful of the law, Vorse said. Wearing a helmet is also important.
Some laws that affect cyclists:
At night, bikes must have a white front light (not just a reflector) that's visible 500 feet away and a red rear reflector and/or light.
Cyclists may choose to ride on the street, shoulder, bike lane, or sidewalk, depending on where they feel most safe.
If cyclists ride on the street, they must obey traffic laws and must ride as far to the right as is safe except when turning. Cyclists may ride side by side, but no more than two at a time.
If cyclists ride on the sidewalk, they have to obey pedestrian laws, such as stopping at stop signs.
State law prohibits drivers from opening their door into bicyclists. When you're driving, always look before you open your door.
There are no state laws requiring bicyclists to wear a helmet or to ride sober, but it's a good idea to do so.
"Bicycling isn't for everybody, but everybody should give it a try," Youmans said.