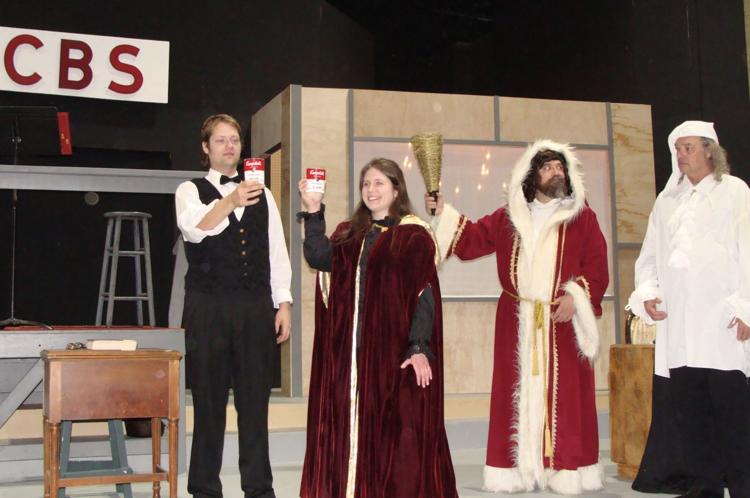 Staging the most famous Christmas ghost story in literature, one that has been rendered in countless ways — from Charles Dickens' reading tour of his 1843 novella to movies, radio, stage plays, TV, cartoons and opera — poses a challenge. How do you make it fresh without sacrificing the familiar?
Writer-director Larry E. Fox chose to distill it to its essence, using as his starting point the 1939 edition of the radio play Lionel Barrymore (as Scrooge) presented from 1934 to 1953. "Orson Welles Presents 'A Christmas Carol' Live Radio Show" opens Friday at Stageworks Northwest Theatre and runs through Dec. 16.
"I hope it will be a great kickoff for the holiday season," said Fox, who also plays narrator Orson Welles.
But it's not presented radio-style; Fox said he's giving audiences "a new twist to a story that they've seen before."
In this rendition, actors don't stand at microphones with scripts in hand; they act out the scenes in the CBS studio with minimal props and costumes, enhanced by sound effects. For example, Jacob Marley's ghost is draped in realistic-looking chains, but the clanking sound is provided by Steve McElhinny.
"I felt the people of Cowlitz County deserved something a little different than a radio show," Fox said. "I wanted to give them a visual that they'd enjoy."
Because the radio show was an hour long, Fox and his two co-writers expanded it with period commercials for Campbell's Soup (the 1939 sponsor), Christmas carols, dances and a framing device of two CBS tour guides (William Brauné and Shelley Jacobs) who invite the modern-day audience back in time to hear "a ghost story about a ghost story." Jacobs and Brauné also play the ghosts of Christmases Past and Present, respectively.
This is Fox's directorial and playwriting debut at Stageworks, where he has become active as an actor since moving to Longview from San Diego in 2017. He performed in numerous California stage and film productions, including Welles in this version of "Christmas Carol" in 2015. A reviewer for the East County Californian said Fox "fit the bill and his deep tone fit the character."
The central character of Ebenezer Scrooge is played by Frits Kaan, another newcomer to Longview (from Colorado via Portland).
Scrooge is a miserly moneylender who hates Christmas because he associates it with misery (his fiancée broke their engagement and his only friend died on different Christmas eves). But on this fateful Christmas Eve, the melancholy ghost of his partner, Jacob Marley (Sean Murray), warns him to change, or he will spend eternity in worse torment than him. The ghosts of Christmases Past, Present and Future enlighten Scrooge through scenes of other Christmases, including that of poor-but-cheerful Bob Cratchit (Peter Curtis) and his seriously ill son, Tiny Tim (Lilly DeVries).
Kaan also plays Barrymore, and the rest of the 20-member cast also portray real members of Welles' company.
Kaan, who previously played Scrooge in Colorado, said he's drawn to the character "because of the challenge" of playing Scrooge's arc from a miserable miser to a kindhearted, generous man.
"Scrooge is never ever happy, he finds no joy in his life — until one Christmas Eve. He chose to be selfish," Kaan said. "The story has a punch, and I want to give it that punch." The lesson is to "not get caught up in yourself," but to "promote the greater community and the greater good."
Fox didn't plan to have a large cast, but so much talent showed up for auditions that he used most of them, including eight actors in their first Stageworks play. "I wanted to give everyone a chance to be there," he said. "I like that this show has so many newcomers, including people who've never done this before."
Among those onstage for the first time is Sean Murray, a quiet introvert who auditioned to see what the experience of trying out for a play would be like. He had "no expectation of getting a role."
But playing the roles of Jacob Marley and Old Joe (who fences stolen goods) has been "a liberating experience," he said. "I think it has forced me to do things I have never otherwise done." And he is enjoying himself.
He hopes audiences will "see a bunch of normal members of the community having a lot of fun with each other."