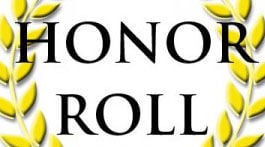 Editor's note: This honor roll appeared on Page C4 in the Sunday, Feb. 2, print edition of The Daily News.
The Coweeman Middle School honor roll and honorable mention roll for the first semester of the 2019-2020 school year has been announced.
To be named to the honor roll, students must have had a grade-point average between 3.25 to 4.0. To be named to the honorable mention roll, students must have had a grade-point average between 3.0 and 3.24
4.0 grade-point averageEighth grade: Kayla Aalvik, Ava Beck, Parks Chennault, Baylie Collins, Kyra Dieter, Emily Fisher, Soren Guttormsen, Whitney Jabusch, Violet Kaiser, Cloe Kent, Haley Lopez, Elijah Malik-Byers, Lana Osman, Josaphine Saccio-Devine, Yaquelin Sanchez-Bueno, Sadie Schierscher and Avery Schlecht.
Seventh grade: Rian Alabiso, Tucker Amrine, Josie Backman, Claire Brigman, Lily DeVries, Aliyah Dougherty, Harrison Eugenis, Bryar Iddings, Wesley Leeper, Jeremiah Malik-Byers, Hunter McMillan, Jaidyn Menning, Mercedes Musser, Mallory Scruggs, Nathan Sheldahl and Sydnie Walters.
You have free articles remaining.
Sixth grade: Nathaniel Bailey, Brycen Bradley, Adisyn Cox, Alliyah Dieter, Arcadius Landgren, Madison Lee, Brynn LiaBraaten, Alexandria McCoy, Rylie Nelsen, Taylor Nelsen, Kayden Shoddy, Nevaeh Thomas and Milina Whipps.
3.99-3.25Eighth grade: Ariana Audinet, Alyssa Badgley, Jacob Beavers, Dennis Benediktus, Madison Bosarge, Rylee Brown, Roxana Bueno Urias, Cameron Clement, Bubba DeClue, Avary Easterly, Jose Flores-Sosa, Zoe Fortner, MaKenna Foust, Daryl Graff, Katelyn Grendahl, Tiffany Griffith, Therron Haggard, Zoe-e Havens, Michael Henderson, Madison Hinners, Sadona Holm, Carter Huff, Clark Jensen, Jonathon Jimenez, Andrew Jones, Anders Keplinger, Jake Kramer, Brycen Kynaston, Carter LaBerge, Connor Malone, Easton Marshall, Camren Mattison, Austin Mayfield, McKenzie Milligan, Alisha Milne, Kyle Mirenta, Hailey Morris, Alexis Musser, Luke Prothero, Jacob Rafn, Brannon Rheaume, Yoselin Sanchez-Bueno, Kyra Sanders, Kaitlyn Scrichfield, Jordyn Spain, Carli Stout, Clayton Taylor, Tayson Thompson, Ocean Vaillencourt, Trent Walter, Audrey Webberley, Aubrey Werly, Sophia Wickham, Hunter Williams, Amelia Wood, Melina Zahniser and Lilias Zittenfield.
Seventh grade: Carter Bailey, Bailey Baumfalk, Kayden Blodgett, Jaiden Bloomfeldt, Colton Bonner, Rhylee Bonner, Allison Bourland, Kailynn Bradford, Angel Branstetter, Blaise Brenot, Olivia Brentano, Ismael Brito-Arteaga, Emma Brown, Edgar Castaneda, Cloe Colburn, Jonas Conrad, Abigayle Countouriotis, Hannah Currence, Adelina Davis, Juliet Dobratz-Fowler, Chace Doehne, Madison Fowler, Owen Gallagher, Haylie Gorton, Nehemiah Guzman, Logan Heard, Cassiah Holst, Emberlin Homer, Phoenix Hubbard, Halle Johnson, Ashton Jorgenson, Gabriel LaMonda, Aiden Lavender, Dashal Lemiere, Jacob Manecke, Tegan Marriott, Avery May, Peyton McKnight, Tate Meade, Marleen Muludy, Jared Nease, Leona Neves, Allan Ortega, Isabel Otero, Ryan Parks, Adrian Rasmussen, Faith Ray, Jesus Rios Rios, Arin Risner, Celia Rodriguez-Lopez, Emily Roe, Bregan Ruhland, Isabella Sandoz, Abby Schlarb, Jason Sloan, Aden Sparman, Mason Taylor, Christopher Travis, Joelle Turner, Ashlynn Verhei and Nevaeh Wilkie.
Sixth grade: Anjel Aceves, Qale Allen, Caden Anderson, Hannah Booth, Mikalah Boucher, Travis Brinkman, Madison Brogan, Jasmine Cerritos, John Cheslock, Bryce Collins, Matthew Covert, Zachary Croney, Trenton Curley Narios Dahlman, Asher Dato, Amidala Davis, Matthew Davis, Rain De Leon, Tayten DeLauney, Emma DelMar, Noah Downs, Leo Drumal, Rowan England, Eva Ennis, Makenna Fitzpatrick, Steven Fortner, Landrey Geiszler, Alexander Gilfillan, Madelyn Glaser, Brady Goss, Macey Graff, Royal Grafton, Hattie Guler, Zaden Hoover, Anna Hoskins, Troy Hughes, Alexandrea Jones, Mackenzie Jones, Sean Kim, Kassidy Magnuson, Leah McReary, Sophia Mirenta, Kylen Morris, Greta Nichols, Emma Osborn, Diego Pelayo-Barajas, Aiden Richmond, Anthony Robinson, Cayden Rogers, Kayla Sanders, Niah Shampine, Eden Shaw, MaKenna Shipley, David Smalls II, Marshall Stephenson, Alexander Taylor, Grace Toney, Brooklynn Verhei, Addison Walters, Heidi Webb, Nevaeh Weed and Jillian Wood.
3.24-3.0Eighth grade: Gracie Beach, Kaydence Binning, Zanyah Briggs, Justin Broxton, Chantz Bullock, Ryderlee England, Ashley Foust, Peyton Freund, Amaya Gonzalez-Martinez, Adriana Harrington, Logan Hiatt, Cloe Johnson, Brayden Kannas, Braeden McCauley, April Porter, Thomas Sherry, Cloe Strine, Keanan Sturm, Lucia Tovar Martinez, Phuoc Tran and Justin Wehtje.
Seventh grade: Hunter Bailey, Mason Bridges, Jillian Carter, Cooper Cromwell, Jayden Duckworth, Isai Felipe-Perez, Enya Gonzalez Jaramillo, Triton Hagdahl-Daniel, Jakob Hayes, Ephraim Holmack, Emma Hood, Jade Irons, Tristan Karvela, Keirsten Kennedy, Lailah Lahde, Chace Music, Emma Pacheco, Avalyn Petterson, Emeral Sizemore, Jayden Smalls, Emma Smith, Destanie Stanford, Holley Walker, Jenna Walter and Caylee Wilcox.
Sixth grade: Jason Burroughs, Kayden Crucius, Kailyn Eddins, Riley Gerhardt, Grady Hansen, Brooke Hefley, Valeria Hernandez, Ashlyn Homer, Jolie Huntington, Audrey Keele, D'mitri Kemp, Kylee King, Jayden Lacey, Kyle McReary, Lucas Moyer, Kendra Olson, Spencer Wade, Zahara Wayrynen and Caiden Williams.