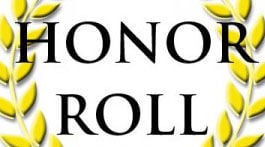 Editor's note: This honor roll ran on Page B5 in the May 1, 2021, print edition of The Daily News.
The Coweeman Middle School honor roll and honorable mention roll for the third quarter of the 2020-2021 school year has been announced.
Students named to the honor roll received between a 3.25 and a 4.0 grade-point average. Students named to the honorable mention roll received between a 3.0 and 3.24 grade-point average.
Eighth grade: Tucker Amrine, Olivia Brentano, Claire Brigman, Ismael Brito-Arteaga, Jonas Conrad, Abigayle Countouriotis, Hannah Currence, Lily DeVries, Kaylyn Dillinger, Chace Doehne, Aliyah Dougherty, Harrison Eugenis, Raeden Fisher, Owen Gallagher, Enoch Hatch, Logan Heard, Phoenix Hubbard, Tyler Loren, Jesus Rios Rios, Arin Risner, Mallory Scruggs, Jewelia Skolrud, Zacary Soules, Aden Sparman and Sydnie Walters.
Seventh grade: Mason Aitken, Caden Anderson, Amanda Carapia-Herrera, Aubrey Carroll, John Cheslock, Adisyn Cox, Zachary Croney, Kayden Crucius, Amidala Davis, Rain De Leon, Tayten DeLauney, Alliyah Dieter, Leo Drumal, Makenna Fitzpatrick, Landrey Geiszler, Alexander Gilfillan, Lotus Goodrow, Royal Grafton, Hattie Guler, Troy Hughes, Darya Ishchenko, Brynn LiaBraaten, Leah McReary, Gustavo Mendez Garcia, Rylie Nelsen, Taylor Nelsen, Kayden Shoddy, Angus Streiff, Alexander Taylor, Grace Toney, Nevaeh Weed and Milina Whipps.
Sixth grade: Samantha Abruzzini, Elliauna Adams, Scott Bebernes, Taj Brooks, Natalie Brown, Kellan Clement, Mia Conrad, Cori Doehne, Ashlynn Droke, Aubrianna Duarte-Martinez, Ashley Garcia Carbajal, Chloe Grasser, Corey Hughes, Lily Johnson, Logan Johnson, Wyatt Johnson, Xander Johnson, Allan Jones, Riley Mundell, Isis Natirboff Dent, Ella Risner, Sokterra Roth, Emma Strickland, Alexander Sunday, Paisley Van, Jay Waddell and Michelle Young.
Eighth grade: Rian Alabiso, Josie Backman, Bailey Baumfalk, Rhylee Bonner, Allison Bourland, Kailynn Bradford, Angel Branstetter, Blaise Brenot, Mason Bridges, Emalyn Carr, Lauren Carr, Jillian Carter, Paul Clark, Julissa Cobian, Cloe Colburn, Kenneth Condon, Charlee Cox, Cooper Cromwell, Makiaha Dameron, Jaden Davis, Emma DeLong, Boston Doebele, Edgar Duarte, Jayden Duckworth, Sariah Ferro, Jose Flores-Sosa, Madison Fowler, Noelia Garcia-Luna, Nehemiah Guzman, Elliott Hegdahl, Ephraim Holmack, Cassiah Holst, Kadin Homer, Bryar Iddings, Jade Irons, Halle Johnson, Julia Johnson, Carson Kennedy, Gabriel LaMonda, Wesley Leeper, Dashal Lemiere, Clayton Little, Tegan Marriott, Joseph Martin, Marco Martin-Andres, Hunter McMillan, Chace Music, Isabel Otero, Emma Pacheco, Ryan Parks, Faith Prospere, Adrian Rasmussen, Faith Ray, Celia Rodriguez-Lopez, Emily Roe, Leeah Seal, Jason Sloan, Jayden Smalls, Kamren Spurlock, KayLora Teigen, Marcus Whitmire and Nevaeh Wilkie.
Seventh grade: Matilyn Applebury, Isabelle Biddiscombe, Travis Brinkman, Jason Burroughs, Jeremy Cheeseman, Bryce Collins, Calleigh Cox, Trenton Curley Narios Dahlman, Kaden Daggett, Asher Dato, Lilly Davis, Noah Downs, Alivia Duckworth, Oren Ellison-Tommila, Rowan Rea England, Presley Fortner, Macey Graff, Grady Hansen, Brooke Hefley, Logan Jensen, Alexandrea Jones, Audrey Keele, Sean Kim, Kaden Luce, Natalie Madarash, Kassidy Magnuson, Alexandria McCoy, Kyle McReary, Sophia Mirenta, Angel de Jesus Morales-Aguilar, Greta Nichols, Kendra Olson, Jennifer Oporto Hernandez, Emma Osborn, Ava June Owens, Erika Rangel, Aiden Richmond, Estevan Rios, Anthony Robinson, Kayla Sanders, Niah Shampine, MaKenna Shipley, David Smalls II, Treyson Stamey, Marshall Stephenson, Nevaeh Thomas, Cole Tippery, Spencer Wade, Jozef White, Caiden Williams and Jillian Wood.
Sixth grade: Fernanda Almonte Quevedo, Emilia Baldomero, Zachary Barnes, Jake Baumfalk, Jude Beck, Aeden Berryman, Noelani Brown, Belinda Bueno, Joselin Childers, Bailey Clark, Josephine Davie, Calvin Davis, Chloe Doherty, Madeline Eriksson, Owen Fraley, Miles Franett, Abdias Gonzalez, Austin Graham, Eric Gutierrez-Hernandez, Max Hadaller, Breonna Hefley, Hayden Johnson, Tyler Johnston, Leighton Jurica, Sophia Koontz, Colton LaFever, Madisyn Lane, Luke Latham, Amaya Leasure, Kylie Lueck, Ikaika Manu, Mickey McWain, Riley Milligan, Makayla Nestaval, Andrew Ogle, Ava Palomino (Grasser), Colston Pavey, Ivy Peterson, Cayden Price, Brody Pype, Cedar Rader, Henry Renteria, Kendra Richards, Elijah Risner, Aundraya Rister, Savannah Sandusky, Elliott Smith, Michael Snow II, Jessi Sorensen, Rose Soto, Anlly Urias Montes De Oca, Jesus Valdivia Lopez, Kiyra Verdos, Kaidence Wilkie, Amber Willet, Zachary Williams, Roland Willis and Bo Wilson.
Eighth grade: Sophia Adams, Stephanie Bautista Nunez, Emma Brown, Mason Dalton, Adelina Davis, Tucker DeLauney, Balin Eib, Jayden Hackett, Miley Hartley, Emma Hood, Thomas Jones, Keirsten Kennedy, Peyton McKnight, Allan Ortega, Austin Perez, Avalyn Petterson, Evan Rich, Tyler Richards, Isabella Sandoz, Emma Smith, Joelle Turner, Nevaeh Vaughan, Ashlynn Verhei, Jenna Walter and Chase Wise.
Seventh grade: Perla Cobian, Cooper Cornelison, Alysaundra Davie, Bailey Edinger, Lily Hendershott, Valeria Hernandez, Zaden Hoover, Jolie Huntington, Dawson Johnson, Gracie Johnson, Wiatt Owens, Mali Patterson, Mercedes Perdue, John Ramirez Rodriguez, Holly Seal, Kaylee Smith, Savanah Ulman, Brooklynn Verhei, David Villarreal-Gurrola, Addison Walters and Nicole Williams.
Sixth grade: Noe Aguilar-Tapia, Balian Andrews, Mitchell Barney, Bryce Brown, Nicholas Domion, Brycen Eastham, Alexandria Ferguson, Dominic Garcia, Josie Hamm, Bailee Hammergren, Kassidy Hayes, Joanna Hernandez, Harley Howe, Nakiah Huntley, Makiah Kyllo, Sarah Lawhon, Aaliyah Morrow, Alyssa Pennington, Teesha Pisarchuk, Earl Ray, Riley Ray, Beau Sereday, Emily Tennant, Emily Valencia and Jordan Vick.