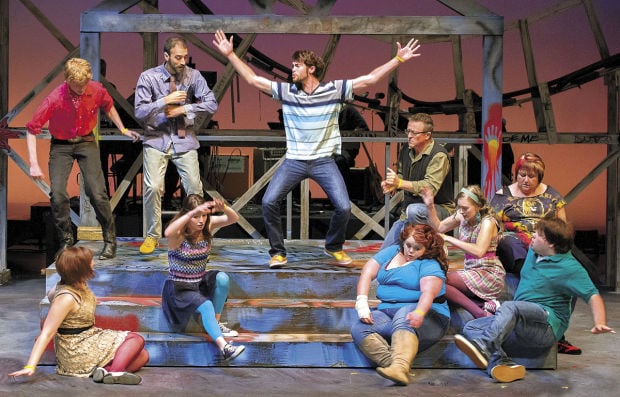 Daniel Fox, who plays Jesus in the Center Stage production of "Godspell," said people who go to church will recognize the Bible's parables dramatized in the show.
"People who don't go to church will learn the same lessons, but in different ways," Fox said.
That's the reason for the widespread appeal of "Godspell," which blends Bible stories with pop music and dancing.
LCC's production, which opens Wednesday (Aug. 7), is blessed with a good cast, most of which is up to the show's singing and acting demands. Judging from a dress rehearsal, the show is fun to watch and thought-provoking, regardless of your religious beliefs.
Light touches such as John baptizing the disciples with a water bottle, Jesus leading a game of charades and lines from a classic Three Stooges routine woven into Scripture might repel some churchgoers, however.
"A lot of them won't come," said J Wylie, who plays John and later Judas. "But I think they'd be pleasantly surprised if they did show up."
This is the third summer that LCC has done a musical. The first two were wacky: "Little Shop of Horrors" and "A Funny Thing Happened on the Way to the Forum."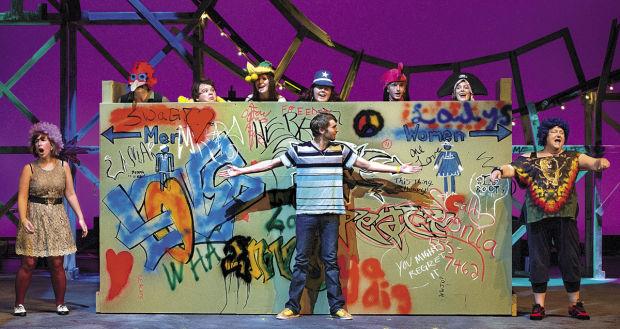 The more serious "Godspell" wasn't LCC director Don Correll's first choice for this summer. "I had never wanted to do it," he said. However, he was lobbied by his musical director, Kathy Jones, and choreographer, Valdeane Dick, who had been involved in several productions of the show.
Despite his initial resistance, Correll said he's enjoyed the challenge of trying something different on stage. "Since I am an atheist, nothing is holy," he said. "I'm trying to make it universal."
By now, the show has near-universal appeal.
"Godspell" premiered off-Broadway in 1971. Written by John-Michael Tebelak, it's a retelling of the Gospel of St. Matthew, and some lessons from Luke, in skits and songs. Stephen Schwartz (who later wrote "Wicked" and "Pippin") wrote the music and lyrics.
In addition to multiple revivals on Broadway, school casts regularly perform "Godspell," which passes the bar for public institutions because it doesn't promote Christianity.
Correll, who was brought up a Lutheran, said he was familiar with the parables in the show. So was Fox, who was raised in the Mormon church but doesn't attend a church now.
Fox looks like the stereotypical image of Jesus seen on Sunday school paintings — lean and bearded. He's able to portray the intensity and confidence the role requires at times. He's also a good singer, especially in "Alas for You."
Wylie, another strong singer, has the other major roles as John the Baptist and Judas. Like Fox, Wylie was raised in the Mormon church. Getting into his role moved him to start attending services again — though it is at a Baptist church these days. For Wylie, "Godspell" is about "celebrating the formation of Christianity as a whole."
The parables flow quickly during "Godspell," which is set in an abandoned amusement park — a mock roller coaster is the only permanent piece of the LCC set.
Cast members shift roles from scene to scene to act out familiar stories such as the Good Samaritan (who is a jogger in this version), the Prodigal Son and the Golden Rule.
Unlike in many musicals, the songs are equally divided among cast members. One of the younger members of the cast, 18-year-old Maggie Dick, does a nice job with the show's big hit, "Day by Day."
I also liked Donnia Reed, who donned a beehive wig as Mary Magdalene for a burlesque version of "Turn Back O Man."
The cast also includes Travis Andersen, Mike Cheney, Scarlett Clark, Olivia Ericksen, Matt Olason and Moriah Wylie.
One of the better dance numbers is a vaudeville-style "All for the Best," in which Jesus and the disciples flip their walking sticks as they prance around the stage. "We Beseech Thee," a cowboy hoe-down, is a lot of fun, too.
The show gets a little over-the-top at times. How does the cast portray the gnashing of teeth that awaits non-believers in Hell? You'll have to see the show.
Despite the serious topics, comic touches keep the tone relatively light through most of the show — until Jesus' betrayal and crucifixion scenes.