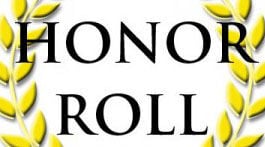 The Castle Rock High School honor roll for the second semester of the 2020-2021 school year has been announced.
12th grade: Krystel Mallery, Camilla Scandaletti and Bentley Streiff.
11th grade: Maylena Cherrington, Lindsey Logan, Adam Partridge, David Sears, Logan Setera, Rhiannon Sibbett and Natalie Swofford.
10th grade: Easton Ashby, Nolan Kessler, Paige Kessler, Kailee Kuanoni, Tymber Murdock and Isabella Remmers.
Ninth grade: Adriana Alcaraz, Jessica Aylesworth, Kynsi Bayes, Vera Belova, Emma Davis, Ryker Heller, Cayden Lukken, Ethan Metcalf, Yael Molina, Paige Ogden, Rylee Ogden, Amparo Payne, Makyla Robb, Hunter Setera, Gracie Sibbett, Kayden Tallman and Tenley Walling.
12th grade: Luke Anderson, Alex Buchanan, Taron Creed, Riley Curren, Electra Duus, Emmet Falter, Veda Frost, Kylee Jacobs, Karenda Johnson, Isaiah Kennedy, Grant Kincaid, Jonathan Lake, Allison Loftus, Yovani Lopez Sanchez, Garrett Marcil, Caelyn Marshall, Jonah McGary, Austin McQuilliams, Lucas Orr, Wyatt Partridge, Marcus Pogue, Darcy Pond, Mykel Powers, Abigail Sickels, Shannen Simpson, Eva Sten and Antoni Valdivia-Boyd.
11th grade: Hannah Coleman, Hayden Curtiss, Julio Fajardo-Carrillo, Landon Gardner, Asa Hamer, Payton Kessler, Myla Langdon, Jenna Lee, Kate Loftus, Mason Metcalf, Susan Mosqueda, Chance Naugle, Tristen Reagor, Payton Ricketts, Benito Rodriguez, Jr., Nevaeh Sigmund-Kuanoni and Raychel Squibb.
10th grade: Anakaren Alcala, Ella Anderson, Elijah Bishop, Paysley Blevins, Alyssa Calhoun, Elieriq Cole, Lauren Drake, Samantha Farland, Siena Flint, Chelsey Frye, David Garcia, Emma Hall, Caleio Hipp, Rachel Holliday, Laura Houpt, Tony Ibsen, Britteny Johnson, Justice Johnson, Bradin Kindell, Ava Ledford, Morgan Lewis, Jordynn Madden, Betsy McIntosh, Hanna Merchant, Lexis Mohler, Jasmin Mosqueda, Michael Neily, Lane Partridge, Sylvia Payne, Olivia Pomeroy, Anna Rose, Dylan Ross, Elijah Shulke, Zoey Smith, Maile West, Thomas Williams and Annabelle Wrzesinski.
Ninth grade: Brookelyn Alblinger, Jakob Behrendsen, Haivyn Bernert, Jade Booth, Zoie Chancellor, Braden Cherrington, Logan Clark, Samantha Cook, Tate Fajardo, Kassidy Handel-Leatherwood, Tyler Jansen, Patience Lakey, Charlotte Lamphier, Dakota Lee, Laynee Logan, Emma Mallery, Kaitlyn Meyers, Ellen Miller, Izabella Neal, Avery Ness, Mya Orr, Ava Palmer, Regina Peroutka, Tara Poe, Steven Randolph III, Landon Sattler, Tyler Siepak, Albert Steele, Chasen Swihart, Tough Traver, Jazzmyn Trekas, Diona Ventura, Laef Wallace, Sydney White, Nolan Williams and Ellie Woolcott.