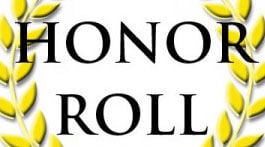 Editor's note: This honor roll appeared on Page B6 of the Tuesday, March 2, 2021, Daily News print edition of the newspaper.
The Cascade Middle School honor roll for the first semester of the 2020-2021 school year has been announced.
Eighth grade: Katherine Bingham, Olivia Davenport, Olivia Durrett, Grace Eaton, Hannah Gregory, Hailey Jones, Kaitlyn Kloke, Matthew Pickett and Hannah Richmond.
Seventh grade: Samuel Allen, Yadira Cancino-Gonzales, Lily Clanton, Hannah Hack, Simon Huhta, Robert Keo Lasley, Emma Larsen, Laci Robertson, Ethan Rogen, Jeffrey Rooklidge, Mara Slabu, Jeffrey Smith and Paige Wirtz.
Sixth grade: Allison Burkey, Alexandria Canaday, Gavin Davis, Bryclynn Holcomb, Sara Holmes-Villalobos, Anakin Isenhart, Emmaline Krastev, Kaijah Nagunst, Merton Olson, Keigan Rodriguez, Haley Rodriguez Flores, Ella Rundell and Shyanne Sellers.
Eighth grade: Joshua Aguilar-Sandoval, Peyton Bisconer, Kale Byman, Halie Carter, Zoey Cole, Damian Cranshaw-Rodriguez, Sienna Edgell, Zander Escobar, Adryan Everdell, Courtney Godwin, Arely Gutierrez-Larios, Sammuel Hoptowit, Mariah Isackson, Haylie Keele, Henry Kelly, Lillyann Lovingfoss, Elly McCann, Sydney Nelson, Alexa Phillips, Mikayla Ramsey, Liliana Rodriguez-Flores, Brady Schlecht, Dallyn Siegrist, Liam Smith, Alexandria Snow, Nathan Stephens, Payton Thill and Elsiee Woitt.
Seventh grade: Simon Allen, Ashlynn Anderson, Grant Bingham, Harlow Bloomfeldt, Brendan Brown, Conner Byman, Ailish Cambridge, Camden Carpenter, Zachary Casanover, Ethan Clary, Jessica Coppernoll, Rose Wincy Corro, Alexzander Cutbirth, Bryce Farquhar, Niklas Fry, Lucianna Garcia, Blake Harman, Landon Irwin, Gabriella Meeuws, Aiden Mitchell, Tru Most, Blake Musso, Claire Ness, Ryek Perner, Donald Quintero, Helena Renk, Preston Rodman, Logan Savinski, Anabelle Schellenberg, Chloe Svoboda and Madison Thill.
Sixth grade: Carson Adams, Addison Bales, Sophia Comia, Valeria Contreras, Madison Crowl, Kadence Daggett, Diego De Leon-Velazquez, Rio Dieter, Sienna Dorland, Grayce Falk, Alexis Gunter, Zachary Hall, Cassidy Hernon Jolly, Elsie Herold, Trystan Kizer, Kayden Leggett, Ethan McMahon, Milly Montgomery, Isabel Pavelec, Connor Robertson, Dayvin Robertson, Christopher Sorenson and Charleigh Wharton.
Eighth grade: Carson Bogner, Easton Cole, Levi Elieson, Raelie Guizzotti, Mark Hendrickson, Hadley Kasson, Caleb Kizer, Ethan Mansfield, Tyler Norris, Christian Sternagel, Dalton Stevens and Mac West.
Seventh grade: Jason Adams, Masen Bennett, Jayel Bolden, Addison Christopher, Kadi Coughlan, Zeppelin Edgell, Teigan Elf, Kennedy Fitzsimmons, Claire Gibbons, Trevor Herold, Zaydrian Josh, Jasmine Karametos, Camren Lair, Jorie Langenbach, Izabel Lopez Nolascos, Olivia Nimmo, Eliayna Perez, Jase Peterson, Kaycee Potts, Lane Smith, Brooklyn Thomas, Eric Thomason and Jace Wright.