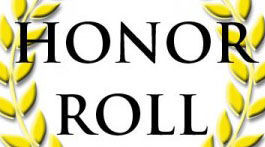 Editor's note: This honor roll ran on Page C6 of the Feb. 9 print edition of The Daily News.
The Cascade Middle School honor roll for the first semester of the 2019-2020 school year has been announced.
Eighth grade: Isabelle Allen, Henry Ballantyne, Angelina Barbosa, Ashlyn Bollie, Nara Brown, Klauvinia Cernal, William Clark, Sarenity Crane, Kiandra Huhta, Rhossili Johnson, Scarlett Kelly, Jessalyn Kloke, Natalya Larson, Lukas Meeuws, Colin Oliver, Christian Oyama, Grace Phillips, Viktoria Podnizhnyy, Gladis Sanchez Matias, Cade Warren and Rilyn Weitman.
Seventh grade: Katherine Bingham, Zoey Cole, Olivia Durrett, Grace Eaton, Sienna Edgell, Escue Eram, Olivia Foister, Raelie Guizzotti, Pech Dalyka Hang, Thomas Herold JR, Kaizekial Kessler, Kaitlyn Kloke, Elly McCann, Sydney Nelson, Alexa Phillips, Matthew Pickett, Rylee True Reece, Hannah Richmond, Dorothy Rio and May Lynn Williams-Drennen.
Sixth grade: Samuel Allen, Harlow Bloomfeldt, Sasha Gleave, Simon Huhta, Emma Larsen, Claire Ness, Jeffrey Rooklidge, Mara Slabu, Jonah Williams and Paige Wirtz.
You have free articles remaining.
Eighth grade: Ella Aguirre, Andrea Alva-Belmontes, Mariela Belmontes Bueno, Pace Berry, McKennah Boaglio, Josephine Bollinger, Dj Booth, Atticus Boyd, Lane Brunelle, Sadie Burgess, Perla Carbajal Lopez, Christine Carman, Adreana Coons, Nolan Cox, Yakima Fallet, Macee Farquhar, Vincent Flint, Rema Gravett, Jasmin Hernandez Martinez, Kendall Higgins-Swindell, Ashley Hooper, Beau Jensen, Caitlynn Johnson, Eva Jones, Javen Kent, Naomi Lauterbach, Austin Lomax, Taylor Mann, Carson Munger, Kara Nixon, Lara Perissinotto, Samantha Peters, Emma Phillips, Katana Pierce, Joselin Ramos Carbajal, Benjamin Reid, Noah Reid, Anthony Roseman, Victor Royce, Gabriella Saavedra, Marco St. Martin-Shook, Evan Thomason, Adrienne Zoe Tuazon, Eli Wandestrand-Ledesma, Harli Witham, Hailey Wolken, Eryk Woodruff and Emma Wymore.
Seventh grade: Joshua Aguilar-Sandoval, Ab Akiuo, Peyton Bisconer, Carson Bogner, Logan Branner, Halie Carter, Leilani Cox, Damian Cranshaw-Rodriguez, Thomas Crowl, Josep Czarnecki, Olivia Davenport, Adryan Everdell, Nevaeh Glenn, Courtney Godwin, Hannah Gregory, Arely Gutierrez-Larios, Kasadie Heatley, Carolina Hernandez Ruiz, Jaden Hibbs, Dakota Hicks, Aidan Hogg, Sammuel Hoptowit, Mariah Isackson, Hailey Jones, Haylie Keele, Henry Kelly, Caleb Kizer, Calvin Little, Miriam Lopez, Lillyann Lovingfoss, Aubrie Maichel, Edan McNabb, Tyler Norris, Adan Pergiel-Lopez, Judah Ramos, Mikayla Ramsey, Liliana Rodriguez-Flores, Fiorela Ruiz, Tobias Shulda, Alexandria Snow, Dalton Stevens, Payton Thill, Benjamin Wallace, Destinee Watson, Mac West, Aundrea Williams and Elsiee Woitt.
Sixth grade: Olive Albright, Simon Allen, Braelyn Amaro, Ashlynn Anderson, Masen Bennett, Grant Bingham, Ailish Cambridge, Camden Carpenter, Zachary Casanover, Lily Clanton, Jonathan Clark, Samantha Cleveland, Johannes Diedericks, Elizabeth Dodson, Braylynn Dore, Zeppelin Edgell, Luis Espinoza, Bryce Farquhar, Kennedy Fitzsimmons, Hannah Hack, Blake Harman, Jazmin Hermens, Trevor Herold, Jennafer Hochstetler, Landon Irwin, Robert Keo Lasley, Jorie Langenbach, Lexi Marohl, Easton Marsh, Christopher Martinez, Porter Milloy, Ethan Moore, Tru Most, Olivia Nimmo, Eliayna Perez, Jase Peterson, Angelika Podnizhnyy, Donald Quintero, Kevin Reed-Funkhouser, Helena Renk, Laci Robertson, Preston Rodman, Ethan Rogen, Anabelle Schellenberg, Sydney Stacy, Madison Thill, Brooklyn Thomas, Dakota Thornton, Ramsey Whalen, Tyler Willis and Jace Wright.
Eighth grade: Mairene Acosta, Irving Aguilar-Peralta, Colten Alleman, Brandon Alvarez Nava, Jordan Badman, Marley Boaglio, Austin Breien, Caitlin Byrd, Christopher Carlisle, Pheonix Crow, Aidan Davison, Angel De Leon-Velazquez, Logan Dorland, Zachary Forsberg, Kaydance Garrett, Kylee Halk, Conner Hall, Brooklyn Harris, Molly Hemrich, Cynthia Hernandes, Hazel Johnston, Bradley Keithley, Taliah Kidrick, Ivan Linden II, Eric McMillan, Kristian Miller, Caidance Murders, Garrett O'Dell, Darius Peltier, Felicity Rio, Kristina Robinson, Esteban Salazar Camacho, Milani Samontry, Brandon Sandberg, James Scott II, Jazmine Sickels, Wyatt Stephenson, Devon Stewart, Daniel VandenBerg, Maria Vasquez, Kyle Weitman, Ashlynn Westerby and James White.
Seventh grade: Elizabeth Beard, Hunter Brewer, Kale Byman, Daniela Chacon, Eric Cox, Brainer Cruz Ramirez, Jaden Davis, Bella Davison, Christoffer Dickerson, Zachary Doherty, Bailey Dunn, Andres Eastman, Levi Elieson, Makynlee Glor, Ryder Harris, Mark Hendrickson, Evelyn Hughes, Kaley Hughes, Zander Jenkins, Hadley Kasson, Israel Lopez Velasquez, Ethan Mansfield, Wyatt McDonald, Eva-Marie Moore, Jose Morales, Landon Morris, Aiyden Pellham, Michael Perez Romero, Joshua Quezada Gonzalez, Nathan Ramos, Kevin Romero-Cruz, Macy Roseman, Anthony Rutkowski, Brady Schlecht, Kaden Selzler, Anahlee Shelby, Trenton Sickels, Liam Smith, Nathan Stephens and Mason Wilson.
Sixth grade: Mackenzie Badman, Brendan Brown, Porfirio Bueno Bolanos JR, Julius Byrd, Karis Castellaw, Payton Cherbak, Ethan Clary, Jessica Coppernoll, Alexzander Cutbirth, Joziah Ekman, Johnathan Epperson, Jordynn Espindola, Rylee Guzman, Kevin Hernandez-Ruiz, Drew Ibarreta, Adrian Iverson-Marquez, Jasmine Karametos, Jace Kiser, Camren Lair, Bradlee Lewis, Izabel Lopez Nolascos, Shiloh Mack Salaz, Noble Mahaney, Samantha Martin, Evan McMillan, Gabriella Meeuws, Blake Musso, Adriana Navarette Vieira, Ryek Perner, Kaycee Potts, Kace Prindel, Johnelle Randazzo, Xerensi Salasar-Camacho, Jeffrey Smith, Lane Smith, Aseanah Spears, Eric Thomason, Nikolay Tsvetkov, Samantha Valdivia-Guzman, Anderson Vicente-Pelico, Brylan West, Gavin Williams and Cayden Wyatt.