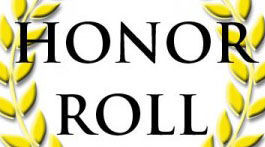 Editor's Note: This honor roll ran on Page C8 of the Sunday, June 30, print edition of The Daily News.
The Cascade Middle School honor roll for the fourth quarter of the 2018-2019 school year has been announced.
Eighth grade: Joyce Arnold, Kelcie Balkan, Kaylee Chrisman, Kellen Desbiens, Ava Escudero, Miller Harman, Taylor King, Isabella Merzoian, Presley Nippert, Madison Noel, Olivia Pickett, Alex Rodriguez Flores, Brooke Sampson, Brooklyn Schlecht, Chloe Swanstrom, Maria Vera-Alvare, Noah Vining, and Hallie Watson.
Seventh grade: Isabelle Allen, Brandon Alvarez Nava, Pace Berry, Ashlyn Bollie, Josephine Bollinger, Nara Brown, Klauvinia Cernal, Benjamin Christopher, Frederick Clarke, Nolan Cox, Billee Gillentine, Kylee Halk, Kendall M. Higgins-Swindell, Ashley Hooper, Rhossili Johnson, Javen Kent, Jessalyn Kloke, Natalya Larson, Taylor Mann, Carson Munger, Caidance Murders, Kara Nixon, Colin Oliver, Christian Oyama, Lara Perissinotto, Viktoria Podnizhnyy, Marco Martin-Shook, Rilyn Weitman and Harli Witham.
Sixth grade: Joshua Aguilar-Sandoval, Katherine Bingham, Peyton Bisconer, Halie Carter, Zoey Cole, Damian Cranshaw-Rodriguez, Olivia Durrett, Grace Eaton, Raelie Guizzotti, Kasadie Heatley, Thomas Herold Jr., Kaizekial Kessler, Elly McCann, Sydney Nelson, Lillian Oslund, Adan Pergiel-Lopez, Hannah Richmond, Dalton Stevens, Lucy Wood, Mary M. Tanie, Jonah Williams and Wyatt Cummings-Smith.
Eighth grade: Jaya Ainslie, Monique Alvarado, Kiley Anderson, Jamaica Atad, Kendall Blondin, Jason Bost, Amy Broderius, Dakoda Brown, Serenity Carson, Jiarong Chen, Cheyanne Chrisman, Sierra Chrisman, Yuridia Guzman Dominguez, Lauren Drake, Chloe Ervig, Erma Esperanza, Emma Fisher, Angela Graham, Abigail Gregory, Garrett Haghighi, Stephen Hammergren, Hayley Harlin, Hal'Lee Harris, Alexandria Hass, Kody Holliman, Gracelyn House, Emma Jenkins, Ethan Larsen, Justus McCann, Aisley McLean, Sophia Meeuws, Alehandra Ornelas, Kobe Parlin, Logan Pedersen, Catherine Pfannes, Chayton Rodman, Madison Scudde, Selah Shulda, Colten Sinkler, Katelyn Stanton, Kyle Stanton, Caleb Stewart, Branden Thornton, Mackynlee Tweit, Reagan Wilkinson, Payton Wilson and Zackary Ziegler.
Seventh grade: Irving Aguilar-Peralta, Ella Aguirre, Ava Beidler, Andrea Alva-Belmontes, Mariela Belmontes Bueno, Marley Boaglio, Atticus Boyd, Austin Breien, Lane Brunelle, Chantz Bullock, Christine Carman, William Clark, Adreana Coons, Sarenity Crane, Pheonix Crow, Zaeleigh Daggy, Logan Dorland, Yakima Fallet, Macee Farquhar, Vincent Flint, Jozlyn Garcia, Rema Gravett, Natalie Haghighi, Conner Hall, Maxwell Holly, Beau Jensen, Caitlynn Johnson, Eva Jones, Scarlett Kelly, Taliah Kidrick, Ivan Linden II, Austin Lomax, Perla Carbajal Lopez, Jasmin Hernandez Martinez, Gladis Sanchez Matias, Lukas Meeuws, Garrett O'Dell, Darius Peltier, Samantha Peters, Katana Pierce, Benjamin Reid, Noah Reid, Anthony Roseman, Victor Royce, Brandon Sandberg, Wyatt Stephenson, Adrienne Zoe Tuazon, Nevaeh VanValkenberg, Maria Vasquez, Hector Velasquez, Cade Warren, Harvey Weaver, Kyle Weitman, Ashlynn Westerby and Emma Wymore.
Sixth grade: Ab Akiuo, Carson Bogner, Ella Blair-Breidt, Leilani Cox, Josep Czarnecki, Olivia Davenport, Bailey Dunn, Sienna Edgell, Cameron Ervig, Olivia Foister, Courtney Godwin, Hannah Gregory, Arely Gutierrez-Larios, Pech Dalyka Hang, Ryder Harris, Mark Hendrickson, Jaden Hibbs, Dakota Hicks, Sammuel Hoptowit, Kaley Hughes, Hailey Jones, Ida Jurmu, Haylie Keele, Henry Kelly, Kaitlyn Kloke, Layla Lawhern, Calvin Little, Miriam Lopez, Lillyann Lovingfoss, Aubrie Maichel, Lukas Masters, Jose Morales, Tyler Norris, Aiyden Pellham, Matthew Pickett, Mikayla Ramsey, Liliana Rodriguez-Flores, Macy Roseman, Fiorela Ruiz, Brady Schlecht, Kaden Selzler, Liam Smith, Alexandria Snow, Kailee Warner, Destinee Watson, Mac West, Aundrea Williams and Elsiee Woitt.
Eighth grade: Brian Beatty, Dorian Brickert, Tyler Buchanan, Peyton Bunn, Michael Chhoun, Cameron Davis, Ethan Ekman, Tristin Evans, Beverly Garcia-Funes, Adyson Hampton, Ryan Haynes, Lillian M. Hinton, Isabella Hoptowit, Brandon Kingsbury, Carter Kiser, Robert Linden, Alexander Madtson, Megan Martinez , Nicholas Meadows, Sabrina Noel, Aiden Olason, Edwin Rodriguez Ortiz, Zachariah Oswald, Reign Perry, Liana Podnizhnyy, Colten Reynolds, Nolan Robinson, Chil Torres, Mayra Valle, Odalis Vasquez-Castro, Rae Auna Williams and Ailah Yaple-Lopez.
Seventh grade: Freddy-Jose Alvarez-Pascual, Henry Ballantyne, Alex Bauman, McKennah Boaglio, Dj Booth, Sadie Burgess, Aaron Burnett, Chase Burnett, Joselin Ramos Carbajal, Aidan Davison, Angel De Leon-Velazquez, Jackson Elf, Zachary Forsberg, Henry Granados, Brenna Graves, Breanna Guzman, Brooklyn Harris, Justin Helms, Caitlin Herold, Hazel Johnston, Anna Jones, Bradley Keithley, Elizabeth MacDonald, Eric McMillan, Sayla Minne, Abraham Munoz, Kristina Robinson, Gabriella Saavedra, Esteban Salazar Camacho, Devon Stewart, Mazzy Stika, Evan Thomason, Taelynn Tucker, Daniel VandenBerg, Elder Vasquez-Castro, Eli Wandestrand-Ledesma and Eryk Woodruff.
Sixth grade: Elizabeth Beard, Hunter Brewer, Bryan Bueno Aguilera, Kale Byman, Luisangel Centeno, Daniela Chacon, Easton Cole, Bella Davison, Zachary Doherty, Andres Eastman, Adryan Everdell, Nevaeh Glenn, Kylie Goebel, Valencia Hernandez, Carolina Hernandez Ruiz, Aidan Hogg, Dane Huerd, Mariah Isackson, Hadley Kasson, Caleb Kizer, Landon Lee, Gabriel Lovejoy, Ethan Mansfield, Summer McCool, Wyatt McDonald, Edan McNabb, Joseph Misenar, Eva-Marie Moore, Jaime Murillo Rodriguez, Izabella Orozco-Mikkola, Asa Pineda, Rylee True Reece, Tyler Rice, Kevin Romero-Cruz, Makayla Rood, Anthony Rutkowski, Wesley Schmidt, Keagon Shoop, Tobias Shulda, Trenton Sickels, Nathan Stephens, Mason Stone, Israel Lopez Velasquez, Benjamin Wallace, Hayden Williams, Mason Wilson and Melchora Zacarias Lopez.
Be the first to know
Get local news delivered to your inbox!