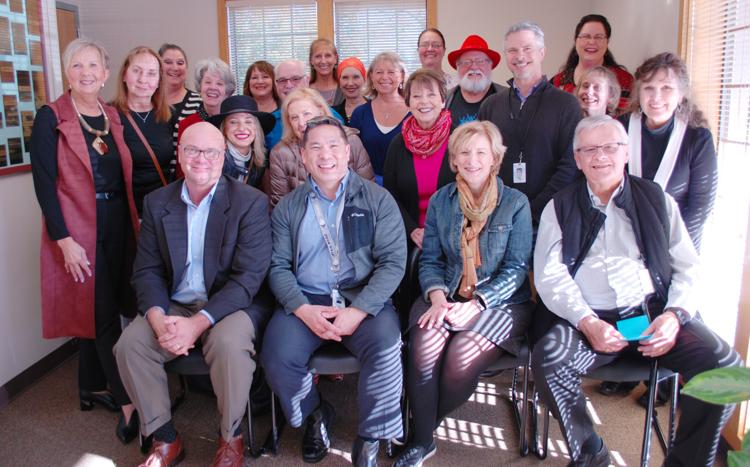 After more than a year's worth of effort, Cabaret Follies of Lower Columbia recently presented a check for $15,000 to Community Home Health & Hospice.
Cabaret Follies, as part of the group's 70-year tradition, sponsored the professionally produced and glitzy hometown variety show, "Take It to the Limit," in November.
The production featured more than 12 local voices, dances and musicians.
"We were pleased to make Community the beneficiary for our show," Follies member PJ Peterson is quoted in a press release.
You have free articles remaining.
"The services they provide have touched the lives of nearly everyone in our community, and they care for our loved ones without regard for ability to pay." Peterson said." This is a small thank you for that."
"Cabaret Follies not only made us feel great from a wonderful show, they used their talents to help others in our community by supporting our charity care and community benefit programs," Greg Pang, president and chief executive officer of CHHH, is quoted in the release.
"We are grateful for all the time and effort from the many performers; and of course, a big thank you to everyone who attended the show," he said.
Cabaret Follies of Lower Columbia, a non-profit organization, was formed in 2014 to carry on the long-standing, local Cabaret Follies tradition and to encourage and enhance cultural and artistic development and awareness of the performing arts through the production of a community follies/cabaret performance and other cultural and artistic activities, states the press release.
Community Home Health & Hospice is an independent, community-based, nonprofit agency serving Washington and Oregon families since 1977, according to the press release. Their services include home care personal services, home health, home hospice, in-patient hospice care and bereavement services. Community supports the healthcare and independent living goals of each patient and their loved ones by delivering the highest quality, compassionate and dignified care to individuals in their chosen place of residence.
Be the first to know
Get local news delivered to your inbox!