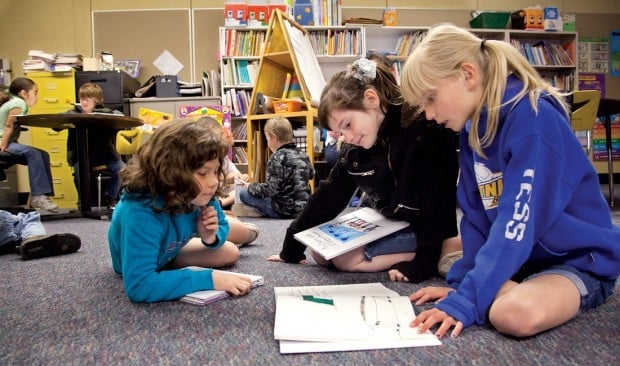 Action bursts from the pages of books published by 50 students in the Special Ed Resource Room at Beacon Hill Elementary in Kelso.
In Kevin Torres's book, "My Life," the 11-year-old soccer standout writes chapters on his family, sports and dancing.
"The shuffle is just like the jerk, but you are doing it frontwards," Kevin writes. "You do feet movements and hand movements and move all around. It is hard to learn, also."
His illustrations seem to jump off the page, and he has an unusual flare for bold, angular design.
In Elizabeth Caine's book, "My Cousins and I Play in the Snow," she shows the arc of a snowball by drawing the ball over and over until it smacks a sibling, who cries "Ow!"
Elizabeth's drawings are full of movement, and she re-imagines her house as a whimsical purple and orange cottage.
She and Kevin are among 50 at Beacon Hill who published their own hardback storybooks this year.
Launched by teacher Kim Yore of the Learning Assistance Program (LAP), and now joined by Teri Bratt's Resource Room, the Studentreasures Publishing Kit allows children to create the text and color drawings for 11-by-14 inch hardbound books with glossy, heavy-stock paper, dedication pages and white covers that feature the children's art.
Working with a $250 grant from the Kelso Public Schools Foundation, Bratt orders the kits, which provide page templates and supplies.
"We're supposed to make books, and then our resource teacher sends them back to the company, and they make all the covers and send them back," said 10-year-old Isaiah Dean Holt, who has written "Barack Obama," "Halloween," "My Life" and "Jesus My God" in several LAP and Resource classes.
"We have a rough draft (done in pencil) and the teacher checks it," Isaiah said. "If it's all right, we do it with a Sharpie."
Bratt packages up the kids' completed work and ships it to Studentreasures.
The company delivers free copies of each child's book for free. Other copies can be ordered for $15 or $19.95, depending on how fast the orders are made.
Many families order at least two extra copies, Bratt said. "They make nice gifts."
"We write what we feel and care about," said Zac Dorsey, 10. "It helps us in our writing and our reading."
"We share our writing with the whole world," Isaiah added.
The kids celebrate their families, friends and pets.
Alex Cheshire, for instance, drew a picture of himself and Jordan. "We were friends back in the day," Alex said.
Ryan Kysar, 9, drew a picture of "me, JJ and Dad sledding," devoted chapters to Sled Jump, Hot Cocoa and The Park.
About his dog, Keeto, Ryan wrote, "He does not like snow. He went home to be in front of the wood stove."
Justin Bledsoe wrote about Archie, a deaf dog who passed away. "His fur was black and gray, and he would back at fireworks."
Zedric Quick described his magnificent German Shepherd: "Drake loves to play tug of war. He gets wild and bites."
Other classmates captured their love of sports.
"When I was 5 I played T-ball," writes Santos Wright. "Today I play in the minors. I wish I was Ichiro."
Santos wears his Cal Ripken shirt to school and dedicated his book "To Mom and Dad."
His brother Gil drew bendy bodies in wrestling moves. "When I got to wrestle at my tournament, I lost my two matches and won two. I felt great!!!!"
And Erica Murphy illustrated her book about best friends with a color-saturated scene of Beacon Hill School and a big orange school bus.
The students get to take their books home. The sturdy bound stories could last long enough to be read to their own children and bring back memories of doing the shuffle, flying off of a snow jump and a deaf dog that barked at fireworks.