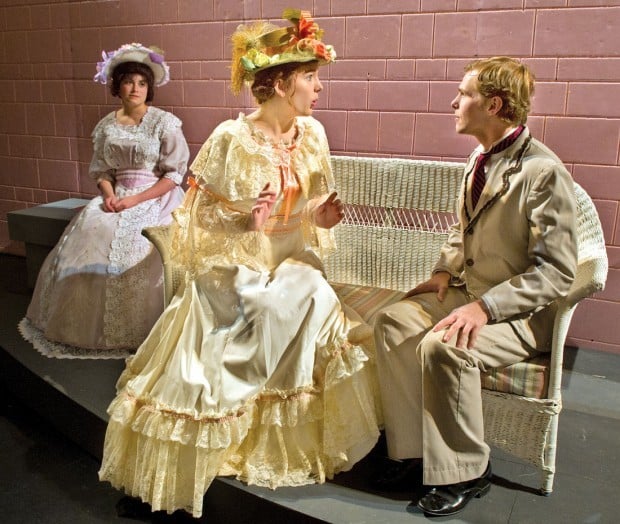 As I sat in the Rose Center Tuesday night watching a dress rehearsal of "Charley's Aunt," my thoughts turned to Monty Python.
Members of that all-male British comedy troupe of the 1970s loved to dress up as women and do silly skits.
It turns out they were just continuing a British tradition that began more than a century ago, as evidenced by "Charley's Aunt." The farce presented by Lower Columbia College Center Stage revolves around the time-honored Brit tradition of cross-dressing, embellished with requisite jabs at the stuffy upper class.
Several strong actors help the show succeed in offering an evening of laughter, and gazing at the elegant period costumes is alone worth the price of admission.
The play by Brandon Thomas was an immediate hit after it premiered in London in 1892. It's been made into numerous film versions since then. On opening night at Longview's Columbia Theatre in 1925, the featured film was a silent version of "Charley's Aunt," starring Charlie Chaplin's brother, Syd Chaplin.
The play remains popular in England. Earlier this year, a reviewer for the Manchester Guardian wrote, "The play's endurance has less to do with literary quality than the British public's inexhaustible delight in the spectacle of a man running round in a dress."
The LCC production was originally directed by Mike Cheney, who had to withdraw because of illness. Don Correll then took over direction.
The plot concerns Charley Wykeham (Nolan Bumgarner) and Jack Chesney (Seth McNalley), who are undergraduates at Oxford University.
Charley is chasing Amy Spettigue (Kitty Royston) and Jack, pursuing Kitty Verdun (Corie McDaniel), pines that he's "in love with her more than anything I've ever taken up, including cricket."
The young men want to invite their sweethearts to lunch, but etiquette demands that a female chaperone be present. Charley learns that an aunt he's never met is coming to visit from Brazil. When she's delayed, the young men persuade a theatrical friend, Lord Fancourt Babberly (Kyle Harding), to impersonate her. Babbs, as he's called, alternately irritates his Oxford chums and flirts with the young women, who think he's a lovely older woman.
Garbed in a funereal black gown and ribbons, Harding towers above most of the other men in the cast, heightening the absurdity of his deception. He grimaces with discomfort at having to play a woman - and offends all by belching at tea.
Still, Jack's father, Col. Chesney (LeChaun Baker), doesn't realize that Babbs is really a man and pursues the "aunt," whom he thinks is a rich widow.
Enter the real aunt (Nancy Park), who once had a romance with the colonel. To add to the implausibility, it turns out that the real aunt's adopted niece (Hannah Badger) formerly had a romance with Fancourt, aka "Babbs."
The plot gets even sillier when Stephen Spettigue (Bob Burgoyne), the uncle of Amy and guardian of Kitty, falls in love with the fake aunt. Carrying flowers, he chases Babbs-in-drag on and off the stage.
In the end, good Victorian decorum prevails and nearly everyone is suitably paired off with a person of the opposite sex.
The LCC production does a fairly good job of spoofing British upper class foibles.
As Jack, McNally is quite the twit, delivering his lines in convincing Queen's English. Other British accents range from good (including McDaniel) to barely noticeable.
One of the strongest roles is Carl Jansen as Brassett, the unflappable butler who, of course, often outwits the young fops he works for. Jansen also supervises the changes that occur with the revolving set, worth staying in your seat to watch during the two "intervals."
Another plus is Park, who floats about the stage with proper dignity as the real aunt.
Park's outfits are the most impressive of the costumes by Mary Rayon. Park first appears in a summer suit in yellow and red, complete with floral hat. Later, she's ensconced in a flowing evening gown liberally embellished with beads. The Oxford lads, too, are resplendent in matching red jackets.
The visual delights help keep attention during a play that runs almost 2 1/2 hours.