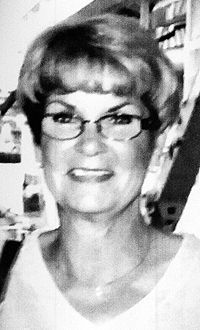 Eunice Jeanne Scheurich was born Nov. 17, 1944, in Astoria to Uno and Jeanne Rautio and passed away Feb. 4, 2015, at the Hospice Care Center.
She spent her early years in Seaside, Ore., and attended Seaside Union High School. She married Ray Tremayne in 1964. They had two sons, Raymond and Christopher.
Eunice spent several years working in the Warrenton canneries and excelled in her positions there. The family moved to Kelso in 1980, and Eunice worked for Tollycraft and North Star Yachts, working with, and running, the fiberglass crew. She expected them to work as hard as she did, and Eunice was rewarded with a cruise to Mexico on a company yacht.
She enjoyed golfing, hunting and anything that put her in the sun. She also enjoyed many special trips with her friend, Chris Carter, including a cruise to Alaska. She took great pleasure in family camping trips and loved to run. She took part in numerous running events, the Hood-to-Coast being her favorite, and she earned many awards. Her passion for running became daily walks with friends around Lake Sacajawea. Eunice had a good sense of humor and loved to laugh. She had a love of animals, especially dogs. She was always willing to give, or find, a home for animals in need.
After the loss of her husband, Ray Tremayne, Eunice married Ray Scheurich in 1997, gaining two more sons, Steven and Ryan. Eunice and Ray spent many years enjoying old and new friends, and combining two families into one. Her grandchildren were the joy of her life. She was always up for an adventure with them, making many wonderful memories.
In addition to her first husband, she was preceded in death by her parents; a brother, Robert Rautio; and a grandson, Zachary Tremayne.
Eunice is survived by her loving husband, Ray Scheurich; two sons, Raymond and Christopher Tremayne; a sister, Sanna Lundquist (Paul); her brothers-in-law and sisters-in-law, Gil and Donna Tremayne, Bill and Connie Stroud, and Paul and Carol Scheurich; eight grandchildren; several nieces and nephews; and the "daughter of her heart," Danika Velasco.
In lieu of flowers, the family suggest donations be made to the Community Home Health & Hospice or the Humane Society of Cowlitz County.
A memorial service is planned for 11 a.m. Feb. 21 at Steele Chapel, 5050 Mount Solo Road, Longview.