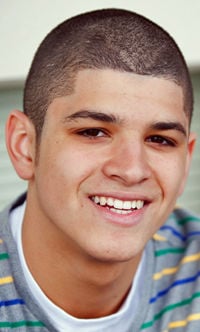 Zachary LeTres Tackwell, 23, of Longview passed away on Sunday September 18, 2016, in Portland. Zach entered the wide-open spaces of grace and was wrapped in the arms of Jesus.
Zach was born in Thornton, Colo., on Dec. 2, 1992. His grandparents, Robert James Tackwell and Janette Sue Tackwell would go on to raise him with his brother, Robert "Robbie," in Longview.
Zach attended Columbia Heights and Mint Valley Elementary, Monticello and Mt. Solo Middle Schools, Mark Morris High School and LCC through the Running Start Program. He was one of the most social, well known, charismatic, young men in the area. He carried himself with great poise but was equally as comfortable on the streets, visiting and ministering to the homeless. Zach grew up attending bible studies, Young Life, New Life Youth Group, and Crossroads Young Adults. He had a heart after God and sought to serve him.
Zach loved sports and was a gifted athlete full of natural ability, incredible work ethic and intelligence. He was a tournament baseball player and undefeated wrestler in middle school. While in High School he would find a passion for football and basketball, receiving multiple Coaches awards, MVP, and MMHS and GSHL Defensive Player of the Year accolades. As a Monarch, Zach was fortunate to have participated on State Record Placing teams and still holds personal athletic records of accomplishment there.
Zach also had a passionate dream to touch the world with his music and poetry. Using the name LaTres, and more recently Safe, he produced two mix-tapes, multiple singles, and wrote volumes of unrecorded poems. His legacy lives on through his fans, friends, and of course his family.
Zach loved his family and was generous with the definition. He loved wide and deep and considered anyone who genuinely loved him to be family. He is survived by two lifelong brothers, Robert (Robbie) Tackwell and Terrance Pharr; his beloved nephew, Hudson Jett Tackwell; his "Scroggwell" family, Mark and Kerri, Austin (Cher), Elliott, and Alex Scroggins. As well as countless aunts, uncles, cousins, grandparents, and additional family originating in the Portland area who adored him, including five sisters, Sherry Black, Tosheona Colman-Wright, Jon'Na Malone-Butler, Ashley Clark, and Tyonna Butler.
A memorial service is planned for 3 p.m. Saturday at Kelso Christian Assembly, 403 Academy St.
In lieu of flowers and gifts, contributions may be made to the Zach Tackwell Memorial Fund through the church to support children at risk.
Obituaries Newsletter
Sign up to get the most recent local obituaries delivered to your inbox.