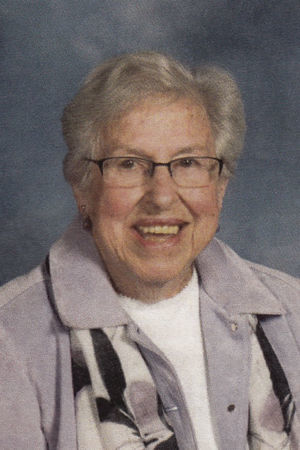 Aug. 3, 1924 — Feb. 4, 2018
Vivian Irene Rhodes, 93, died Feb. 4, 2018. She was born Aug. 3, 1924, in Hiawatha, Kan.
Vivian was the daughter of Charles LaVerne "Vern" and Laura May (McGunnigle) Strahan. Her family moved to Longview during the depression to find work. She graduated in 1942 from R.A. Long High School where she met Justin A. "Jack" Rhodes. They were married June 1, 1946.
Vivian was a talented artist and especially enjoyed sewing, embroidery, and knitting. She was a member of the Longview Community Church, was active in Ruth Circle, and made many banners for the church sanctuary. She was a member of the Columbia Stitchery Guild of Portland and the Cowlitz Valley Stitchery Guild.
Jack and Vivian loved to travel and visited over 30 countries. They were members of the Longview Elks Happy Rollers RV Club. They especially enjoyed the Long Beach peninsula and digging clams with the family. Along the way Vivian collected butter pats and over the years her collection grew to over 1,100.
Vivian was preceded in death by her husband; her parents; her stepmother, Virginia (Alder) Strahan; and her sister, Maxine (Strahan) Weisenberg.
She is survived by her sons, David Rhodes (Susan) of Sunriver, Ore., and Stanley Rhodes of Spokane, Wash.; a brother-in-law, Larry Rhodes (Liz) of Redwood City, Calif.; three grandchildren, Trisha Romanus of Lake Stevens, Wash., Trevor Rhodes of Boulder, Colo., and Justin Oliver of Cary, N.C.; and four great-grandchildren.
A memorial service will be held at 11 a.m. Saturday, March 10 in the Longview Community Church Sanctuary. A reception will follow in the Fellowship Hall.
In lieu of flowers, memorial contributions may be made to the American Cancer Society, 1313 Broadway, Suite 100, Tacoma, WA 98402 or the Longview Community Church, 2323 Washington Way, Longview, WA 98632.