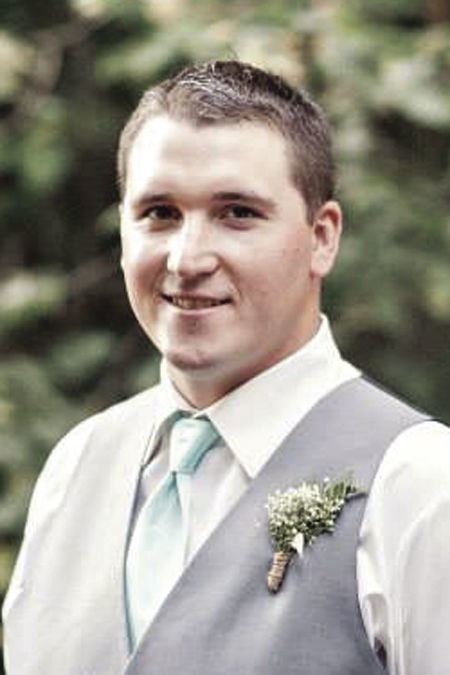 Oct. 30, 1986 — March 3, 2019
On Sunday, March 3, 2019, Tyler Robert Hayes passed away at home, peacefully in his sleep, at the age of 32.
Tyler Hayes will be remembered for his contagious laugh, his bigger-than-life personality, and especially the love he had for his girls: love of his life Allie and daughter Lillianna "Lillie" Grace.
Tyler was born in Longview on Oct. 30, 1986, to Gina Kuanoni and Tim Hayes. He graduated from Mark Morris High School in 2005 where he excelled in sports, including football, basketball and baseball.
To his family and friends Tyler was also known as T Smoke, Ty Bob, Ty Ty, The Hurricane and much more. He was an all-around fun-loving guy and loved by all. Tyler had a deep love for the outdoors, fishing, hunting, camping, golfing, but most of all, he loved spending time with his family and friends.
Tyler's amazing personality leaves everyone remembering him for his kindness and ability to make friends with anyone. Like everything he did, Tyler excelled at his work as an emergency coordinator. He loved to talk to people, help people, and thrived in his management position, helping people get through the toughest times of their lives during natural disasters.
He had the uncanny ability to engage in discussion with anyone and was knowledgeable about so many things. He had a strong opinion about most everything, yet was able to disagree and still walk away with love, as Jesus would have. Tyler's love and faith in God was clear to all who knew him and it showed in the way he treated people.
He had a huge heart and a love for children and animals. His nieces, nephews and cousins all looked up to, and adored him in so many ways. His baby girl Lillie was the absolute light of his life. He always wanted to be a daddy and he took on that role with so much love and devotion. She will always be his shining star and he, hers.
Tyler was preceded in death by his Grandma Patricia Hayes, Great-Grandma Doris Giesy, and a brother, Cameron Kuanoni.
Tyler is survived by his mother, Gina Kuanoni (Kele); his father, Tim Hayes; four siblings, Heather Hayes, Jennifer Calkins (Tom), Haili Kuanoni, and Kahne Hooper (Jay); his grandparents, Maunena and Roger Whitwright and Robert Hayes; and many nieces, nephews, aunts, uncles and cousins who loved him. He will be especially missed by his loving wife Allie (Westervelt) Hayes and his best friend Lillie Hayes.
A funeral service is planned for 2 p.m. Saturday at The Bridge Church (Journey Seventh-day Adventist Church).
In lieu of flowers, an account has been set up at Fibre Federal Credit Union to assist the family with expenses.
Obituaries Newsletter
Sign up to get the most recent local obituaries delievered to your inbox.