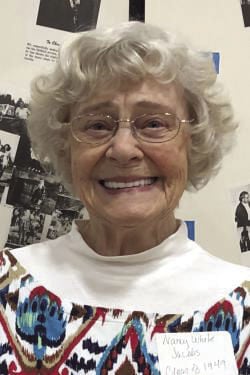 July 7, 1931 - April 6, 2020
Lifelong local resident Nancy Ann Jacobs (White), of Kelso passed away April 6, 2020 at Community Hospice in Longview. She was born July 7, 1931, in Seattle Wash., to Carl and Carrie White of Kalama, the sixth of eight children. She graduated from Kalama High School in 1949, she teased, despite being expelled for a day for smoking behind the school with her brother.
On July 20, 1949, she married Phillip Jacobs at the Kalama United Methodist Church. They were married happily for sixty-two years before his death in December of 2011.
She was a loving wife, mother, grandmother, great-grandmother, aunt, sister and friend. She was beautiful, spunky and adventurous and her faith in God was steady. She was a writer. Nancy enjoyed going on walks with her dogs, crossword puzzles, playing bunco, scratch tickets, playing slot machines at the casino and having lunch with friends at the Kalama Methodist Church. She was gracious and welcomed all who visited her at home. She loved the ocean, scary amusement park rides, and just this past year, zip-lining.
Despite adversities in her life she believed her cup was half full, not half empty. She was a cancer survivor and felt blessed that she got to live out her life. She lost three of her children but was grateful for the time that she had with them on earth and looked forward to seeing them again in heaven. She was diagnosed with Congestive Heart Failure this autumn which ultimately took her life.
She is survived by a son and daughter-in-law, Rick and Susan Jacobs of Kelso; a daughter, Amber Jacobs of Kelso; a daughter-in-law, Linda Jacobs of Kelso; six grandsons, Christopher, Brady (L.B.), Jestin, Darrick, Blaine and Keaton; a granddaughter, Molly; 11 great-grandchildren, Jalen, Aiden, Griffin, Kylee, Anthen, Spencer, Wyatt, Joey, Delilah, River and Cedar; one brother, Barry White (RaeDean) of Kelso and many nieces and nephews.
She was preceded in death by her husband Phillip, two sons, Randy and Brady; an infant daughter, Nancy; four brothers Chester, Robert, David and Edwin White and two sisters Helen & Brownie.
A celebration of Nancy's life is planned for family and friends this summer around her birthday in July. The date and time is to be announced later due to the pandemic restrictions. Arrangements are by Columbia Funeral Service.
To plant a tree in memory of Nancy Jacobs as a living tribute, please visit Tribute Store.
Obituaries Newsletter
Sign up to get the most recent local obituaries delivered to your inbox.