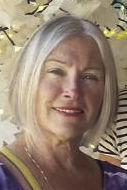 February 18, 1950—April 22, 2020
Some people touch our lives only briefly, while others leave a lasting impression and are never forgotten.
Michele Baird (Peret) Beebe was 70 years young when she passed from this life on April 22, 2020, at home lovingly surrounded by family members with her husband and daughter holding her hands.
Michele was born on February 18, 1950, to Jim and Maryann Peret in Longview, Washington. In 1968 she graduated from Mark Morris High School. In June that same year she married the love of her life, Michael Beebe, Sr. They were married for 52 years. Michele cleaned houses for over 40 years and made lifelong friends with many of her clients.
Michele's enthusiasm for life and devotion to her family and friends was amazing. She was a passionate competitor who loved to have fun playing sports with her volleyball family for 40+ years, and pickle ball family in recent years. Michele also really enjoyed taking RV trips with Mike, especially to visit her brother in Dillion, Montana and to Hart Ranch in Rapid City, South Dakota.
Michele's fun-loving sassy and spunky sense of humor, adventurous nature, courage, loving and giving heart, and in particular her laugh that often turned into a snort are but a few of the reasons she will never be forgotten by the many lives she touched.
She is survived by her husband, Michael; son Mike Beebe, Jr.; daughter, Shelley (Beebe) Machin (Pete Merriam); grandsons Parker and Cooper Machin; a brother Jim (Anne) Peret; a sister Carol Ann (Vince) Barber; and many beloved, in-laws, nieces, nephews and cousins. Michele had a special loving bond with her nephew, Roman Seidl. She was preceded in death by her mother and step-dad, Charles and Maryann Slocum.
At Michele's request, there will be no service. All friends and family will be invited to attend a celebration of life to be scheduled at a later date.
In lieu of flowers, contributions may be made in Michele's name to Community Home Health and Hospice, 1035 11th Ave., Longview, WA 98632, or to Youth and Family LINK, 907 Douglas St., in Longview.
Obituaries Newsletter
Sign up to get the most recent local obituaries delivered to your inbox.