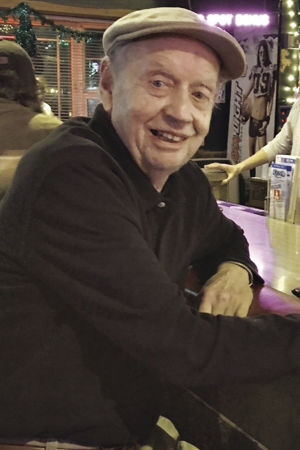 September 13, 1935—July 23, 2020
Joseph "Joedy" W. Oliva, 84, of Rainier, Oreg., passed away on July 23, 2020, at Canterbury Inn in Longview, Wash., due to natural causes.
Joe was born on September 13, 1935, in Longview, Wash., to Joseph and Lois (Rader) Oliva. Joe was the first-born child of four and is survived by his brother Steven (Janice) Oliva of Vancouver, Wash., and two sisters, Janet (Russ) Moon of Rainier, Oreg., and Jeanine Hayashi of Maui, Hawaii.
Joe resided in Rainier his entire life. He was a graduate of the Rainier High School Class of 1953 and briefly attended Oregon State University before entering the workforce. On January 5, 1957, Joe married the love of his life, Joyce Salmi. Together they had three children, Rodney, Cindy and John. Joe worked at Longview Fibre Co. for 22 years before he and Joyce purchased Rainier Hardware (Coast to Coast) in 1975. They successfully owned and operated the hardware store, now Rainier True Value through 2017, 42 years! They truly enjoyed running the store and cherished the relationships built with the wonderful people of Rainier over the years.
Joe and Joyce enjoyed many trips to Reno, Nev., and visited many cities around the United States while on business trips for their store. Wherever they went they appreciated each other's company and valued meeting other people that had similar experiences running a small business.
Joe loved sports, especially golf. He enjoyed playing the game with many of his friends, many of whom are now gone. He had two career hole-in-ones and played the game into his eighties. He was an avid Oregon State Beaver fan and enjoyed watching his children and grandchildren participate in all sorts of athletics; he rarely missed a game.
Joe was a lifetime member of the Longview-Kelso Elks as well as the Rainier Eagles. He was honored to be named the Grand Marshall of the 2017 Rainier Days in the Park.
Joe is survived by his wife, Joyce Oliva and their three children, Rodney (Jody) Oliva of Sandy, Oreg., Cindy Oliva of Tacoma, Wash., and John (Tammy) Oliva of Longview, Wash. Also surviving Joe are his six grandchildren and three great grandchildren, Matthew (Kimberly) Oliva (Gavin and Ruby), Zachary Oliva, Sara (Joe) Kiyohara, Shane Oliva, Derek Welsh (Russell) and Alex Welsh.
A family only graveside service will be held at Hudson Cemetery in Rainier, Oreg., on Thursday, August 6 at 11:00 AM. At noon, following the service, the family invites anyone who wishes to pay their respects to Joe to drive through the cemetery and meet the family from a distance. The family would like to provide this option to honor Joe while respecting the health and safety concerns of our family and friends. Following the events at the cemetery, some of the family will gather at the Rainier Eagles and would like to invite anyone who is comfortable to come visit, share a memory or two, and enjoy a beverage on Joe.
In lieu of flowers, memorial contributions can be made to the Rainier Senior Center, 48 W. 7th St, Rainier, OR 97048 or Rainier High School Athletics, 28168 Old Rainier Road, Rainier, OR 97048.
Obituaries Newsletter
Sign up to get the most recent local obituaries delivered to your inbox.