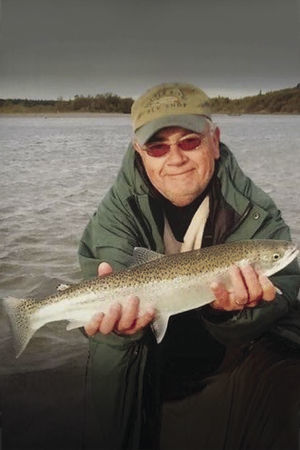 Dec. 24, 1939 — Jan. 16, 2019
Gary passed away peacefully on Jan. 16, 2019, at the age of 79 in Longview after a long battle with multiple system atrophy, a disease that robbed him of his ability to talk and to move over the last two years. The disease did not affect his cognition. He was able to communicate his feelings with his many expressions. He resided at the Americana for the last two and-a-half years until his death, and he considered many of the staff part of his family.
Gary was born to Lucien and Doris (Parks) Brault on Dec. 24, 1939, in Middlebury, Vt. They moved to Burlington during his early years and he graduated from Burlington High in 1959. Gary lived in Glens Falls, N.Y., where he worked as an accountant at a cement company for several years before moving to the beautiful northwest to be close to his brother and enjoy fishing. After moving several times, they settled in Toutle where he opened two businesses, Toutle River Fly Shop and Treehill Accounting Services. He moved to Longview with his wife in 2005 and continued to operate his accounting business until 2015 when he retired due to failing health.
Gary met his wife Randi in 1998 and they were married on the beach in Hawaii in September 2001. They enjoyed traveling to Hawaii, Florida, Arizona, the New England states, Canada and other destinations to golf, as well as hitting the greens every week at local courses.
Gary loved yearly trips to Alaska to fish for trophy rainbow trout. His happy place was fishing on Coldwater Lake in his "Coldwater Cadillac" and he would often take his wife, brother, friends, children and/or grandchildren. He considered Coldwater Lake to be the next thing to Heaven. He enjoyed several hobbies, including decoy and lure collecting, and carving and painting ducks. Gary loved watching sports. His favorite team was the Boston Red Sox. He got see them win the World Series. He also got to see Tiger Woods return to golf.
You have free articles remaining.
Gary is survived by his loving wife, Randi (Botten); six stepchildren, Shelley Sterling in British Columbia Canada, Jeff Harvey, Jamie Harvey and Scott Sterling, all in Nova Scotia, Canada, and Jennifer Hart and Sarah Sterling, both in Ontario, Canada; three sons, John in Cape Cod, Mass, and Chris and Chip in Longview; 10 grandchildren, Emma, Kirsten, Jacob, Emmalee, Landen, Chad, Grayson, Jordan, Chase, and Alauna; a brother and sister-in-law, Wayne and Marlene Brault of Lafayette, Ore.; a nephew, Robbie Brault of Dalles, Ore.; and his loyal little fur baby, Abby Marie who loved her Dad.
Gary was most happy when he was surrounded by family, friends and good times. He enjoyed quiet times with his wife and the many visits from his friends at "the shop" where fishing was usually the main topic. He was a loyal friend to all who were fortunate enough to consider him a friend. He was kind, thoughtful, compassionate and generous. He gave to St. Jude's and other organizations to help the less fortunate. He gave fishing gear to children who could not afford it. Donations may be made in his memory to St. Jude's Hospital for Children at https://www.stjude.org/donate/donate-to-st-jude.html.
Gary lit a light in the hearts of all those who knew and loved him.
Cremation has taken place and per Gary's request, no service will be held.
In his later years he liked to say, "Growing old isn't for sissies."
Angels will be singing 'Because You Loved Me!"
Gary will be missed and his memory treasured.
To plant a tree in memory of Gary Brault as a living tribute, please visit Tribute Store.