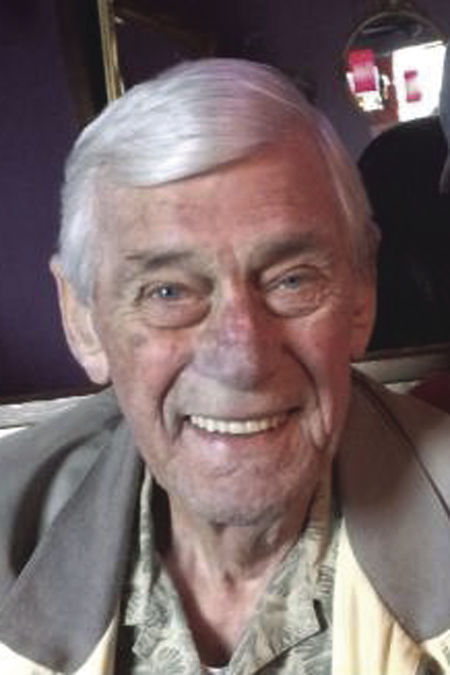 Oct. 14, 1936 - June 12, 2019
"Home at last, home at last! Thank God Almighty, I'm home at last!" Frank Hickman's, aka Dad, Uncle Frank and Grandpa Frank, declaration every time he got home from a trip. I'm sure this is exactly what he said as he joined long-missed family and friends with a twinkle in his eye, bright smile and big hug that he was known for.
Francis Norval Hickman was born Oct. 14, 1936, and went home June 12, 2019, at the Longview Hospice. Born to Frank and Pearl in Neosho, MD, the family moved to Kelso in 1940. He graduated from R.A. Long in 1954, where he was a talented baseball player. Soon after, he joined the Air Force, where he earned the rank Tech Sergeant as a weapons control systems technician and served time in Vietnam and Greenland. He also tended bar at the NCO Club, where his outgoing and friendly personality earned him many, many friends and awards.
In 1975, Frank retired from the Air Force and moved his family back to Kelso from Lousiana. He worked for many years as a laborer and retired from JH Kelly in 1999. When first moved back, he also worked as a bartender at the Branding Iron in West Kelso, and Ladies' Night was always packed because of him. He loved meeting and being around people! He enjoyed dancing, listening to live music, playing softball, clam digging and fishing, especially with his good friends Bob Morris and Dan Ravencraft.
Frank married Marie in 1958 in Massachusetts and they had three children: Eric Hickman, Lynn (Mark) Johnson, of Georgia, and David (Sue) Hickman, of Florida. They later divorced, but remained good friends. He married Claudette in 1972, and they welcomed a daughter, Keri/Jody Klayum (Don) and a son, Frankie Hickman. He also inherited four stepchildren: Teri (Dan) Clause, Patti Cornia, Kelli Baird and Skip Whitney.
Claudette passed away in 2000, and he later met Cathy Hicks. They married in 2004 and enjoyed their time together until she suddenly passed away 16 months later in 2005. In the years since, Frank enjoyed socializing and volunteering at the Elks Club, where he was known as Chef Frank for cooking pizzas on Wednesdays before bingo, and grilling hamburgers at the Elks Mobile at Lake Sacajawea around the 4th of July. He loved being a member of the Elks' Seahawks Club and playing bingo at the Moose and Elks.
To meet Frank was to love him. He never had a bad thing to say about anyone, and always flashed his magical smile and give a firm handshake or hug to everyone. Always calm and logical, one of his oft-repeated phrases was, "This too will pass." His friends often teased him about all the kisses he received from ladies at the Elks and Moose Clubs - women just flocked to him! He would say, "I'm not flirting! I'm just a nice guy!" Many Sundays, you'd find him at the Ol' Pasttime in Rainier, OR, hanging out with more friends, whom he loved dearly.
He enjoyed countless rounds of golf with his brother and best friend, Dave Hickman, and his close friends Marv Melville, Walt Newman and Bob Henegis. On sunny weekends, he'd often take drives in his convertible Camaro with friends in the "Convertible Club." One especially memorable drive was to his neice Kelli Voyle's place in the hills of Chehalis, where the group enjoyed each others' company and great food.
Frank is survived by his children and stepchildren, his brother Kelly (Patti) and sister Rosie Davis, many neices, nephews, grandchildren and four great grandchildren. In addition to his wives and parents, he was preceded in death by his brother David, many dear friends and his stepdaughter Kelli.
Frank was a true gentleman, the best dad, and loyal friend. He will be greatly missed by many, many people. "I know people will cry when I'm gone, but I wish they wouldn't. I've lived a good, long life and I've done just about everything I've wanted to do - and even some things I wish I wouldn't have!"
Frank's party for family and friends will be at the Elks Lodge in Kelso on July 7th at 1 p.m. In lieu of flowers, please make a donation to the charity of your choice in his memory. Frank supported many charities, but several held a special place in his heart: Longview Hospice, Kelso/Longview Elks, and the Veteran's Administration.
Obituaries Newsletter
Sign up to get the most recent local obituaries delivered to your inbox.