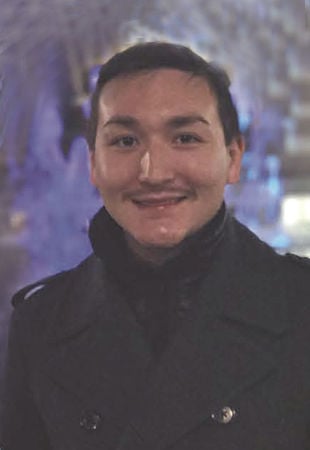 Sept. 18, 1992 — Feb. 13, 2019
On Wednesday, Feb. 13, 2019, Devin Robert (Sherman) Riley, beloved husband, son, brother and grandson, passed away suddenly at 26 years of age in Naples, Italy.
Devin will be forever remembered by his husband and best friend, Ryan; his parents, Wanda Healey (Patrick) and Jason Sherman; his brother, Destin Sherman; his beloved paternal grandmother, Judith Holden (Roger); and maternal grandparents, Roger and Cheryl Putnam.
Devin touched many lives and will be forever missed by his in-laws, uncles, nieces, nephews, extended family, dear friends, and every heart he enriched with his infectious love.
You have free articles remaining.
Devin was born in Longview and spent most of life in Kelso and Kitsap County, Wash. He graduated early from Kelso High School. He met his husband, Ryan in Silverdale, Wash., and together they were stationed in San Diego and Naples, Italy, where Ryan served in the Navy.
Devin's giving heart led him to help establish the USS America's Family Readiness Group (FRG). He was a member of The American Military Partnership Association, the Pacific NW, Southern California and Italy chapters. He also volunteered with the USO and organized outings for the Outserve Pacific NW Chapter. As a Navy spouse, Devin welcomed military spouses arriving to new assignments, and hosting sailors on any given holiday who had nowhere to go to celebrate. Devin volunteered at Feed the Watch, providing meals for sailors who had to work on holidays, and while stationed in San Diego, Devin tutored local ESL children.
In honor of his dear friend Jeff, Devin participated in the "Walk For Life" to help promote suicide prevention programs. Other organization he volunteered for were the Soles for Souls shoe drive and Giving Tree.
A celebration of Devin's life is planned for 2 p.m. Saturday at Rill's Life Tribute Center in Port Orchard, Wash. Devin will be laid to rest at 11:30 a.m. Monday at Claquato Cemetery in Chehalis with a reception to follow at St. Timothy's Parish Hall in Chehalis.
In lieu of flowers, contributions may be made to the USO, the Navy Marine Corp Relief Society, Pride Foundation or Lambert House in Devin's honor.
To plant a tree in memory of Devin Riley as a living tribute, please visit Tribute Store.