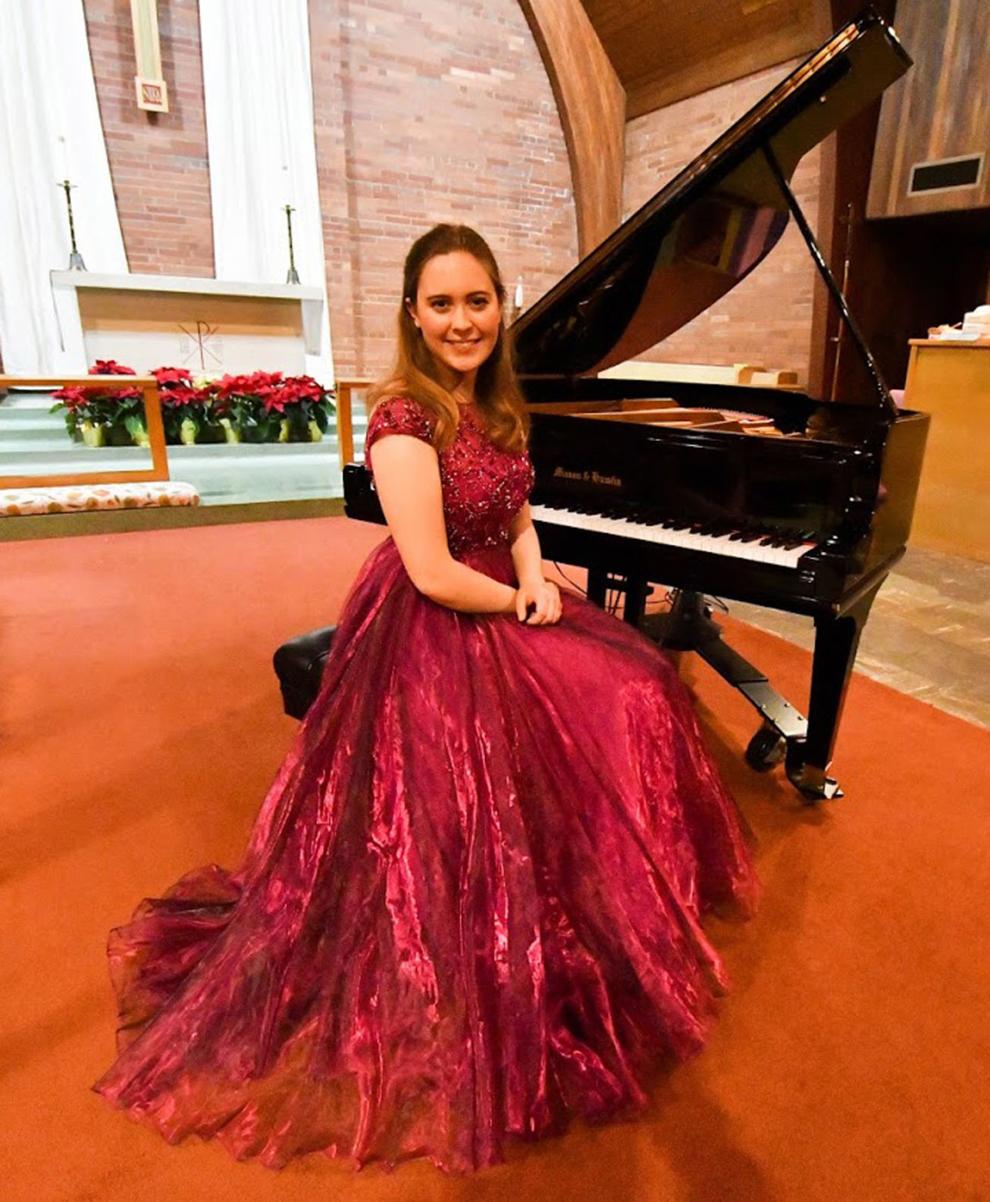 A virtual piano recital that debuts Sunday has a whiff of nostalgia and romanticism and harkens back to the golden age of piano composition nearly two centuries ago.
Made possible by modern technology and emerged partly in response to the pandemic, the performance features 11 pieces by Franz Liszt, one more challenging and entertaining than the next.
The performer is Abriana Church, 22, an Idaho-bred pianist making her sixth appearance in Longview in as many years. She has wowed audiences with her brilliance and musicality.
The performance will be a virtual "salon" recital recorded on April 2 at the home-based piano studio of Martin Kauble. It will become available on YouTube starting at 3 p.m. Sunday. Between pieces, Kauble and Church discuss the music in a casual, conversational way.
The idea of a salon recital harkens back to the first half of the 19th century, when wealthy Parisian women hosted artists, writers and intellectuals of all kinds to gatherings in their homes. Pianist/composers Frederic Chopin and Liszt were particularly sought after and often debuted new works at them.
"This is like a personal concert in a closed setting," said Kauble, 58, who has taught piano in Longview 38 years. He is billing the event as "An all-Liszt salon recital from my home (and Abriana's Longview home) to yours."
Church is enthusiastic about the idea of playing "in an intimate concert setting. … This is in a home setting. That is what the salons (were about). They were evenings of discussion of music and literature and art. That is what we are doing," she said.
For Kauble, who is bearing all the costs of production and Church's travel, the recital developed out of a virtual recital Church recorded last year for the Columbia Theatre for the Performing Arts, when the pandemic ruled out live concerts.
For him, the salon recital is another way to keep the flame of classical music burning and to promote the career of a budding young pianist whom he first met by chance at a Portland piano dealer. The two have developed a strong, adopted uncle-niece relationship (she calls him "Uncle Martian"), which emerges in the banter of the YouTube production.
"We didn't rehearse anything beforehand," Church said in a phone interview last week from Santa Clarita, Calif., where is she is completing her junior year at The Masters University. "It was a conversation among friends about something we both love."
Kauble said the production has the feel of a live performance.
"People deserve to hear this and experience this. There is no substitute for a live performance. You are there in the moment. I want people to feel that this music is not unapproachable at all and that is completely accessible."
The conversation with Church, he said, "Is so endearing. It is just me and Abriana talking casually at the piano about each piece and we get each other laughing a few times. She talks a lot. It's so wonderful to get her input."
The music features Liszt at his most dazzling and difficult, poetic, intimate and introspective. The 50 minutes of actual piano playing begins with all six of Liszt's "Paganini Etudes," dazzling works based on pieces by the Italian virtuoso violinist Niccolo Paganini. It continues with two dreamy and lyrical "Consolations"; "Feuille d'album in a-Flat Major"; a mournful but lyrical transcription of a Schubert song "Der Miller und her Bach"; and closes with the playful, gypsy-themed Hungarian Rhapsody No. 12, which requires some superhuman feats of pianism.
Liszt was one of the greatest pianists who ever lived, and he and Chopin especially helped create a golden age of the piano. The keyboard became an instrument of lyrical and emotional power that composers used to write in a personal, highly expressive "romantic" style.
Liszt was the matinee idol of his day, combining fantastic skill with showmanship and aristocratic good looks. Women idolized him. He he was linked to the devil, and he played up the myth. He mesmerized audiences.
Church has a special affinity for Liszt's music, having fallen for it when she heard a recording of his "Mephisto Waltz" (the Devil's Dance) when she was very young. She learned her first Paganini etude when she was only 12 years old. But she avoids Liszt's frequent bombastic mannerisms and lets the music speak for itself, she said.
"I do love the drama and flamboyance of performing, but I want to be careful about myself getting in the way" and "demeaning" the music. "Classical music stands on its own."
Kauble admires Church's playing, saying she masters the technical difficulties of Liszt's music and makes it "sound effortless and natural. I don't know how she does it. It is amazing to me," said Kauble, who earned bachelor's and master's degrees in piano performance from Pacific Lutheran University in 1984 and 1986.
The April recording was the third time Church has recorded the same recital, following two recent productions in California. In April, she won honorable mention for her performance of the 12th Hungarian Rhapsody at the 2021 Los Angeles International Piano Competition, which was held virtually.
The Kauble salon recital was recorded and edited by audiovisual engineer Jackson Gilliham.
Andre Stepankowsky is the retired editor of The Daily News and has performed classical piano recitals in Longview.