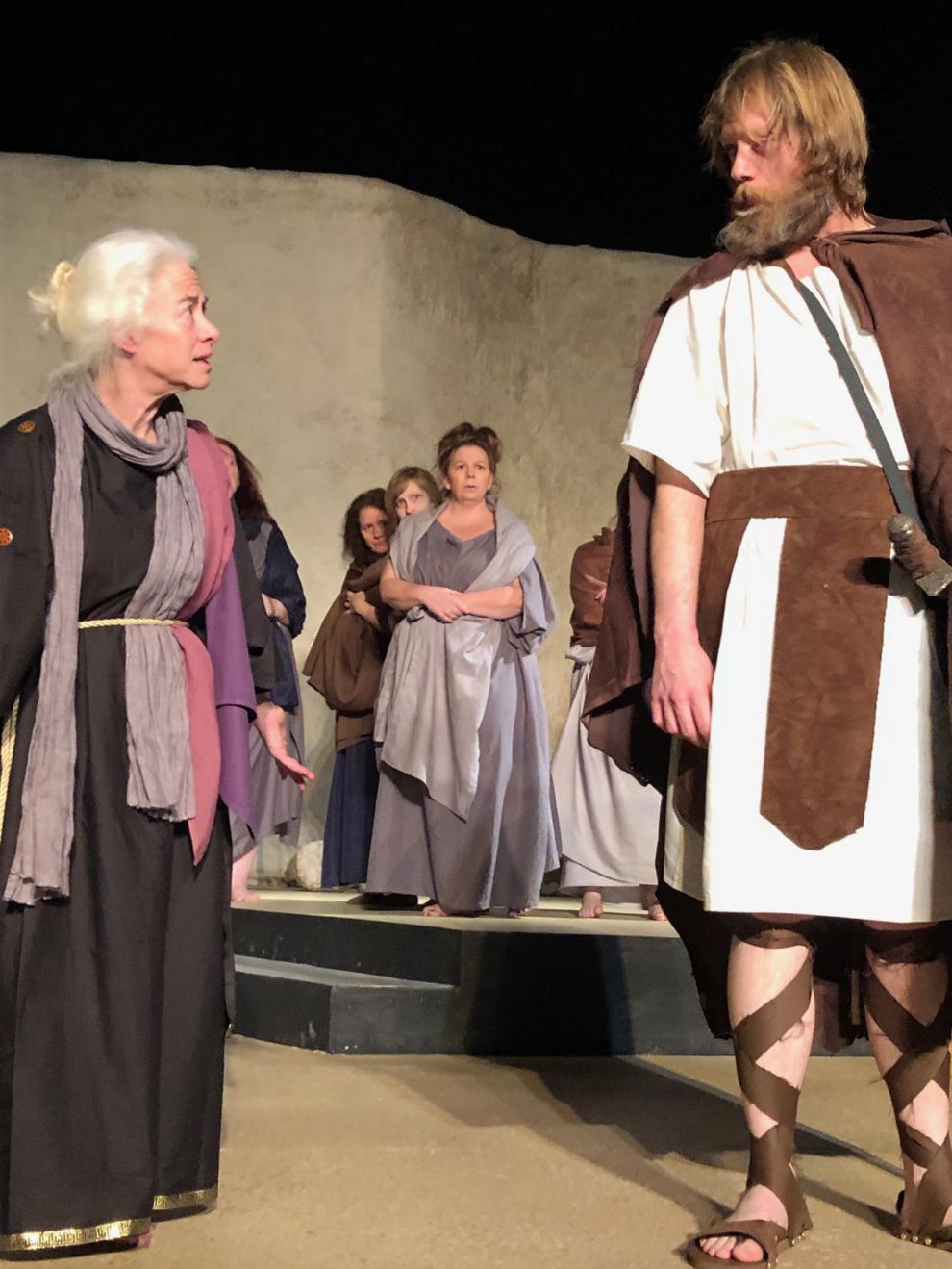 Johnny Winningham has worked for decades to bring "The Trojan Women" to life on stage.
"It has been a passion project," he said, ever since he first read Euripides' classical Greek tragedy as a teenager. Winningham — whose father was killed in Vietnam, leaving his mother to raise four boys on her own — found a connection so immediate, so intimate, that it brought him to tears.
"It was hard for me to believe this was written 2,500 years ago. It feels like it was written yesterday."
"The Trojan Women" opens at 7:30 p.m. Friday at Stageworks Northwest Theatre, 1433 Commerce Ave.
It's set in the immediate aftermath of the Trojan War, the Bronze Age conflict between the kingdoms of Troy and Mycenaean-era Greece. Legend blames the war on the beauty of Queen Helen of the powerful Greek city-state Sparta, who eloped with a Trojan prince.
More than 10 years later, Greek soldiers climbed out of a wooden horse behind the Trojan walls and slaughtered nearly everyone.
The women had gone to bed certain Troy had won, Winningham said. "In the morning, their world had come to an end."
Shelly Jacobs plays Hecuba, wife of King Priam of Troy. She lost her husband and all her sons, including Hector, husband of Andromache (Alyssa Wittrock) and father of Astyanax (Aidan Pulito). Hecuba's youngest daughter Cassandra (Emily Sprunger) has the gift of prophecy and the curse that no one will believe her.
Hecuba's emotional strength supports her surviving family and her fellow Trojan women — Cyndi Deaton, Dimidy Djelland, Ginny Fleshman, Andrea Horton, Miranda Horton, Sarah Owen, Rhiannon Markowski and Rhonda Markowski. They all join in rage, cursing Helen (Michalyn Killian) for eloping with Paris.
"Farewell, my city," Hecuba laments in the play as the women pound the stage in emphasis. "Farewell, my country, where once my children lived."
Every time the women think they've lost everything, they learn there is more to lose, Jacobs said. Hecuba is able to draw strength from within because she was queen, and remains a queen in the eyes of her people.
"It keeps her together and functioning when she has the opportunity to win something from the day and make sure Helen gets what's coming to her," Jacobs said.
Wittrock said Hector died a heroic death, "so it's something that gets celebrated, but (Andromache's) world has died. … She still has to remain strong for her son, and as one of Troy's royalty."
They've had to "endure the unendurable," Winningham said. "They're going off into slavery. Their children have been separated from them."
But they're survivors. "The Trojan women are strong women, not weaklings," Winningham said. "Hecuba's a powerhouse."
He finds these women inspiring because he's been surrounded by strong women all his life. "I have incredible respect for women. I think women can endure things guys can't."
The cast also includes Joshua Warwick as Talthybius, Peter Curtis as Menelaus, Frits Kaan as Euripides, and Paul Markowski, Rownan Markowski, Ryan Gaylor, Aaron Perkins and Steve McElhinney as Greek soldiers. Sierra Paine will play violin and Emily Gates will dance. Tymm Gwayn is stage manager.
Winningham praised the cast, which he said is universally strong and is diverse in ages. The youngest is 11-year-old Aidan, who "bats it right out of the park," Winningham said.
Euripides wrote the play in 415 B.C. as a commentary on the Peloponnesian War, Winningham said. The Athenians had done to the neutral island of Melos much the same as the Greeks did to Troy — "killed the men, sold the women off, burned it."
The play "didn't win him any friends," Winningham said. Today, "The Trojan Women" is considered one of Euripides' greatest works and among the best antiwar plays ever written.
"Even though this play is 2,500 years old, the effects and the emotions are still relevant today," Wittrock said.
Winningham said, "It'll be a show I think people will think about for days afterwards."
Jacobs said what she hopes people will take from the play is not the loss and absolute tragedy inherent in war, "but the incredible strength of the women who suffer it, and their capacity to endure those blows and keep standing, keep moving forward."