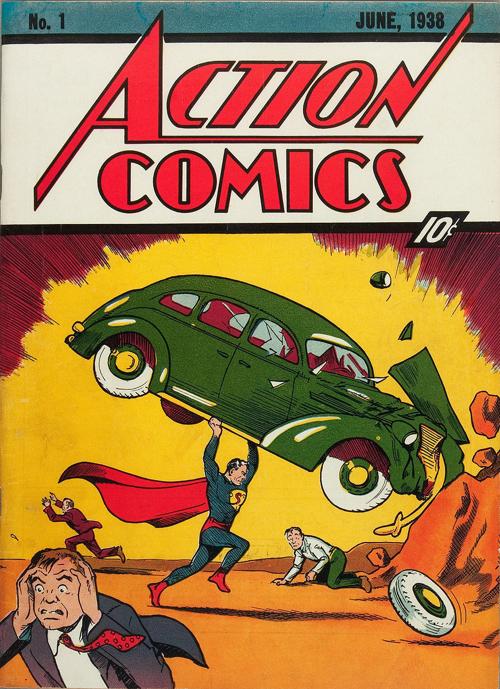 What does it take to earn the title of "comic-book historian?"
How about reading over 20,000 comic books, analyzing them as part of your master's studies, keeping a climate-controlled vault of them in your house, and editing an online magazine about them?
In that case, T. Andrew Wahl of Everett, the head of the journalism program at Everett Community College, fills the bill. Humanities Washington brought him to the Cowlitz County Historical Museum on Thursday to share his talk "Superhero America: The Comic Book Character as Historical Lens."
To Wahl, the value of using comics as a window into the past comes from their frequent second-class status as disposable children's entertainment.
"They offer a unique perspective on how those coming of age at a particular time both saw and were shown the world," said Wahl, who was also a Daily News graphics editor from 1997-99.
Wahl's specialty is the Bronze Age of comic books, a time that started in 1970 when the industry loosened self-imposed censorship rules and began delving into issues like race, crime, and war in a more realistic way. It was marked by the arrival of writers and artists who grew up reading comics and saw creating them as a destination, not a shameful stepping-stone to a "real job" in a better-respected field. Wahl puts the end of the Bronze Age in the mid-1980s when Marvel and DC, the two biggest publishers, began an escalating series of mega-crossovers that changed the tone of the industry.
It's not a coincidence that these comics also happened to be the ones Wahl read as a kid. His favorite character is the X-Man Kitty Pryde, who also happened to be make her debut during this time.
"I could sit up here and tell you 10 reasons why academically, I think the Bronze Age of comics ... are the best, most important, most relevant comic books ever published. And it would all be hogwash," Wahl said. "These are the comic books I read when I was a kid... and that's why I love them. Every comic-book fan has their own personal golden age."
The "official" Golden Age of comics ran from the late 1930s, when Superman and many other classic heroes began, to the early 1950s, when moral panic and declining fan interest ended most superhero titles. The Silver Age began a few years later when DC re-introduced many of those canceled heroes with a new, more scientific gloss, and public interest promptly returned. The Silver Age was the origin of many more grounded heroes with everyday problems and a more relatable background, like Spider-Man and the Fantastic Four.
Comic-book history is a growing field within the study of ephemera — historical documents like letters and newspapers that were intended to be temporary and were not written with an eye to future generations. The University of Oregon offers a minor in comics studies; Portland State has several courses; and Wahl teaches a college-level class on the subject at Everett Community College.
"Almost all of us enter by thinking about comic books as modern mythology," Wahl said. "How do the archetypes of Superman and Batman compare back to Greek mythology?"
In his own studies, Wahl convinced his advisor to let him read through about 6,000 pages of primary sources, and he quickly came to see the history of comics as much more obedient to the needs of big business than some unconscious yearning for role models or heroic tales. Superman sells 1 million copies? Invent knock-offs of him and sell those too. People hate the Axis powers? Draw your hero socking Hitler on the jaw. Morality scares hurting superhero titles? Shut 'em down and sell romance comics instead.
Superhero comics are a ruthlessly efficient month-by-month barometer of what would sell, a record that tracks the great migrations of the 1930s, registers wars hot and cold, and marks a host of social issues and temporary preoccupations as it goes, culminating in the massive grosses of the latest Avengers blockbuster.
"From the beginning, superheroes are big business," Wahl said. "'Superhero' is actually a registered trademark."