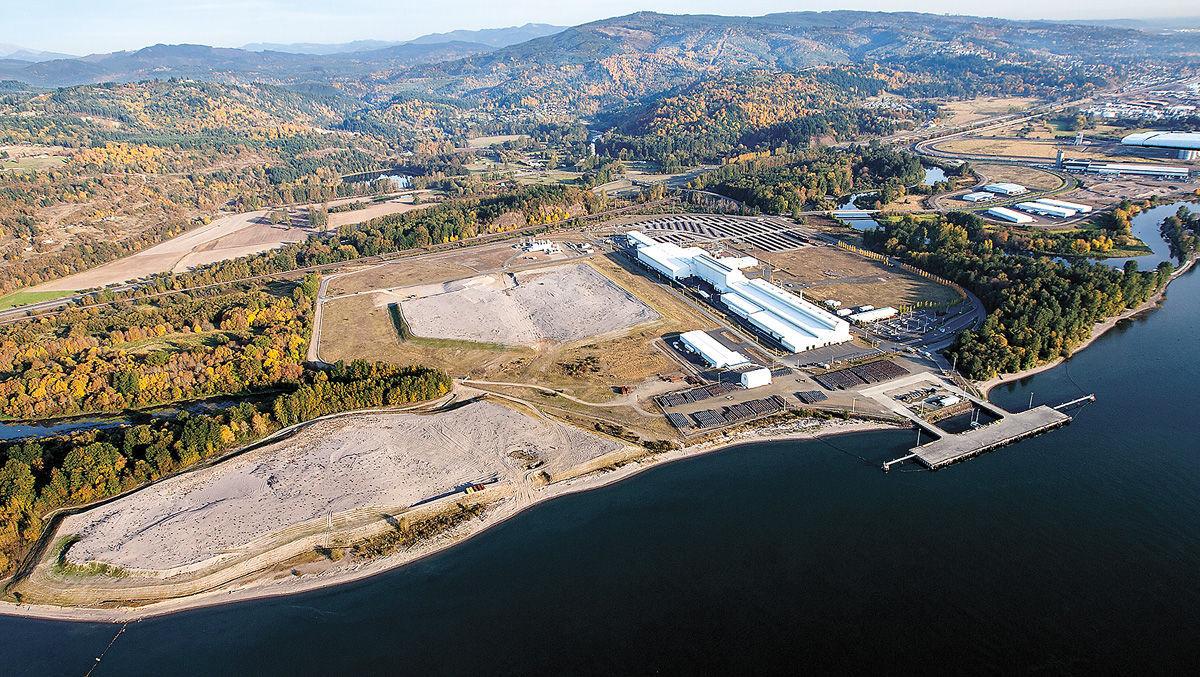 The owners of a proposed methanol plant at the Port of Kalama this month released their own final economic analysis that predicted the three-year construction project will create 1,434 new full-year jobs, with 192 permanent full-time jobs.
The report, conducted for Northwest Innovation Works by ECONorthwest, said the company will spend $728 million on local labor, goods, fees, sales taxes and services in connection with the construction of the facility, located on 90 acres at the Port of Kalama. Total construction costs are estimated be about $2.3 billion.
The study reported that the average wages and salaries at the facility will be $72,338, plus another $30,000 in annual benefits. It estimated that another 800 "indirect" permanent jobs will be linked to the plant operations.
In the report, NW Innovation Works noted it has pledged to invest annually in carbon mitigation projects with an emphasis on opportunities located within Washington State and Southwest Washington. The company said that based on an assumed $15 million invested in an average Washington remediation project, this effort would have the effect of supporting 131 jobs, $8.7 million in labor income, and $25.2 million in total economic output in Washington.
The state Department of Ecology is expected to release its decision on a shoreline permit for the project by the end of next week. Last month, Ecology released the final analysis of the proposed plant's greenhouse gas emissions. The study found the plant could result in less global emissions but levels would still be "significant" even after mitigation efforts.
The new economic report updates a 2015 study and is intended to provide updated impacts.
"While this report is neither offered nor intended to augment any ongoing environmental analysis related to the Kalama facility, it is intended to provide updated impact figures," the firm said.
Regulatory requirements and public comment resulted in some modifications to the project, which is endorsed by Cowlitz County, port and local officials, except some city officials in Kalama. Environmental groups, including Columbia Riverkeeper, have opposed the project since it was first announced. Gov. Jay Inslee last fall came out in opposition to the plant, citing environmental concerns.
"The modifications, along with delays in construction start and associated impacts, mitigation efforts and regulatory conditions have driven increases to cost estimates," said NWIW.
The production, storage and offloading elements overall are referred to as the Kalama Manufacturing and Marine Export Facility, which will occupy a 90-acre site on land owned by the Port of Kalama. It is located 3 miles from Northwest Pipeline, the primary artery for natural gas transmission to the Pacific Northwest. Methanol, also known as methyl alcohol, is a simple alcohol that occurs naturally in the environment through anaerobic bacterial fermentation. The Kalama facility will produce it from natural gas.
The methanol will be stored on-site and then transferred onto oceangoing vessels for export to Asia. The methanol will then be made into materials, such as synthetic fibers and compounds widely use by consumers and industries.
NWIW plans on starting construction in late 2021 or early 2022 depending on regulatory approvals and ending in 2024. Full-scale operations are expected to begin in 2025 after a short ramp-up period. The plant will run at full capacity producing 3.6 million metric tons per year requiring about 60 "vessel calls" per year, according to the report.
Other permits would be required for the project to move forward, including two federal permits vacated in November.
A federal court in November vacated the federal Clean Water Act permits the U.S. Army Corps of Engineers approved in April 2019, sending the project back to the Corps for review.
It's unclear how long it may take the Corps to complete an environmental impact statement for the project, but Ecology's greenhouse gas study took about a year.