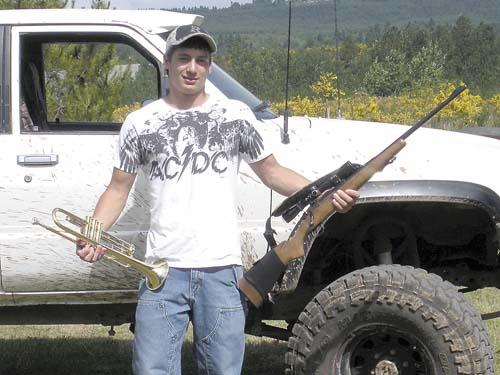 Robert Chick isn't easily described. Call the accomplished trumpeter a band geek and he's ready with "Oh, yeah? Did you get $83,000 for school?"
When he's not playing, though, Robert is most likely found outdoors hunting, fishing or camping. Or working on the truck he's restored. Or playing with his boxer Axle, named for the part of his truck he was fixing when he got the dog.
He loves science "because every day you learn something new," and he may pursue that for a career. His favorite class, though, is speech and creative writing because of the hands-on and unusual assignments.
"In today's society people think they can only do one thing and they have to fit into this perfect little box," said band director John Veltkamp, who has known Robert since fourth grade. "Robert doesn't fit into the box — he fits into all the boxes. .. He wants to do everything. He goes mudding in his pickup. He's a marksman and loves rifles and he loves good music." He also has a 3.7 grade point average.
Robert even likes the trumpet because of its wide range. "There's so much you can do," he said. "You can go as low as a tuba and as high as a flute."
So it's only fitting that Robert has found a way to combine several loves into his post-graduation plans.
He'll join the Army June 17 and ship out to boot camp. Military service is a family tradition, and in tough economic times a guaranteed job, salary and benefits makes sense, Robert said. The $83,000 in Army college assistance doesn't hurt either.
He won't be just any new recruit.
After a three-hour audition, Robert qualified for assignment to one of the Army bands, and so will continue his love of music even while donning fatigues. He'll also start out at a higher rank and pay scale as part of his recruitment bonuses.
"It's a musician's dream to be in a military band," Veltkamp raves. "It's a golden opportunity because your level of playing is going to go up dramatically because that's your main focus and you're going to have incredible training."
Robert hopes to be assigned to a jazz band, saying he enjoys the "movey-groovy upbeat" music.
While he has his future planned out, Robert's past wasn't always easy.
He doesn't know his biological father, and his step-father is incarcerated and no longer part of the family. Robert has lived with his maternal grandparents for the past six years after the rest of his family moved to California and he didn't want to leave Castle Rock. (His mother and younger siblings have since returned and he sees them nearly daily, Robert said).
"I've seen him rise above a lot of obstacles in his life," Veltkamp said.
"He works hard at whatever he does, and that's what makes him successful," Principal Jenny Risner said. "He's faced some challenges, but he's really overcome them by staying committed to his band and really valuing the importance of his education."
Aside from band, Robert tended to pursue his outdoor activities for most of high school. This year, though, he made a concentrated effort to get more involved.
"My grandpa always said 'Don't settle for less than you can give,' and time was running out," he said of high school activities. So Robert dove in head first.
He's president of the trap shoot club, a member of FFA, the associated student body treasurer, and a member of the CRHS pep and jazz bands and the Lower Columbia College honors band. He also was student liaison to the Castle Rock School Board, giving the board regular updates on student activities and events.
"Kids always really respected Robert, but this year there's been a new respect for him in the confidence he's gained by branching out and taking leadership roles," Risner said. "He's just a great, well-rounded individual."
Robert Chick, Castle Rock High School
Parents: Grandparents Dexter and Carma Chick and mother Kami Chick, all of Castle Rock.
Future plans: Join the Army, attend military music school and play in an Army band.
Favorite teacher: Principal Jenny Risner.
Favorite band: The Lost Trailers.
If you could talk to anyone, living or dead, who would it be?
"My great-grandparents. They died when I was 6 months old and I would just like to get to know them."
What is your favorite high school memory?
"The day I (recently) found God. … I feel bad for not figuring it out sooner, but now I have a really strong relationship with God."
If you could choose to be any animal, what would it be, and why?
"A big, old monster buck. Because they're always the smartest and the one who doesn't get shot. They've been around the block and know a thing or two about what's going on."