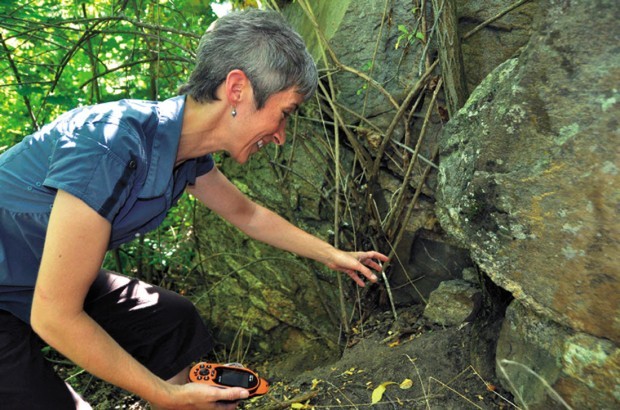 The evolution of hand-held GPS units has spawned a legion of modern-day treasure hunters lured not by riches, but to the thrill of the hunt.
Geocaching, a game of hide it and seek it, has about 5 million fans around the world. They combine technology with outdoor adventure by posting or receiving clues on the Internet and heading out in terrain that ranges from inner city to wilderness.
"That's the beauty of it," said Lisa Breitenfeldt, an Inland Northwest geocaching guru and entrepreneur. "You can look for caches that might be on a corner down the street or one that takes days of hiking to reach.
If you're going to Europe, you can load coordinates before you leave to search out caches in, say, Paris.
"The thrill is finding a hidden cache that no one else knows about except you and other geocachers, even though thousands of other people might go right past it."
Breitenfeldt started geocaching in 2002 for recreational relief as she pursued a master's of technology management degree from Washington State University.
Her fascination with seeking caches soon developed into a business pursuit as she saw the demand for basic geocaching gear. In 2005, she launched Cache Advance with her first product: the Newbie Kit of basic items one needs to begin geocaching once they have their GPS unit.
Her Spokane-based company, specializing in all things geocaching, has expanded its line to more than 200 products.
Her "cache cave" basement is like a toy-store warehouse with bins of gear and gadgets, such as a cache that looks like a bolt. "It has a hidden compartment and a magnet so it can be attached under a bridge railing or blend in at an industrial place," she said.
Another cache looks like a rock.
She also sells the Geomate Jr. — a small easy-to-use, $70, geocaching-specific GPS unit, manufactured in Spokane by Servatron, Inc., also based in Spokane.
Not designed for navigating, the Geomate.Jr has a large database that hold up to 250,000 geocache locations. It will indicate caches closest to your location as well the difficulty, terrain rating and size of the cache container.
(Virtually all of the new and pricier GPS units useful to outdoorsmen, such as those made by Garmin and DeLorme, also have special geocaching
But the Newbie Kit — with waterproof notepads, pens, decryption keys, caches, trackable tags and more — is still her best seller. "I have trouble keeping them in stock," she said.
She also teaches geocaching and schedules visits to the Cache Cave by appointment. Even her company's phone number — (509) 720-8382 — has an inside twist for geocachers.
"The last four digits are easy for a geocacher to remember, because they spell tftc, an acronym used to say "thanks for the cache," she said.
Beyond the business — which she says grew 80 percent this year despite the economy — Breitenfeldt has logged more than 3,500 geocaches since she began eight years ago and teamed with friends to bag 101 in a one-day binge during a geocaching event in Astoria, Ore.
"In 2002, I was around No. 70,000 to sign up at geocache.com," she said.
"Now the site has nearly 5 million users."
Cache come in all sorts and themes, each with its own cache webpage and items to trade. "that's an especially big deal with families," she said.
"Kids get very excited about the prospect of finding a treasure."
Breitenfeldt is a regular at geocaching events, such as the GeoWoodstock, which attracted about 5,000 enthusiasts on July 3 to workshops and activities based at Carnation, Wash., about 30 miles east of Seattle.
"But you don't have to travel if you don't want to," she said. "There are easily 400 or more caches within 50 miles of Spokane - enough to keep you busy for a long time."