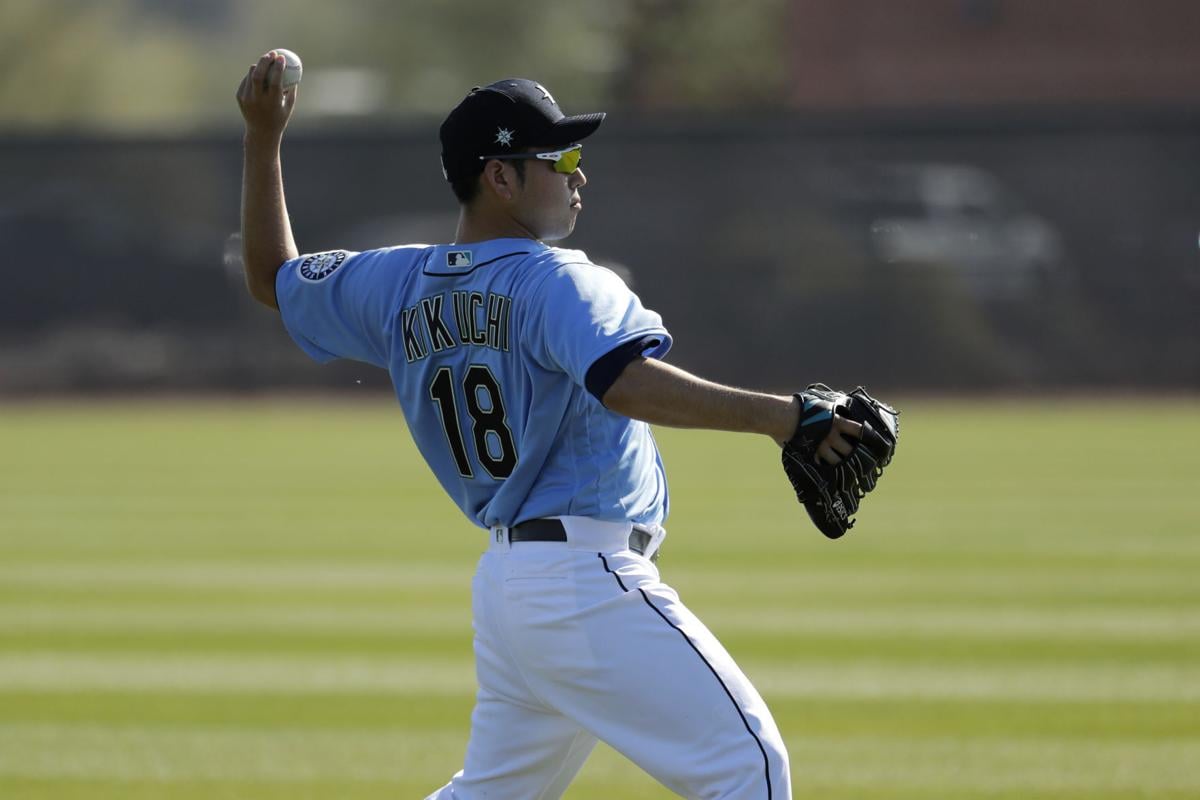 After a shaky debut season with the Seattle Mariners in 2019, Yusei Kikuchi is ready to take a step forward in 2020.
"Last year at the end of the season, Skip talked to me, we had a meeting and he told me to become a new guy in 2020," Kikuchi said through interpreter Kevin Ando following an intrasquad start Monday night at T-Mobile Park.
"I believe I am, and I'm really looking forward to pitching this season."
Kikuchi spent the offseason tirelessly revamping his delivery after ending last year with a disappointing 6-11 record and 5.46 ERA. The overhaul brought positive results in the spring, and he displayed an uptick in velocity and better command overall.
"I was able to make 32 starts last year," he said. "I learned a lot from each and every start and I really worked hard this offseason.
"I'm just really excited because I believe all of my pitches are different, new compared to last year."
When summer camp opened in early July, Kikuchi showed up ahead of some teammates in terms of stamina, due to his rigorous commitment to throwing during the three-month baseball shutdown.
He looked solid in bullpens and live batting practice, and despite a troublesome first intrasquad appearance last week — he allowed four runs on four hits while walking four and striking out one in three modified innings — he looked sharper in his final tune-up Monday.
Kikuchi cruised through his first three innings on 34 pitches and picked up all three of his strikeouts.
"I felt well-balanced," he said. "I felt great out there."
His fourth and final inning was longer — he needed 27 pitches to work his way out of a jam — and his own throwing error on a soft grounder resulted in two runs after a pair of base hits and a walk loaded the bases.
But, Mariners manager Scott Servais was more focused on Kikuchi's arm strength than how his final inning unfolded.
"As far as endurance or having arm strength built up, nobody throws more than Yusei," he said. "I was actually pretty happy he threw a bunch of pitches that inning because we need to get his pitch count up, so it worked out OK. ... I know he would have liked to finish on a little bit stronger note, but all good.
"He's healthy and he'll be ready to go when we get to Houston."
Kikuchi is scheduled to line up against Zack Greinke on Sunday in the third game of the Mariners series against the Astros.
"I'm feeling good going into Houston," he said.
Moore back on fieldMariners utility player Dylan Moore has been focused on readying himself for the season after reporting to summer camp last week.
"The No. 1 thing is probably just getting back into baseball shape," he said during a video call with reporters Monday.
That can include anything from extra running before or after team workouts, or making sure he eases his arm back in after not throwing for two weeks, he said.
"Just being conscious about my body," he said. "I think that will help me and I'll be ready to go Friday."
Moore was confined to his hotel room during the first several days of camp after testing positive for COVID-19 and cleared health protocols to join the Mariners last week.
"It was definitely frustrating," he said. "I was asymptomatic which was a blessing for sure. But, just waiting for those two negative tests getting back, obviously time went a little slower for me.
"But, I was just trying to keep my mind off of it and do as much as I could in the hotel room, (taking) some dry swings and some stuff that I just moved everything out of the way and did some pushups and just tried to stay as sharp as I could with whatever I had."
Moore has appeared in three intrasquad games since his return and is 3-for-10 with a double and RBI.
Rodriguez on the mendMariners top prospect Julio Rodriguez briefly joined Servais' daily call with reporters Monday afternoon, and jokingly said he was enjoying his job being the manager for the day.
The 19-year-old outfielder fractured his left wrist during a drill last week, and is expected to miss 4-6 weeks of baseball activity, but has remained in good spirits.
"I've never seen Julio on a day when he's in down spirits," Servais said. "He's always upbeat. ... Always has a great attitude."
Servais said Rodriguez was in the batting cage taking one-handed swings Sunday.
"He's going to try and stay in shape the best he can and stay busy," Servais said.
Rodriguez will likely still head to Tacoma next week with the rest of the Mariners' taxi squad.
Short hopsUtility player Sam Haggerty was removed midway through Monday's four-inning game with hip soreness, but Servais said his exit was precautionary. "He's had a really good camp," Servais said. "I know he wants to stay out there and kind of grind through it, but we want to be smart. I don't really want to take a chance of losing anybody at all."
Reliever Taylor Guilbeau started opposite Kikuchi and struck out three in two scoreless innings. Reliever Art Warren also appeared and struck out one in a scoreless frame. The Steelheads won 2-0 to push their intrasquad series lead over the Pilots to 6-2-2.
Catcher Tom Murphy (foot contusion) was still dealing with soreness Monday, and was held out of the lineup. Murphy still maps out as Seattle's Opening Day catcher should he be game ready.
Other Mariners regulars like J.P. Crawford, Austin Nola, Kyle Lewis, Kyle Seager and Evan White also had the day off to rest. Servais said Monday the Mariners' two most recent first-round draft picks — right-handed starters Emerson Hancock and George Kirby — likely won't pitch in an intrasquad game at T-Mobile Park, instead getting their development work in Tacoma this summer.
"There's absolutely no reason to risk injury or push those guys out there," Servais said. "Even though they would love to go out there and pitch, we're just taking a very cautious approach with them. It's the right thing to do. They understand it. It's just where they were in their throwing programs before they got to this camp."
MLB Network's Jon Heyman reported Monday the Mariners are in the process of acquiring veteran reliever Bryan Shaw. The right-hander struggled the past two seasons with the Rockies, but has a history of success further back in his nine-year career with Arizona and Cleveland, including leading the majors in relief appearances in 2014 and 2017.
On tapThe Mariners will play their 11th intrasquad game Tuesday, beginning at 6:10 p.m. The game will be streamed live on the club's YouTube channel and broadcast on 710 ESPN Seattle radio with Rick Rizzs and Aaron Goldsmith providing commentary. The game is scheduled for four innings.
Be the first to know
Get local news delivered to your inbox!