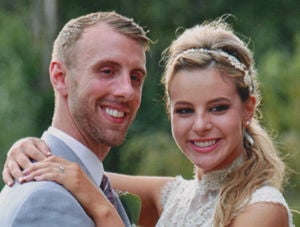 Amanda Dawn White and Christopher Douglas Galivan were joined in wedded bliss July 9, 2016, at the Tin Roof Barn in White Salmon, Wash.
Father of the bride, David White officiated the service. The groom's ring belonged to his late grandfather, Russ Forgette. The matron of honor was the bride's sister, Ashley Wolf and the best man was the groom's brother, Shawn Galivan. Other attendants were Danielle Maxwell, Marina Gonzales, Tyler Pegg, Chad Pegg, and brother of the bride Anthony White.
Mandy is the daughter of David and Renee White of Ariel, Wash. She is a 2010 graduate of Union High School and a 2014 graduate of Washington State University. She is currently employed as a Clinique consultant.
Chris is the son of Doug and Margie Galivan of Kelso. He is a 2007 graduate of Kelso High School and a 2010 graduate of Perry Technical Institute. Chris is a lead senior instrument technician for Genentech Pharmaceutical in Hillsboro, Ore.
The couple honeymooned along the Oregon and California coasts and in Maui, Hawaii. They will make their home in Vancouver.
Him-Her