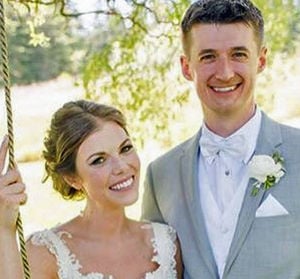 Alexandria Charlene Ward and Benjamin Trevor Ferrel were joined in marriage June 4, 2016, at Fireseed Catering in Langley, WA. Bright sunshine and 80 degree weather, plus the perfect Pacific Northwest setting greeted those attending from several states and Germany.
Chelsey Mathers served at matron of honor and the groom's brother, Ethan Ferrel stood at his side as best man. Other attendants included Alexx' sisters, Hollon Oliver and Katie Ward, sister of the groom Amelia Ferrel, Katie Davis, Krista Hixson, Pat Davis, David Perez, Paolo Espaldon, Matt Sullivan, Greg Standal and Nigel Pearce. The flower girls were Emery Mathers and Luna Perez.
Alexx designed her dress and included parts of her mother's wedding gown for the details, including using her mother's veil — with a few modifications.
After the outdoor ceremony, cocktails and hors d'oeuvres were served in the gardens and under the trees to begin the celebration. Dinner was farm to table and served in the newly renovated barn followed by toasts and dancing — lots of dancing. The couple drove away amid an arch of sparklers held by the attendees, on their way to honeymoon in the Caribbean Islands where they island hopped for 10 days.
Alexx is the daughter of Chuck and Debbie Ward of Longview. She graduated from Mark Morris High School in 2004 and is currently earning a bachelor of science in health sciences from Boise State University. She is employed as a radiologic technologist at a Chicago hospital and is pursuing a career as a physician's assistant.
Ben is the son of Scott and Donise Ferrel of Spokane. He graduated from Gonzaga Preparatory School and is a Gonzaga University undergraduate. He is currently in his fourth year of medical school at Midwestern University in Chicago. Benjamin is still deciding his focus for a residency.
The newlyweds will make their home in Chicago.