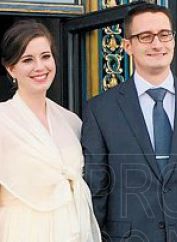 Elizabeth P. "Betsy" Barrett and Kearby M. Chess were married March 3, 2017, during a small ceremony attended by immediate family members on the rotunda staircase in the historic San Francisco City Hall, with the Honorable Cynthia E. Gregory officiating.
Their witnesses were Michaelyn Chess and Andrew Barrett.
The bride is the daughter of Margaret and Bob Thompson of Seattle, and Joseph Barrett of Seattle. She is a 2007 graduate of Lakeside School, and she earned a bachelor of arts in political science in 2012 and a master of arts in international studies in 2015 from the University of Washington, where the couple met as graduate students. She is employed as a consultant.
The groom is the son of Michael and Darcie Chess of Longview, and the grandson of Raymond and Joanne Chess of Longview. He graduated from R.A. Long High School in 2007, earned bachelors of arts in history and anthropology from Washington State University in 2011, and a master of arts in international studies from the University of Washington in 2015. He is employed with the Army.
A reception with extended family and friends will be held at a later date.
Betsy and Kearby honeymooned in Pacific Grove, Calif. The couple now resides in Seaside, Calif.