When the Seahawks take the field at Met Life Stadium in New Jersey today, their biggest — and greenest — fan will be there with them.
For eight years, bodybuilder Tim Froemke, a Cowlitz County native, has painted himself a deep shade of Seahawk green and dubbed himself The Seahulk. He's become a fixture at Seattle's Centurylink Field, winning the favor of fans and TV camera crews and earning a place in Seahawks' lore.
This week, Froemke, a 56-year-old Castle Rock High School graduate, has been interviewed in New York by TV news crews from across the world. He's frolicked in Times Square during Superbowl rallies and he's worked out at the New York Sports Club, where, he said, he's been treated like a Super Bowl celebrity.
"I'm so excited. It's like a dream come true," he said from New York during a phone interview last week.
Froemke's presence in the stands is nothing less than terrifying. He's airbrushed green, his muscles highlighted in black paint and rippling, his face twisted in an almost comically intense rage. It's safe to say there will be nothing half as fierce cheering on the Denver Broncos.
This Seahulk business started in 2005, the last time the Seahawks won an NFC championship and headed to the Superbowl. "I just started painting my face blue and green like everybody else," he said. "I threw some green paint on my chest and, holy cow, I immediately fell in love with it."
+2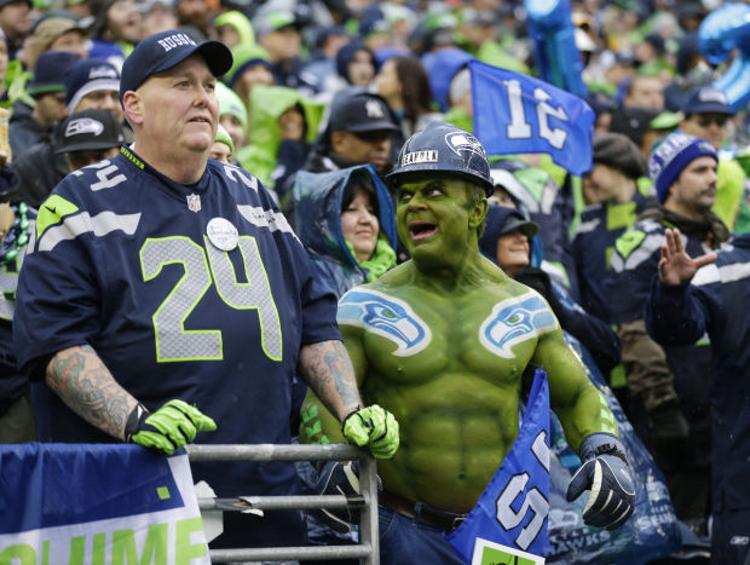 Fans loved it too. Froemke, an electrician who is currently living in Ritzville but maintains a house in Kelso, said he has trouble getting to his seat at Centurylink because so many people want their picture with him.
He said his wife, Eva, 54, who is originally from Longview, came up with the Seahulk name. (She, too, douses herself with green, dubbing herself the "Shehulk.")
What began as slathering himself in makeup had become far more complex. Froemke now enlists the help of a professional airbrush artist — Dutch Bihary of Mount Vernon — who transforms Froemke into such a convincing hulk you'd think he was on a movie set.
On game days, Froemke rises at 2 a.m. and departs his Ritzville home near Spokane for Mount Vernon. The paint job begins at 7 a.m. and takes about three hours. By the time the game is over and Froemke arrives home after a 700-mile round trip, it's close to midnight, he said.
Each paint job costs about $300 — and Froemke pays the bill himself. Froemke said he also forked over $3,800 for his Superbowl ticket. For this year's Superbowl, though, his union, Electrical Workers Local 191, flew Bihary to New York to do Froemke's paint.
+2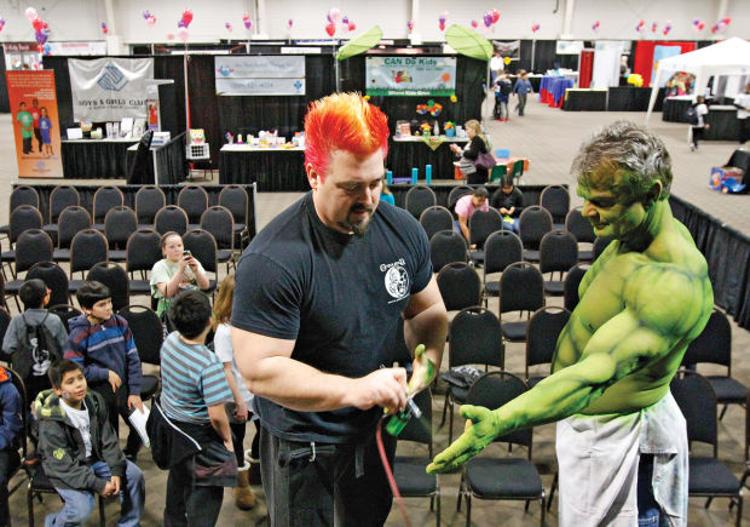 Froemke, a recovering addict with 20 years sobriety, said it's the kids he meets who make being Seahulk worthwhile. "To them, I'm the hulk. They don't know any difference. It's just been so rewarding."
He said he recently met a wheelchair-bound boy battling cancer. "He lit up like a Christmas tree when the hulk showed up — the Seahulk!"
The Seahawks have never won a Super Bowl in their 38-year history, but Froemke, who has been a bodybuilder since the early 80s, started working out extra hard last year because he had a feeling this would be a great year for his team. He said he wanted to put on the best Hulk he could when the Seahawks went to the Super Bowl.
"This is our turn. I don't see how Denver can beat us. I really don't. Our defense is so good," he said. "I tell you what, man. They've never seen nothing like the Legion of Boom!"