Jon Webb wanted to put an emphasis on defense for his Kelso Junior Hilander football team this fall.
So, in order to inspire his charges to mirror the Legion of Boom Super Bowl champions from Seattle, he offered the perfect motivational carrot for 9-11-year-old boys: a pizza party for every defensive score.
"Seven defensive touchdowns later, we're sick of pizza," Webb said.
One thing they aren't sick of is winning football games.
Three months into the Pop Warner season, the Junior Hilanders have won all 11 they've played.
After beating the Bay Area-based Campbell Bears 21-0 in the Division II Junior Pee Wee regional championship two weeks ago on the Eastern Washington red turf, they clinched a spot in the eight-team Super Bowl at the ESPN Wide World of Sports Complex in Lake Buena Vista, Fla.
They will face the Watchung Hills Wolverines in the first round of the double-elimination tournament Saturday at 8 a.m. PST. The game will be streamed live over the internet on ESPN3.
Win that, and the Hilanders advance to a Dec. 9 semifinal matchup at the same venue.
"The coolest thing right now has been the 'We are Kelso' thing you always hear, to see it happen with the community — businesses kicking in, doing raffle tickets," Webb said.
"When you're the last team in the Northwest, people kind of perk up: 'Wait, there's something going on here. This little team just keeps winning.'"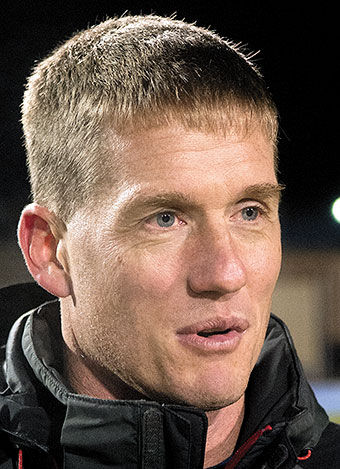 The support has been strong and swift from area businesses and community members who are helping raise the $25,000 needed for the cross-country trip and one-week stay in Florida.
Dominoes Pizza was particularly generous, paying for three players' roundtrip plane tickets.
"I was just floored by that," said Webb, a physical education teacher at Butler Acres Elementary School in Kelso. "They see the need and they just do it because they get it."
With a team as good as these Hilanders, it's an easy sell.
Comprised of 18 players each tipping the scales at 105 pounds or less, the Kelso/Longview squad is the only Junior Pee Wee club in Greater Northwest Conference history to make it all the way to the Super Bowl.
The formula has been a simple one: a hard-hitting, opportunistic defense mixed with a multi-faceted offense led by quarterback Tommy Brandenburg that can attack teams out of multiple formations.
"We're a big, strong team offensively, but we also have a dual threat quarterback, so we'll spread it out running the zone reads," Webb said.
"We like to be able to balance it out with what a team gives us, and if they are stacking the box... then you can throw."
Michael Misclevitz is "the hammer" on defense, flying around the field from the linebacker position delivering hits that make running backs think twice.
Brandenburg and JD Sherrod are both playmakers who can get it done under center. Connor Noah is a bowling ball at fullback, and Ethan Moyer is one of countless weapons on the outside.
"I didn't expect to be undefeated going into nationals," Moyer said. "I just think that we're a very strong team and we play together very well."
Moyer had a pair of interceptions in the team's regional win over Campbell — one that highlighted just how dominant the Kelso defense has become.
Not only did the Junior Hilanders keep the Bears out of the end zone, they only allowed one first down all game and scored two points on a safety.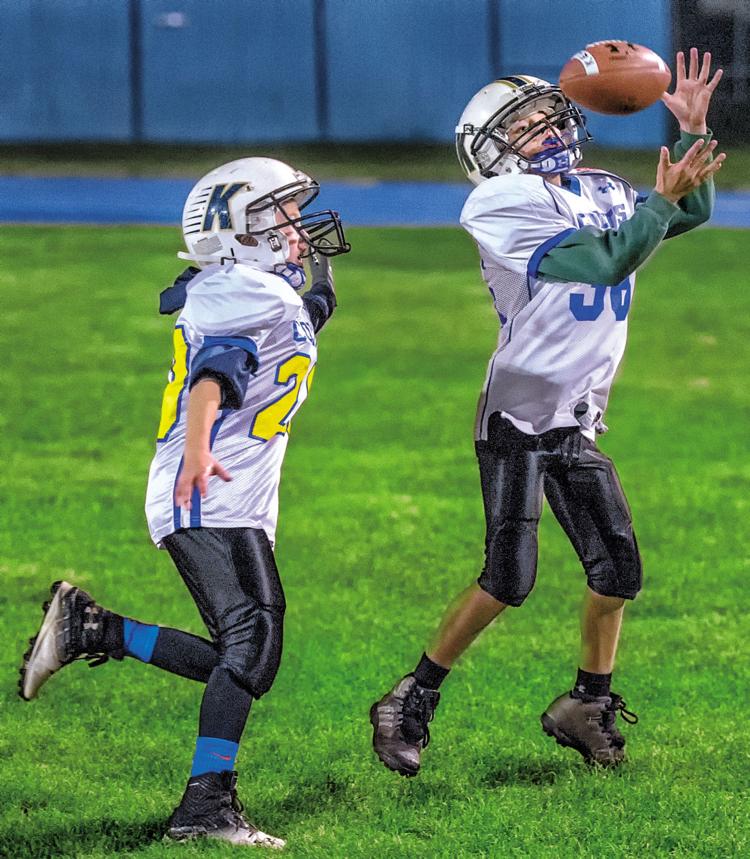 Meanwhile, Brandenburg ran in a pair of touchdowns and found Sherrod for a two-point conversion, Noah added a touchdown run of his own, and Tegan Connors recovered a fumble.
"To have kids that can catch and hit, our receivers block down field, and they get out and make plays for other guys — they get football as a team approach," Webb said.
"I've always known we were a good team. ... When you haven't lost you just don't know how good you are. We'll know Saturday morning."
And it might even end with a slice of pizza.