WINLOCK — The "World's Largest Egg" is now a Super Egg.
Artist Ron Gaul and two assistants Saturday painted the logo of the Seattle Seahawks on two sides of the town's 1,200-pound fiberglass egg, and on one of the pointed ends they painted a "12" in honor of the Seahawks' loyal fans.
"If they win the Super Bowl, we'll keep it this way at least until next fall," said Gaul, 44, an art teacher in the Toledo School District who lives in Winlock.
It's the fourth time Gaul had decorated the landmark, which is nestled in tiny Vern Zander Memorial Park in the center of town and pays homage to a time when Winlock, now a city of 1,300, was full of egg and poultry processors. Guinness recognizes the egg as the world's largest.
Saturday's effort was a souffle of art, history and the town's passion for the Seahawks. As Gaul painted, passersby honked, snapped pictures and stopped to chat. The crew of a passing freight train honked, waved and hollered "Go! Seahawks."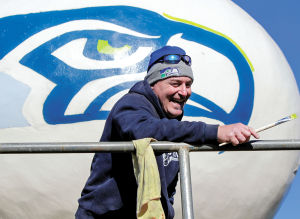 The idea got hatched through a series of Facebook exchanges, said Barb Lewis, an assistant at the town library. Townswoman Carrie Pennington suggested painting the Seahawks logo on the egg, and Debbie Wickert's son Tim Reisback Photoshopped what it could look like. That's when the idea "went crazy and went viral," Lewis said.
The Winlock Lions and others recruited Gaul, a Winlock native, to mount the scaffolding to paint the egg once more. He'd painted it red, white and blue after the 2001 terrorist attacks, and twice he's decorated it for the town's annual Egg Days celebration, once painting it up to look like an Easter Egg.
Bathed in sunshine, Saturday presented perfect painting weather, except that the egg was so cold and wet in the morning that Lions member Leroy Zwiefellhofer had to procure a kerosene-fired heater — the kind that looks like a torpedo — to heat and dry the egg. No, he was not trying to cook it.
Through the effort, Gaul and his assistants, son Mason Gaul and Melody Reilley (both students at Toledo High), used a hair dryer to keep the surface warm and help cure the paint. They transferred the design from a stencil Gaul had prepared in advance, and then the latex paint went on.
Gaul, admitting that he once was an Oakland Raiders fan, said he's thrilled at how the region has rallied behind the Seahawks, who play the Denver Broncos next weekend for the Super Bowl in New Jersey.
"I think it's all great. It's pulled together everyone around the state. It's quite the buzz," Gaul said, adding, "I'm just the last one in a line of people who put this together. ... It was a wonderful way to spend a Saturday."