SILVER LAKE — Zooming through the thick forest on Goat Island 40 feet in the air, Monte Pascual let go of his zip line harness, raised his hands and let out a wild yell.
This was his chance to swing like Tarzan.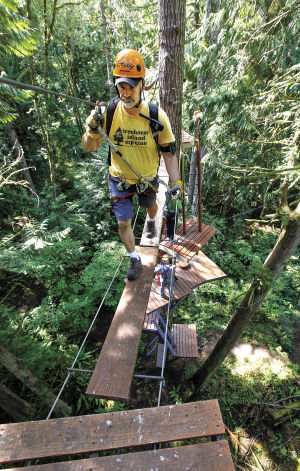 Pascual and family were the first paying customers at opening day Friday of the Treehouse Island Zip Line Adventure, a 25-acre park that offers a spectacular display of Pacific Northwest beauty with a zip of adrenaline rush. For two hours, three members of the Pascual clan climbed ladders into the trees, traversed rope ladders onto sturdy platforms and rode six zip lines through the lush greenery.
"We'll come back with all our friends," Monte Pascual, a Federal Way resident, told park owner Grady Eilts when he left.
Zip line adventure tours have skyrocketed in popularity in North America over the last decade, and officials at Treehouse Island are hoping their park will bring a much-needed tourism boost to the Toutle Valley.
In 2005, only five zip line canopy tours existed in the United States and Canada. Nearly 400 are operating today, according Ziplinenirvana.com, an industry trade site.
Renee Forsberg, Treehouse Island's marketing director, said she expects most customers will be coming from along the Interstate 5 corridor for vacations or company retreats. She added that she expects the island will be open year-round and provides a nice outdoor alternative in a typically soggy region.
The cost will normally be $99 per person for about two hours of play, but prices were reduced for the opening weekend to $80 a ride. Treehouse Island prices are about the norm for zip line parks. Visitors can also pay $25 for a boat trip to hike and fish around the 50-acre island, and Treehouse Island also offers group packages, Forsberg said.
The park was originally intended in 2008 be filled with treehouses for vacation rentals, but delays in permitting forced Eilts and co-owner James Misner, now a Cowlitz County commissioner, to shift their focus to the zip lines. Eilts, who only zip-lined once before starting the park, said he's excited to move forward.
"It's overwhelming right now. But just the fact we're having paying customers is a huge relief," Eilts said.
The two men invested tens of thousands of dollars and also sought $65,000 through Kickstarter, an crowd-sourced online investment site. The vast majority of the money came out of their own pockets.
The park has 14 employees, which includes guides, office staff and the owners. Guide Jason Graunitz also serves as boat captain, shuttling zip liners from the main office at Mount St. Helens RV Resort to the island. (The boat ride is included in the fee.)
Graunitz said he's spent dozens of hours on safety training, and he and the other guides walk all visitors through every step of the course. While in the air, visitors are attached to a rope at all times through a sophisticated set of pulleys to make sure they can't fall. The tallest line is about 70 feet high, and zip liners can go up to 40 mph, Graunitz said.
Two guides take the zip line tour at the front and end of every group, and it's still a rush, Graunitz said.
"Now I've done it close to 50 times, and it's still fun," he said.
The Pascauls said the tour was well worth the price. While mother Eleanor stayed on the ground to take pictures, sons Andrew, 16, and Blaise, 18, took to the trees with their father.
The family went zip lining once before in British Columbia, but the Pascuals said they preferred their experience at Silver Lake.
"The one in Canada was very scary because of the sharp rocks below. But this one was more fun," Andrew said.