A man who reportedly shot a Rainier police officer in the hand was found dead from an apparent self-inflicted gunshot wound near Clatskanie late Monday afternoon, authorities said.
The man, whose name was not released, was found near the intersection of Collins and Hermo roads in the Port Westward area, according to the Columbia County Sheriff's Department.
Rainier officer Russ George drove himself to PeaceHealth St. John Medical Center in Longview after the shooting. His wound is serious but not life threatening, according to the Oregon State Police. He was moved to a Portland hospital Monday night. His condition was upgraded to "fair" Tuesday, according to The Associated Press.
Columbia County Sheriff Jeff Dickerson said George pulled over the suspect after several reports of a car driving erratically on Highway 30 in Rainier.
As George walked toward the suspect on the westbound side of the highway, the suspect fired toward him, apparently from inside his red Kia, at about 12:40 p.m.
"(George) put up his hand to block the shot, and it ended up going through his hand and into his chest. Luckily, the bullet was stopped by his (bulletproof) vest," said Jay Tappan, chief of Columbia River Fire & Rescue.
A female reserve officer also was present at the shooting and returned fire, Tappan said. It's not known how many shots she fired or whether she struck anyone in the vehicle.
After the shooting, the suspect fled west on Highway 30. Clatskanie police lost him on dead-end gravel roads near the Quincy store.
+1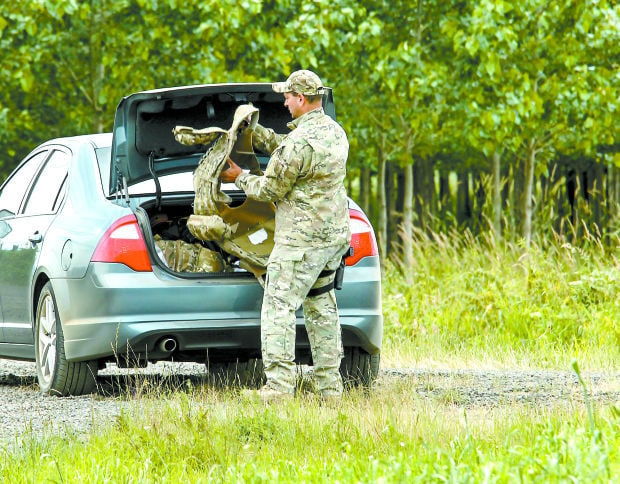 A 1 p.m., Dickerson said, sheriff's deputies found the car had been abandoned and the suspect had run off into the thicket of hybrid cottonwood plantations and bottomland farms near Port Westward.
At 1:30 p.m., officers heard a single gunshot, Dickerson said.
"After that, we waited until we were able to get some more people in place," he said.
Multiple law enforcement agencies from Columbia and Clatsop counties set up containment around the area. A Cowlitz County search dog and Portland Police Bureau airplane also were involved in the search for the man, described as a white male with dark hair wearing a white T-shirt.
"He's not very smart picking this area to run away to. He's got himself boxed in," Warren Nakkela, an area resident, said during the search Monday. The 74-year-old was sipping coffee at the Quincy store, a .44 special holstered at his waist.
Officers from a dozen jurisdictions filed into the makeshift command center near the Seely Mint Farm.
"Once we got the SWAT team in place from the Oregon State Police they went in and located a deceased, we believe, suspect," Dickerson said.
The suspected shooter's body was found several hours after his car was located. It had a single, apparently self-inflicted gunshot wound, authorities said.
Dickerson said they were not ready to confirm the suspect's identity, and it was not known whether he was from or familiar with the area he led officers. The car he was driving had a Washington license plate.
Officer George is the second Rainier officer shot in the line of duty in recent years. Chief Ralph Painter was gunned down not far from Monday's shooting in January 2011, and Daniel Armaugh Butts is still awaiting trial in that slaying.
Monday's shooting brought swarms of Portland TV camera crews to Columbia County, and two station helicopters circled the search area for much of the afternoon.