KALAMA — Kierra Clark wasn't sure what was biting her leg as she swam Wednesday in the Kalama River, but she knew she had to get out of the water.
It kept after her as she and her cousin swam back to shore while screaming for help. Then, she looked back and came face to face with a river otter — which bared its teeth "and had huge eyes," Kierra, 13, recalled Friday afternoon.
Kierra has cuts and bruises on her leg and heel, but she is OK after a trip to the doctor and a tetanus shot. Locals at the Kalama Sportsmen's Club, though, say they can't remember another time the normally playful river otters have attacked and pursued swimmers.
"I've been here 60-some years and never seen anything like it," said Fred Palmer, who helped haul Kierra out of the water along with her grandfather, Bob Schlecht Jr. "And there's always kids out there swimming in the summer."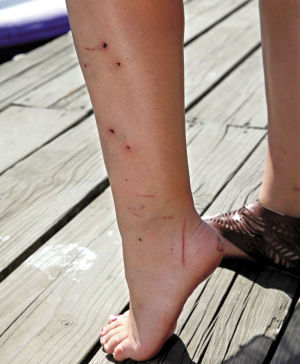 Kierra and cousin Matalyn Longtain, 11, had been playing on a rope swing on the other bank when they heard something in the bushes. Spooked, they started swimming back to their grandparents' summer house when Kierra felt the first bite or scratch on her leg.
Matalyn was also bitten once, but she kicked what she believes was a baby otter away. Her bite did not break the skin.
Kierra, though, was bitten several times and had to scramble up onto two canoes to get away from the animal.
"It was coming right after her," Palmer said.
"It was terrifying," said Kierra's grandmother, Arlita Schlecht.
"We were shaking," Matalyn said. "We were in shock."
Palmer called a fish biologist friend who said it's likely the girls inadvertently got between an otter and her babies.
Many animals have newborn babies this time of year and can be protective and aggressive, said Craig Bartlett, a spokesman for the state Department of Fish and Wildlife. River otter attacks are unusual, but not unheard of, especially this time of year, he said.
While people should wear gloves and wash their hands when handling any wild animal, river otters don't pose many public health risks, according to a Fish and Wildlife website. The biggest risk, according to the state, is a dog catching distemper from the animal. Male river otters can grow up to 4 feet long and weigh up to 28 pounds, with females slightly smaller, according to the state website.
Arlita Schlecht lives in Longview as do her granddaughters, but they all enjoy visiting the summer house near the mouth of the Kalama. After the otter attack she feared those days were over. But Matalyn was back in the water again Thursday. And Kierra also plans to return to swimming, though she's been told to wait until her cuts heal before going back in the river.
As for Schlecht, she's joking about putting up a warning sign.
"You Otter be Careful," was her favorite pick on Friday.