RAINIER — The lower Columbia Region's economic fortunes are becoming increasingly tied to the energy industry, and that's especially true for one of the area's oldest companies.
Foss Maritime, which is celebrating its 125th anniversary this year, has begun building a fleet of three arctic-class tugboats in its Rainier shipyard. It will use the tugs to serve the oil and gas mining industries in Alaska.
Costing $10 million each, the tugs will tow building modules from Korea to remote ocean oil fields in the arctic. The first, the Michele Marie, is supposed to be ready by spring.
Crews in Rainier already have completed the hull. On Thursday, they were preparing to install the main engine next week.
"It's the biggest and most complex one we've built here," shipyard director Don Nugent said of the tug.
When finished, the Michele Marie will be able to pull 120 tons through Alaska's icy waters, Faber said. It will be capable of travelling 30 days without refueling — a necessity in remote oil fields, Faber said. The hull is extra stout to withstand rough seas and ice.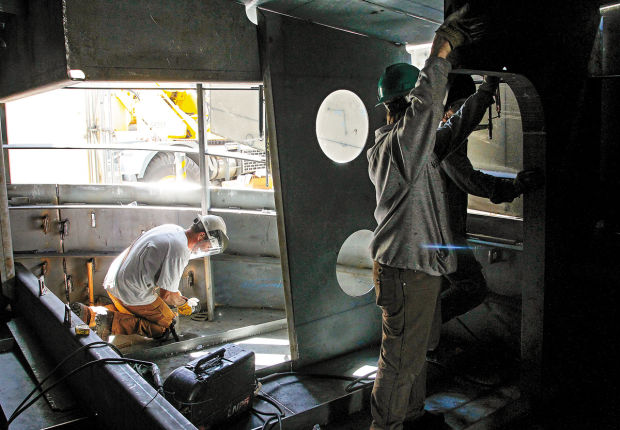 By next May, two other tugboats also named after Foss board members' wives — Denise Lynn and Nicole Kathleen — will round out the three-year project.
The project has been an economic boon to Rainier, which in 2012 expanded the shipyard and its workforce there to 40 so it could build bigger boats.
The Lower Columbia Region's ties to the energy industry have been growing, with oil exporting terminals locating or proposed here. Two coal export terminals are proposed in Longview and Port Westward.
Gary Faber, senior vice president at Foss, says the Northwest has historic ties to Alaska, and building the arctic tugs to service oil and gas industries in the far north continue the connection.
"It keeps transportation from the Puget Sound to Alaska with a Northwest-based company," Faber said.
Foss, based in Seattle, was founded in 1889 in Tacoma by Thea Foss, who owned a single tugboat.
"She started with zero. She built one of the first thriving industries up here. There isn't any reason why we can't be innovative and looking for opportunities," Faber said.
Foss today is a global company with 1,000 employees. It owns 130 tugs and barges and had $302 million in revenues in 2010, according to the company. Rainier is the location of one of its two shipyards (the other is in Seattle).