More decaying city streets are getting a makeover this year thanks to a boost in productivity from a new street crew.
The City of Longview designated an additional $518,000 this year for street and road repairs, hoping to double the amount of repaired roadways.
Instead, the street maintenance division went from improving an average of about 10 lane-miles annually to almost 26 lane-miles this year — an increase of more than 150 percent. A lane-mile is a section of road one mile long by 12 feet wide.
"I'm not surprised that we are exceeding (our goals for 2017)," said Longview Public Works Director Jeff Cameron. "I'm surprised by how much we're exceeding our goal."
City of Longview Street Supervisor Chris Collins said the amount of work accomplished has been consistent with what he hoped for and anticipated in 2017.
"(This work) will slow the deterioration of our streets," Collins said. "We can rehabilitate some streets and slow the failure of others."
Longview made street maintenance a priority this year in part because a 2011 consultant study found that the city should be spending about $2.8 million annually on road repairs, City Manager Dave Campbell said.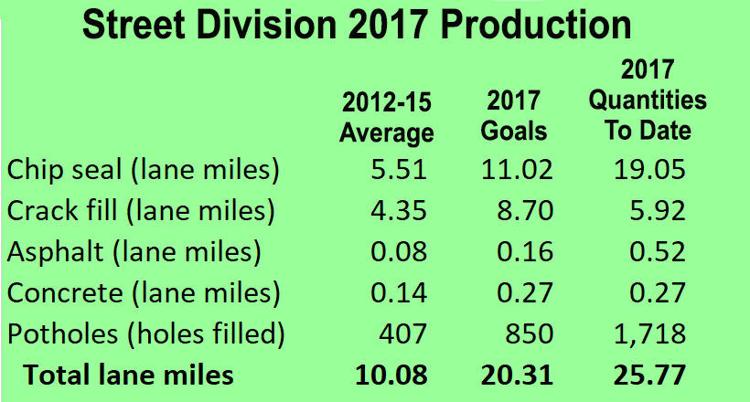 In 2015 and 2016, the city spent an average of about $830,000 a year on street maintenance — far below the consultant's recommendation.
In order to draw closer to the recommendation and to address citizen concerns, the city council budgeted a total of $1.45 million for street repairs in 2017, Campbell said.
The increased funds were used to hire three new staff members for an additional street crew and to purchase the additional equipment and raw materials for the crew to use.
Collins said he is pleased with the new recruits.
"We have a good group of people who have spread their knowledge," he said. "We've done very well and are fortunate to get the folks we've gotten."
While a new crew has been added for street repairs, the new hires will be divided among the crews in order to learn from more experienced city employees.
Jeff Greier, who has worked for the city for 18 years, said he has seen the city get more done this year than in the past.
"They're fast learners," Greier said of his new coworkers. After a pause, he gestured to Kaleb Carr, the newest and youngest on the team. "Except for that one."
Carr, who was grabbing a tool from the truck, grinned.
The 26-year-old began working for the city in June and was one of the last crew members to be hired. As a new crew member, Carr said it is hard to know how much more they are getting done this year than in the past, but he said it feels like they have been accomplishing a lot.
"I'm learning new stuff every day," he said. "I like all the guys here. I enjoy coming to work every day. … We get our job done without a lot of drama."
Garrett Klein, who started with the city in March, agreed with Carr.
"Everybody has been nice and friendly, and it's been good work," he said. "The city family is a nice family to belong to."
The additional employees have meant that the crews aren't pulled away for other jobs, Cameron said.
In the past, a sidewalk crew might temporarily be redirected to help with chip sealing or leaf removal. However, with new crews in both the streets division and the stormwater department, Cameron said that doesn't have to happen as much.
Increased productivity has reached one snag — street crews are running out of the raw material for projects.
"We could have done more chip seal but we ran out of the budget funds for the rock," Cameron said.
So far, the street division has more than tripled the amount chip sealing that it has completed this year compared to averages in the past.
As a result, the public works department may have to ask for more funding for raw materials next year to keep up with productivity, Cameron said.
City officials hope to continue using money from the general fund to pay for the street crew. But it's possible they may tap into Transportation Benefit District (TBD) funds if necessary.
The TBD, funded through $20 vehicle registration renewal fees, went into effect in August and is expected to bring in about $560,000 for city street improvements.
"As long as city revenues remain healthy, I believe the council would prefer to keep the street crew funded by the general fund and use the TBD for contracted road repair projects and some material costs," Cameron said. "It all depends on the economy and what the city revenues look like."
City Manager Campbell said the public response to repairs this summer has been positive.
"It's been a long time coming for people (that we) maintain our infrastructure," he said. "Streets and roads have been a huge investment in Longview … and it's nice to have the ability to maintain (them) more properly than we've been able to in a long time."