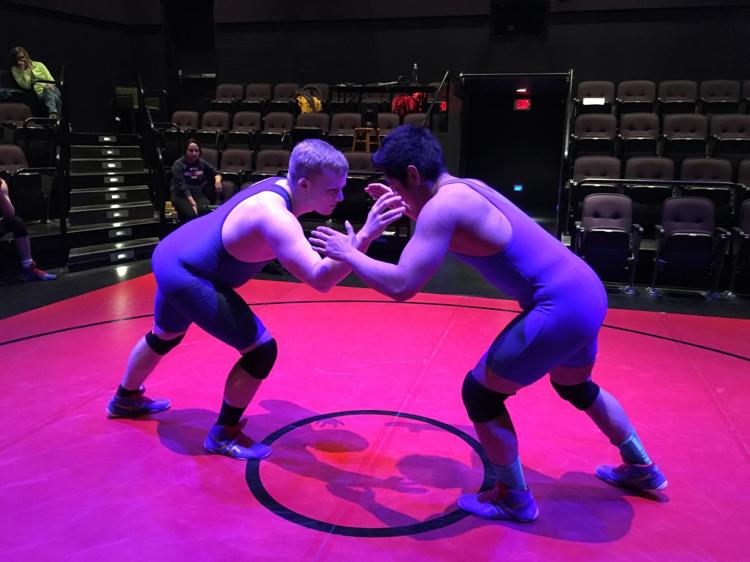 Teenagers across the country question their sexuality or are victims of sexual assault and/or bullying, and Lower Columbia College's newest drama, "The Wrestling Season," will address those struggles on stage.
The play centers on two male high school wrestlers who are hit with rumors of them being in a romantic relationship. The gossip affects them in different, and damaging, ways: Matt tries dating a girl with a reputation of being "easy," and eventually sexually assaults her. Meanwhile, Luke struggles with bullies.
Director Betsy Richard, who has taught drama at LCC for three years, said she chose "The Wrestling Season" as the school's next play because of its heavy subject matter.
"The issues (the play) deals with — bullying, treating people poorly, sexual violence against women – the topics are really topical," she said. "I think it's an important show for that reason."
Aidan Moilanen, 20, plays Willy, a homophobic bully whom the script hints was bullied in his early childhood. Moilanen said playing a negative character like Willy was a challenge, but rewarding.
"I've met people that are like this, and being able to put myself in their shoes is very eye-opening, because at one point I was bullied," he said. "I've always kind of been on the opposite end of people like this. It was hard at first really getting into (the character), but after playing it and seeing where the character comes from, I can understand why some people are like this."
One of the difficulties of the production was teaching the actors how to wrestle. Although some had experience in wrestling or martial arts, others, like Glenn John Cervantes, who plays Matt, had little experience in the sport.
"It was tricky to know how wrestlers behave on the mat and really capture all their mannerisms and all the big moves that they do," Cervantes, 19, said. "In the beginning, you get sore, but if you have proper techniques, you won't get injured."
Richard said to prepare her actors for the physically demanding show, she hired three wrestling coaches, a couple of whom work with high school teams in Kelso and Kalama. She also attended many wrestling meets to study high school wrestling culture.
"I'm not a wrestling person, but you have to understand it in order to do the show," she said. "Wrestling becomes a metaphor for conflict, and how people manage conflict."
After the show, Richard said the audience can participate in a question-and-answer session with the characters, and ask them anything about their actions or motivations in the play.
"It's an opportunity for the audience to express how they're feeling about these (topics) and debrief some of that before they go home," he said.
Because of the difficult subjects and scenes in "The Wrestling Season," Richard stressed the play isn't appropriate for audience members younger than 13 years old.
However, for audience members who are deeply affected by the production, there will be at least one counselor at each show and the program features a list of local mental health and support groups' contact information.
Cervantes said "The Wrestling Season" is an authentic, gripping portrayal of dilemmas many high school students face every day.
"The situations that happen within the play, it can be applied to everyday life; especially to high schoolers, because that's what the play is about," he said. "So when people come and see it, they know that they're not the only ones that are experiencing these types of things, and so they can … try and reach out to other people."